Blog for Zip line Attraction in the Smoky Mountains
Located in Pigeon Forge, TN and near Gatlinburg and Sevierville.
Blog posts for category "Group Fun"
---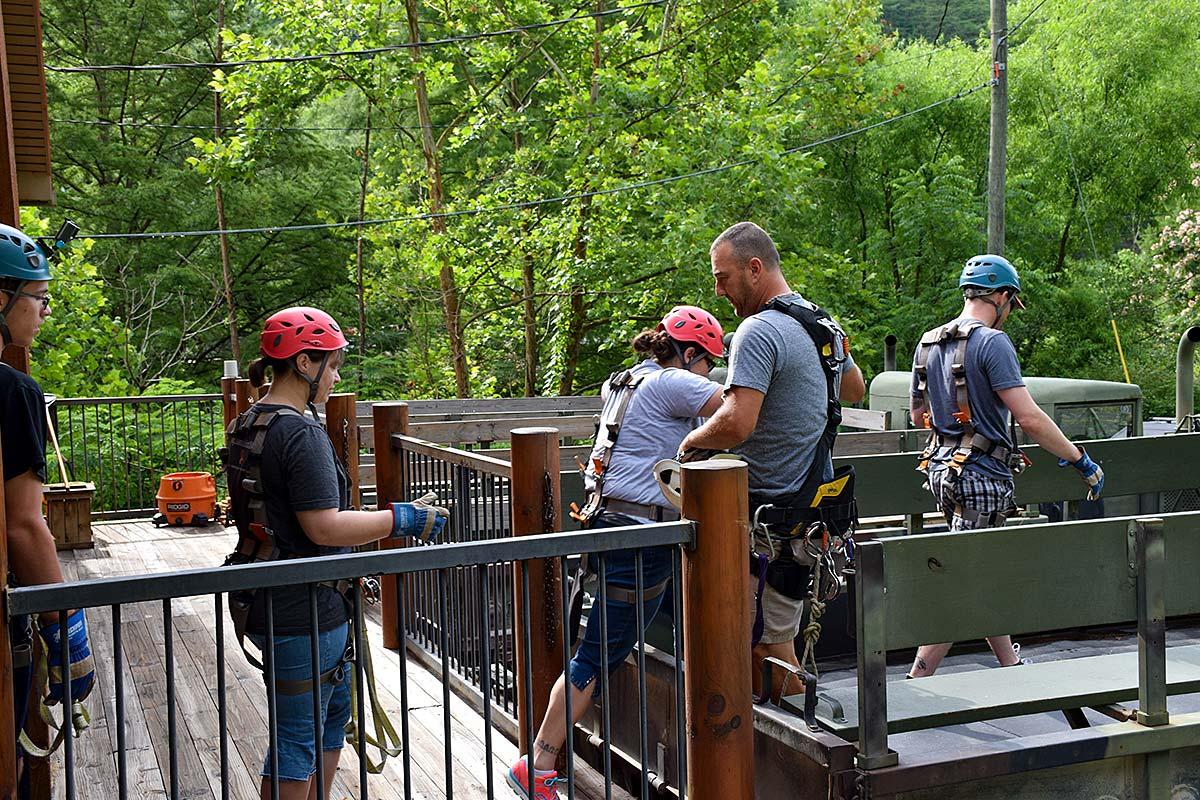 Smoky Mountain Ziplines isn't the only place in East Tennessee that has ziplines. But we're confident that we have more in store for vacationers than any other Pigeon Forge or Gatlinburg attraction that features ziplines. Our seven-line canopy tour packs a lot of fun and memories into each two-hour outing. You'll encounter adrenaline-inducing thrills, beautiful Smoky Mountain scenery, interaction with new friends and much more. That's why anyone looking to visit the mountains this summer should consider making us their zipline connection in the Great Smoky Mountains.
---
If you've ever visited the Great Smoky Mountains of Tennessee, you know that a person can pack a lot of fun into a day there. But just because the sun goes down doesn't mean your day in the Smokies has to come to an end. All you night owls may be happy to know that there's a lot of excitement to be experienced after sunset as well. This week, we would like to share a few ideas for fun ways to extend your vacation day well into the night.
---
All good things must come to an end, and here at Smoky Mountain Ziplines, we're looking at wrapping up our 2018 season within the next few weeks. It's nice out now, but soon, the weather conditions will get to the point where it's not feasible for us to stay open; it's just about that time of year when folks start to shy away from outdoor activities. In the meantime, however, we encourage you to take advantage of these beautiful fall days and come spend a few hours on our ziplines in the Smoky Mountains.
---
Spring weather has been reluctant to gain a strong foothold in the Smokies so far this year, but we're still seeing telltale signs that warmer days are upon us. One of the most visible clues is that area golf courses are starting to green up and attract recreational players from all over the country. We're heading into prime golfing season, so if you're fond of hitting the links every spring and summer, you'll find a lot of golfing choices in the Smoky Mountains.
---
When you're on vacation or a weekend getaway, it's often a challenge to find things to do that everyone in the family enjoy equally or is even capable of doing as part of the group. If you've ever found yourself in that camp, then consider ziplining as a must-do for your next trip to the Great Smoky Mountains of Tennessee.
---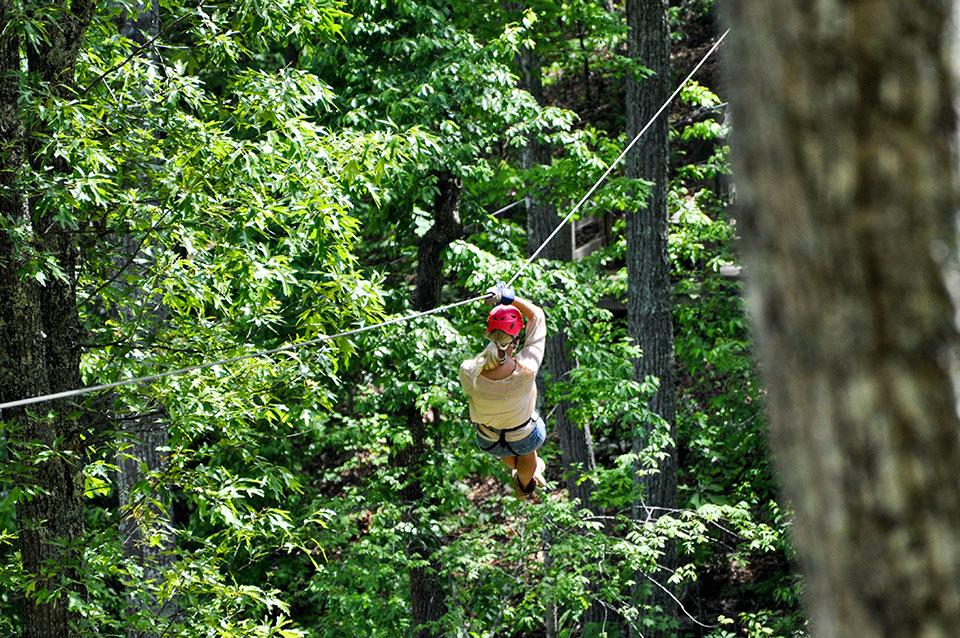 If you're reading this blog, chances are you're probably either a previous customer of Smoky Mountain Ziplines or you're very interested in visiting our zipline in Tennessee in the near future. In either case, you probably already have a pretty good idea that you're going to have a great time.
---
Now that the holidays are over, things tend to slow down a little bit here in the Smokies. But not too much. In fact, long gone are the days when the off-season meant three months of shuttered restaurants, shops and hotels. There's plenty going on here in the next few months, so we thought we'd pass along a few suggestions for how to stay busy – if you're not taking one of our Pigeon Forge zip line tours, that is.
---
The witching hour is drawing near, and within just a few days, Halloween will be upon us. If you happen to be visiting the Great Smoky Mountains that night or any time between now and then, there are several things you can do in the area that will help you get into the, um, spirit of the celebration.
---
If you don't currently have plans to visit the Smokies in the next few weeks, you might want to give that some consideration. Now that schools are back in session, weekday visitation has dropped off a good bit, which means the shops and attractions and restaurants aren't as crowded, and it's a good bit easier to get around town.
---
Last week, we talked about a web article entitled The World's 6 Most Insane Ziplines, and we presented thumbnail descriptions of three of the attractions, which are located all over the globe. This week, we'll close it out with information about the other three places for extreme zipline fun.
---
It seems now that ziplining has really caught on worldwide, zipline operators are in a never-ending competition to one-up the next guy. Here's the latest example we found while scouring the Internet. One zipline outfitter in Nepal (you know, the country where you'll find Mt. Everest) has literally taken the activity to new heights by opening a line that's a mile long and offers a vertical drop of nearly 2,000 feet during that span.
---
If you're looking for a truly outstanding Smoky Mountain zipline adventure, you'll want to spend a few hours on one of our canopy tours. Why? Smoky Mountain Ziplines has been awarded tripadvisor.com's Certificate of Excellence for the past two years.
---
Ziplining is one of the most in-demand activities for families looking for fun and excitement in the Great Smoky Mountains. But if you want a zipline experience that's truly enjoyable for just about everyone in your family, you won't find it in Sevierville or Gatlinburg. Zip line adventure at its best awaits you at Smoky Mountain Ziplines in Pigeon Forge.
---
They say that word-of-mouth advertising is the best kind, and hopefully that applies to zipline attractions as well. Because our customers here at Smoky Mountain Ziplines have been using a lot of nice words to describe their experiences. Here are just a few customer reviews posted on the TripAdvisor website:
---
Music theaters and fun museums are nice, but for some folks visiting the Smokies, nothing short of an adrenaline rush will do the trick. There are several attractions in this area that will help you get that thrill-seeking fix, and no previous experience is necessary.
---
If you're planning to visit our Smokey Mountain zip lines this spring or summer, at some point, you'll have to make decisions regarding your accommodations. There's a wide range of lodgings available here in the Smokies, and what's best for you should take several factors into consideration, including geographic location and the size of your travel party.
---
It's no understatement to say that there are enough things to see and do in the Great Smoky Mountains to fill up weeks and weeks of vacation time. Sometimes the challenge becomes narrowing down all those choices and picking just the right activities for you and your family.
---
Hooking yourself up to a zipline that's suspended high in the air and speeding from tree to tree like a bird is truly one of the most adventurous and memorable experiences you can have in the Great Smoky Mountains.
---
While the Smokies offer a lot of different ways for folks to have fun, sometimes it's easy to get lost in the shuffle of all the attractions, theaters, restaurants and shops. Those things are great, but sometimes visitors to the area fail to see the forest for all the trees. In other words, it's too easy to overlook the Great Smoky Mountains, even though they're pretty hard to miss!
---
Let's be honest. Just about all of us have had that experience where we plunk down a big chunk of our hard-earned vacation money on an attraction or activity that just didn't seem to measure up. Maybe it wasn't what you expected or maybe the experience just didn't last very long, leaving you feeling as if you were a little short-changed.
---
Anybody notice all that white stuff on the ground? If you're in the area and hail from a much warmer climate, we call this stuff "snow." It usually doesn't make its first appearance until well into the new year, but this winter, we've already had a white Christmas and a big early-January snowfall. If you're currently not in the Smokies and are planning a trip here, you'll get a chance to see the mountains in all their snow-covered glory.
---
How do we help you zipline? Let us count the ways. At Smoky Mountain Ziplines, our course, staff, facilities and amenities all add up to one amazing package, making us the best ziplines Pigeon Forge, TN has to offer. For that matter, we're the best zipline experience in the area!
---
If you're visiting the Smokies as a group, you probably already realize that planning group travel isn't as simple as planning a family vacation. Everything must be done on a larger scale, and trying to find fun group activities is no exception. Many don't allow groups to experience much interaction throughout the activity or, in some cases, to even stay together as a group.
---
Are you having trouble unplugging the kids from their cell phones and iPods this summer? Are you considering having them surgically removed from those video-game controllers and TV remotes? If so, then you're family may be in need of a zipline intervention. And when it comes to getting the whole gang together for some family fun time, our Pigeon Forge ziplines are definitely what the doctor ordered.
---