Blog for Zipline Attraction in the Smoky Mountains
Located in Pigeon Forge, TN and near Gatlinburg and Sevierville.
Posted on October 15, 2019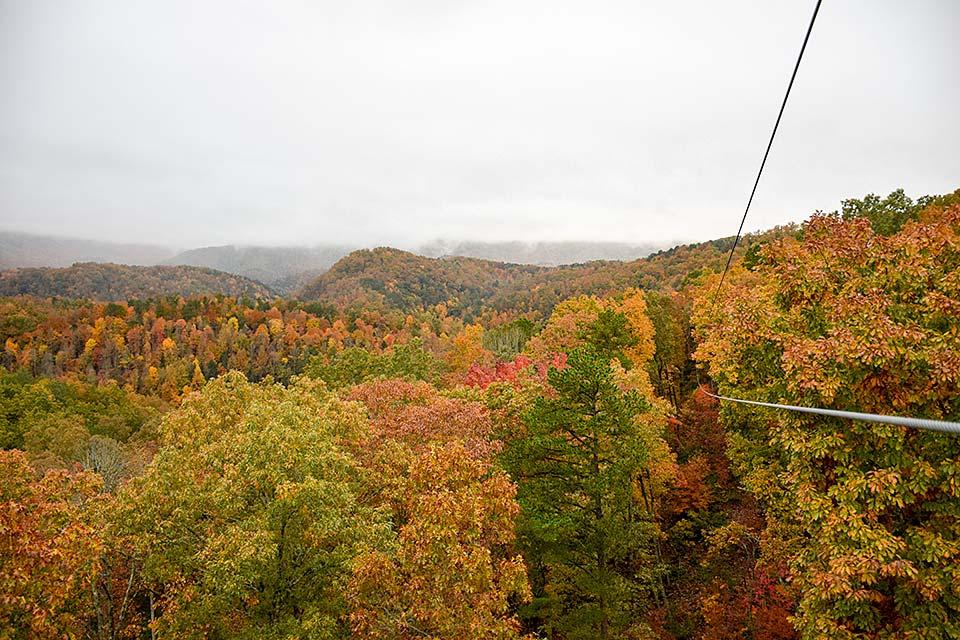 Most years in the Smokies, a drive through the mountains in mid-October would reveal a wondrous palette of color already emerging in the treetops. Even in the lower elevations, you'd see signs that the annual transformation of the area foliage was well under way, and in the higher elevations, the leaves might already be nearing their peak colors for fall.
---
Posted on October 8, 2019
Smoky Mountain Ziplines has been open since March, but if you think it's too late to get some ziplining action in this year, you would be mistaken. In fact, we're getting into one of the best times of the year to get out on our course and enjoy the best ziplines Sevierville, Pigeon Forge or Gatlinburg have in store. If you're still not convinced, read on, and we'll give you five good reasons why you need to schedule a tour with us THIS MONTH.
---
Posted on October 1, 2019
When autumn settles into the Smokies, there are two things you can always count on – the turning of the foliage and an abundance of craft shows and festivals. There's something about the changing of the seasons that makes this the ideal time of year for arts and crafts. They're a big deal around here about now – a bigger deal than they already are. So this week, we'll give you an overview of all the opportunities you'll have during October to get out and see what craftspeople from the Smokies – and around the country – have to offer.
---
Posted on September 24, 2019
Autumn has arrived, and even though visitation to the Smokies will surge in the next month or so as the fall colors invade our mountain landscapes, the peak tourism season around here has passed for 2019. But that doesn't mean there still aren't lots of good reasons to head to the Great Smoky Mountains for the weekend or even a full week of fall break.
---
Posted on September 17, 2019
One thing we do here at Smoky Mountain Ziplines from time to time is keep up with zipline-related news and events from around the world. We find that there are amazing zipline attractions everywhere you go, and there are lots of interesting people doing unique things on ziplines. We also see stories every now and then about how ziplines are used for purposes other than recreation.
---
Posted on September 10, 2019
In addition to visiting Great Smoky Mountains National Park and attractions in Gatlinburg, Pigeon Forge and Sevierville, shopping is one of the top tourist activities among the millions of people who come to the mountains of East Tennessee each year. Outlet malls are one of the top draws, and craft galleries and studios also get their fair share of traffic.
---
Posted on September 3, 2019
As we near the cusp of the fall season in the Smokies, cars are starting to roll into Pigeon Forge and the rest of the area. In this case, we're talking specifically about show cars – classics, vintage, hot rods, muscle cars, etc. – and the upcoming special events that show off all these fabulous rides. If you're a previous Pigeon Forge visitor, you're probably no stranger to what locals generally call the "rod runs," but if this is a new experience for you, we'll give you an idea of what to look for as car-show season begins in earnest.
---
Posted on August 27, 2019
It's usually one of the first decisions you make when you're planning a trip to any vacation destination: Where are you going to stay? It makes sense to do that first, because if you don't secure your accommodations, there's not much point in planning all the other aspects of your trip first. So this week, we'll give you a quick overview of your lodging options in the Great Smoky Mountains. We won't be recommending any specific properties, but we will give you some idea of what types of properties are available so you can make the best choice to fit your time frame, budget and size of your party.
---
Posted on August 20, 2019
There's been a trend taking place in the Great Smoky Mountains over the past 10 years or so. We've been seeing more and more dinner attractions come to Pigeon Forge, entertaining productions that combine multicourse meals with spectacular competition-based shows. The one that's been around the longest, the show originally known as Dixie Stampede, got it all started back in the '80s, and now several more have joined the ranks, giving area visitors more choices than ever when it comes to entertainment.
---
Posted on August 13, 2019
When we say we're going to give you five reasons to visit the Smokies this week, we literally mean on a weekday, not a weekend. Now that most everybody's school systems are back in session for the school year, weekdays offer a lot of travel potential, especially while we're still blanketed by warm summer weather. So read on to discover a few of the benefits that await the August weekday traveler.
---