Blog for Zip line Attraction in the Smoky Mountains
Located in Pigeon Forge, TN and near Gatlinburg and Sevierville.
Winter Fun Is Going Strong At Ober Gatlinburg Ski Resort
By Ross Bodhi Ogle
Posted on February 17, 2016
Despite what that groundhog might have said, there's still more than a month of winter left, and East Tennessee will likely see its share of cold weather and precipitation in the next few weeks. In fact, we won't be starting our 2016 season here at Smoky Mountain Ziplines until the weather warms up a little bit more. But that doesn't mean you can't make the most of the situation by turning the proverbial lemons into lemonade at Ober Gatlinburg Ski Resort.
Located on top of Mt. Harrison in the Great Smoky Mountains, this year-round attraction has been drawing people to the ski slopes and a whole lot more for more than 50 years now. And although skiing is the main attraction, especially in winter, visitors will discover there's a lot more than meets the eye at this Gatlinburg fun-time destination.
There are two ways to get to Ober Gatlinburg. One is to drive from the south end of downtown Gatlinburg up Ski Mountain Road to the resort parking lot. Or you can take the Ober Gatlinburg Aerial Tramway from the downtown Gatlinburg departure station and enjoy the scenic ride to the mountaintop.
Now that we've got you up there, let's start with what the resort offers skiers and snowboarders. Ober Gatlinburg has 10 trails, ranging from beginner slopes to more advanced downhill runs. Right now, there's a 50- to 55-inch base, and the surface is a mixture of natural and manufactured snow. Four lifts serve the various slopes, but on any given day, some of the trails and lifts may not be open due to weather conditions.
On the slopes, you'll also find a terrain park, where snowboarders can hone their skills on any number of special features, including jumps, rails and boxes. There's also a 10-lane snow-tubing course, where riders slide down a multi-hill run on inner tubes and take a surface lift (outdoor escalator) back to the top.
Ober Gatlinburg has a ski shop for those interested in purchasing gear and/or apparel, and they offer equipment rentals and ski lessons for those who have never hit the slopes before. There's also the Cubbies Snow Zone for smaller children to enjoy the excitement of playing in the snow.
Believe it or not, however, this only scratches the powdery surface of what's available at Ober Gatlinburg. Other activities include the new Ski Mountain Coaster, an alpine slide, indoor ice skating, a wildlife habitat featuring bears and other mountain critters, a gaming arcade, scenic chairlift to the very top of the mountain and a variety of family amusements like a carousel, chair swing, mini golf course, outdoor maze and even a water slide.
Of course, many of these other activities are open in warm-weather months only, and the ones that are open in winter are subject to closure depending on the weather.
You'll find a wide variety of shops and eateries at Ober Gatlinburg, both at the resort itself and at the Aerial Tramway station in downtown Gatlinburg. Several smaller cafes and delis are ideal for those looking for a quick meal or a snack, but for full sit-down service, you might consider dining at Seasons of Ober restaurant, featuring a variety of hand-cut steaks, chicken and pork entrees and much more.
To learn more details about pricing and schedules for everything Ober Gatlinburg has to offer, as well as the latest ski conditions, visit their website at www.obergatlinburg.com.
And remember that once spring arrives, you won't find any zip lines in Gatlinburg, or anywhere else for that matter, that compare to what we have on our canopy tour in the Smokies.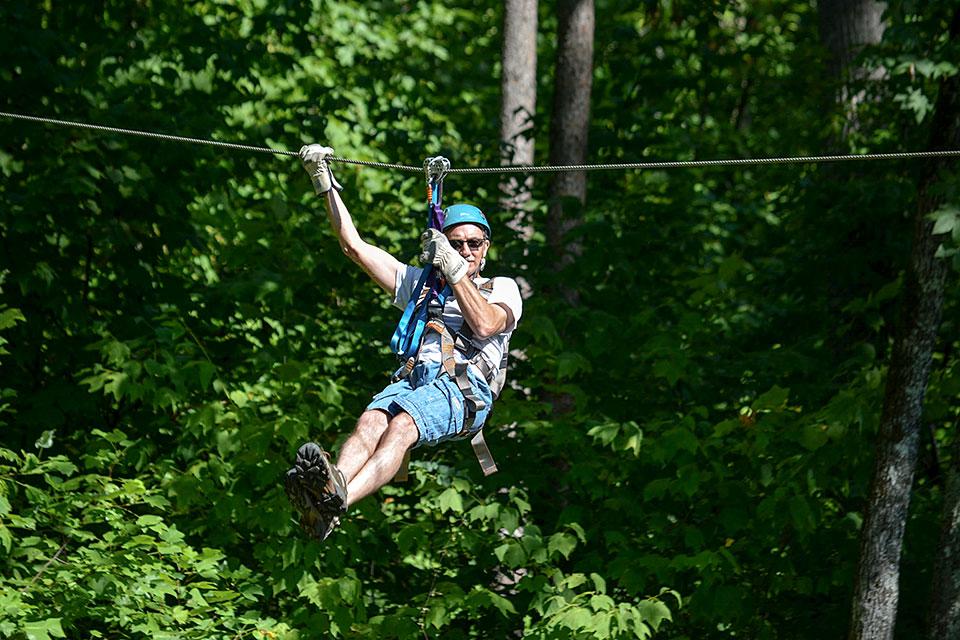 This content posted by Smoky Mountain Ziplines. Visit our home page, smokymountainziplines.com for more information on zipline adventures in the Smoky Mountains.