Blog for Zip line Attraction in the Smoky Mountains
Located in Pigeon Forge, TN and near Gatlinburg and Sevierville.
Visit The Smokies-If You Dare
By Ross Bodhi Ogle
Posted on March 23, 2021
Sometimes, it takes guts to have a good time. It's true. When you visit the Great Smoky Mountains, you'll discover we have a lot of attractions that are geared toward excitement but also require a certain level of courage to take that first step. This week, we're going to show you exactly what we're talking about by sharing ideas for daring ways to have fun in the Smokies.
First, though, we want to say that despite the thrills involved, the businesses and attractions that provide this sort of entertainment around here have excellent safety records. These are all activities that are largely accessible to the general public (some age and weight restrictions apply) and don't require any specialized knowledge or abilities on the part of the participants. The people who run them and guide these activities know what they're doing, and they're responsible for making sure thousands of people have amazingly safe adventures on their Smoky Mountain vacations.
Ziplining
That's what our Smoky Mountain zip line adventure is all about. If you've never tried ziplining before, this year needs to be the year you take that first step-off a zipline platform -so you can experience the excitement of whizzing hundreds of yards through the air among the mature hardwood trees on our Pigeon Forge mountain outpost. Our course offers seven ziplines of varying lengths, plus we have a cool vertical descent feature and unforgettable views of the Great Smoky Mountains.
As we mentioned above, no experience is necessary. Our guides will get you outfitted with all the safety gear you'll need, and they'll tell you exactly what to do along the way, from entering and exiting the zipline platforms to getting clipped onto the zipline itself and stepping out into the great wide open for the ride of a lifetime. Reservations required.
Whitewater Rafting
As summer approaches, so does whitewater-rafting season in the Smokies. You'll find several rafting vendors operating out of Gatlinburg, but most of the actual rafting around here is done in Hartford, TN, which is only about an hour's drive away from Gatlinburg and Pigeon Forge. That's where a number of rafting companies have outposts on the Pigeon River, and they offer different packages that allow you to shoot challenging rapids in a six-person raft. Tours are conducted in groups, and just as with ziplining, experienced and knowledgeable guides will get you geared up and teach you everything you need to know about how, when and where to paddle to successfully navigate the Class III and IV rapids you'll encounter along the way. You'll enjoy serene stretches of river in between as well as beautiful scenery, and on hot summer days, you'll enjoy taking a plunk into the bracing waters of the Pigeon River.
Hot Air Ballooning
This activity takes virtually no skill whatsoever on the part of passengers, but if heights make you uncomfortable, you'll definitely find it challenging. One area company offers hot-air balloon rides that start early in the day and take as many as six guests at a time as high as 2,000 feet in the air to take in bird's-eye views of the Great Smoky Mountains and its surrounding communities. The owners are experienced balloonists, but this activity is very dependent on weather conditions, so you'll only fly on clear, rain-free days when the winds are tame.
Thrill Rides
You'll find them all over Gatlinburg, Pigeon Forge and Sevierville. Roller coasters and bungee rides aren't for everybody, but even fans of thrill rides still get surges of adrenaline and nervous energy before they get underway. Dollywood theme park alone has multiple roller coasters as well as other rides that jumble passengers around like tossed salads. Also, just cruise down the Parkway to access any number of attractions with bungee cables that allow you to either jump off a high tower or fling you high into the air. No skill necessary. Just hold on tight and get ready to scream.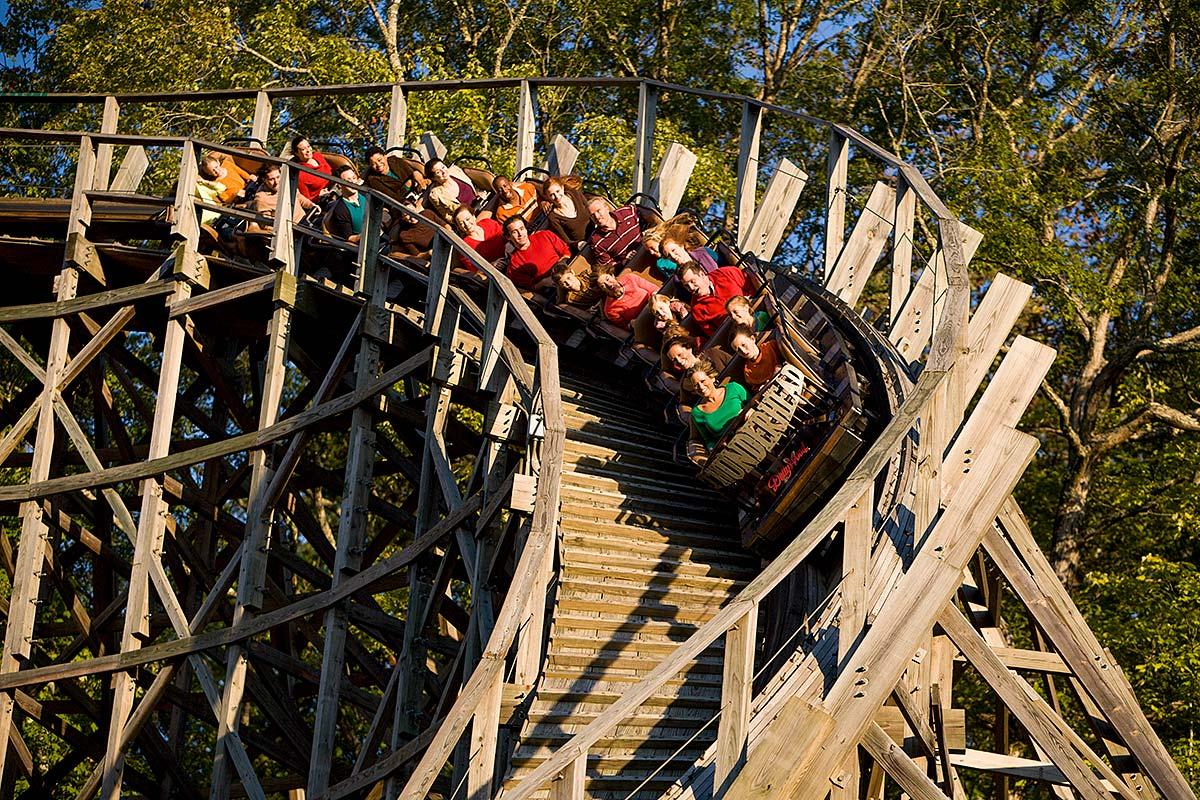 This content posted by Smoky Mountain Ziplines. Visit our home page, smokymountainziplines.com for more information on zipline adventures in the Smoky Mountains.