Blog for Zip line Attraction in the Smoky Mountains
Located in Pigeon Forge, TN and near Gatlinburg and Sevierville.
TripAdvisor Ranks Smoky Mountain Ziplines as Number One!
By Ross Bodhi Ogle
Posted on April 26, 2016
There are several Gatlinburg, Pigeon Forge and Sevierville zip line attractions in the Great Smoky Mountains. So how do you go about deciding which is the best for you and your family to visit? One trusted Internet source for evaluating everything from hotels to attractions is TripAdvisor, a site where folks who have visited area businesses post reviews about their experiences.
We may be a little biased, but we're not exaggerating when we report that Smoky Mountain Ziplines is currently ranked number one out of 13 outdoor activities in Pigeon Forge. And that's not just saying we're the highest rated zipline course; that means we're the highest rated of all the other Smoky Mountain outdoor attractions reviewed on the site, period.
That ranking is based on a total of 1,013 customer reviews, 936 of which have given us the highest possible rating of Excellent and 63 of which rated us as Very Good. That's overwhelming, and it makes us happy to know that we're fulfilling our mission of helping our guests get the most out of their Smoky Mountains visit with an outdoor experience they'll never forget.
What really makes us feel good is when we read the individual reviews that our customers have posted. Here are just a few…
Awesome Experience!
This was the best zip lining experience! This place definitely cares about your safety as well as your enjoyment! Will definitely go back!
Outstanding Experience!
Every aspect of our experience was fabulous! The ease of online reservations, friendly greeting at check-in, gearing us up, helping lighten the nervousness of our first zip with plenty of comedic relief. We can't wait to return and ride the new course!
Family Fun for All
This is a great travel destination for anybody looking for a unique way to experience the Smoky Mountains! The sense of humor, the helpfulness and the safety of the zip line staff were outstanding. Anybody's fear of heights is immediately diminished due to the laid-back and friendly atmosphere both on and off the zip course.
Great Time – Even for Younger Kids
Our daughters, 5 and 8, thought it was great. The youngest got to do the first two lines by herself, and then she rode with the guide for the rest of the lines that were longer and faster. They were really good with her and helped her along. This was a new experience for our daughters, and I think it will be a great memory for them from our vacation.
One common theme that pops up in a lot of our reviews is our guides. They're the best at what they do, and they make the difference between just riding ziplines and having a blast on the ziplines.
For one thing, they really are safety-conscious and do their best to make sure that everyone stays out of harm's way. But at the same time, they want everyone to have a good time. That means lots of humor, which goes a long way toward easing any anxieties about heights or riding a zipline for the first time, as a couple of the above reviews mentioned.
And they really know what they're doing out on those lines. Whether it's getting a rider safely clipped onto a zipline, helping a stranded rider get all the way to the other end of the line or giving a younger passenger a ride across, they always go the extra mile to ensure that all our guests have an unforgettable day in the mountains.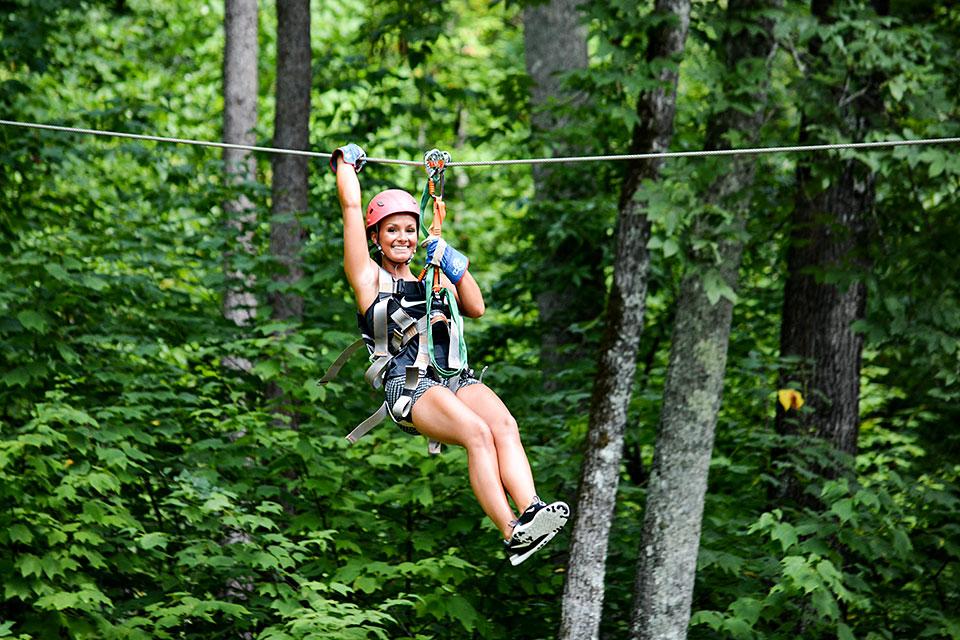 This content posted by Smoky Mountain Ziplines. Visit our home page, smokymountainziplines.com for more information on zipline adventures in the Smoky Mountains.