Blog for Zip line Attraction in the Smoky Mountains
Located in Pigeon Forge, TN and near Gatlinburg and Sevierville.
Special Programs Add New Dimension To National Park
By Ross Bodhi Ogle
Posted on July 2, 2019
If it weren't for the creation of Great Smoky Mountains National Park, it's possible that the Smokies area as we know it – Gatlinburg, Pigeon Forge and Sevierville – wouldn't have developed into the tourism destination that it is today. The park itself has become one of the most popular in the nation. In fact, it's the most visited, with some 10 million guests passing through its gates each year.
The natural beauty of the park is what draws people from all over the world, while recreational activities like hiking, biking, fishing, camping, swimming and picnicking make visiting GSMNP even more enjoyable. But did you know the National Park Service has even more in store for park guests? This week, we'll introduce you to a sampling of the regular special events and ranger-led programs that add a whole new dimension to what Great Smoky Mountains National Park has to offer.
These activities are typically conducted by park rangers and take place at various sites throughout both the Tennessee and North Carolina sides of the national park, including Sugarlands Visitor Center and the Cades Cove Visitor Center, to name just a couple. What's really cool is that the vast majority of these events are free of charge. And when you consider the fact that GSMNP is one of the few national parks that doesn't charge an admission fee, you can see why a visit to the Smokies is hard to pass up.
One of the more popular categories on the schedule is the lineup of Junior Ranger programs, which take place almost every day and are geared toward kids, although there's a lot for grown-ups to learn and enjoy as well. Many of these programs are scheduled on a weekly basis throughout the summer and include titles like Eeek! Bats!, Blacksmithing, Salamanders! and Batteries Not Included.
For example, the Stream Splashers program takes place at the Cades Cove Visitor Center every Friday through August 10, beginning at 1 p.m. The one-hour outdoor talk involves rolling up your pant legs and wading through a mountains stream in search of aquatic creatures. You will get wet, and on a hot day, the cool stream is welcome relief.
Programs for a broader range of ages include Secrets of the Smokies, Mingus Mill Demonstration, Mountain Life, Mountain Farm Museum, Mammal Mania!, Talking Tombstones and the popular Cades Cove Morning Hayride, which takes place every Friday from 9 to 11 a.m. (The hayrides do cost $14 per person.)
Another example of the all-ages offerings is the Bear Aware program, which is every Tuesday at 2:30 p.m. at the Cades Cove Visitor Center. During this short, half-hour nature walk, rangers help visitors identify signs that bears may be on the trail and how to be aware of their presence when in the park.
One thing you won't find in the national park, however, is ziplines. And that's where a visit to Smoky Mountain Ziplines in Pigeon Forge can add even more outdoor beauty and adventure to your vacation itinerary. We have the area's best ziplines, Smoky Mountains scenery and about as much adrenaline-inducing excitement as a person can pack into one morning or afternoon.
We're located just two miles off the Parkway in Pigeon Forge, but our outpost benefits from rural isolation and views of the Smokies that rival what you'll find inside the national park itself. Contact us today to book your next tour.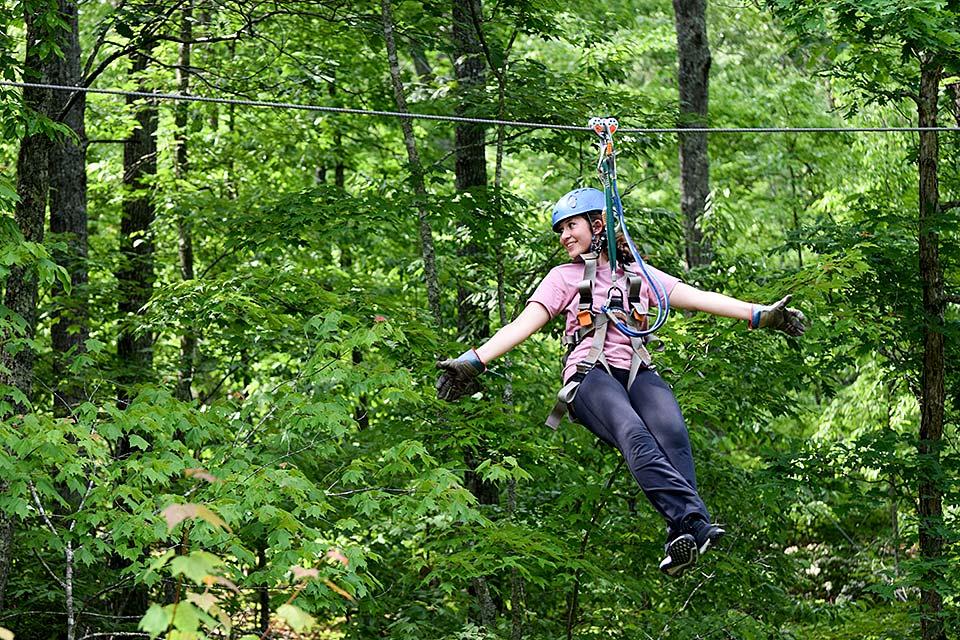 This content posted by Smoky Mountain Ziplines. Visit our home page, smokymountainziplines.com for more information on zipline adventures in the Smoky Mountains.