Blog for Zip line Attraction in the Smoky Mountains
Located in Pigeon Forge, TN and near Gatlinburg and Sevierville.
Smoky Mountain Ziplines 2018 Season Preview
By Ross Bodhi Ogle
Posted on January 30, 2018
It'll be another month or so before we're back open for the 2018 season here at Smoky Mountain Ziplines, but we figured it wouldn't be too early to give you a taste of what we'll have going on here this year at our outpost, which offers the best ziplining Sevierville, Pigeon Forge or Gatlinburg have to offer.
If you've ziplined with us before, you already know what to expect, and you probably also understand why we have a five-star rating on TripAdvisor.com, based on more than 1,500 customer reviews. In fact, 92 percent of those reviews give us the highest Excellent rating, while another 5 percent rate us as Very Good. TripAdvisor also ranked Smoky Mountain Ziplines number one among all outdoor activities in Pigeon Forge. But if you're new to ziplining in general, or if you've ziplined before but not at Smoky Mountain Ziplines, read on for a general introduction to our canopy tour experience.
Our course features seven ziplines, and a full tour generally takes about two hours altogether. The lines vary in length, but with a total of 4,200 feet of zipline cable, we offer one of the longest zipline tours in the Smokies. Within the past couple of years, we've introduced new tower and treetop structures to support our platforms, and passengers reach speeds of up to 25 miles per hour.
While the ziplining experience itself is fun, our guests love the scenery too. Our course is laid out on a mountainside, which is beautiful in its own right, but some segments of the tour provide wide-open views of Smoky Mountain vistas. They're truly photo-worthy, so bring along your phones and cameras to capture your adventure against one of the most beautiful backdrops on earth.
All tours start at our outpost, which is only two miles from the Parkway in Pigeon Forge (although it doesn't take much of a drive off the main drag to wind up in remote, forested terrain). Once we get you checked in, you'll go to the equipment room, where your professional guides will get you geared up with properly fitting safety equipment (harness, gloves, helmet) and get you and your tour group loaded onto our military-style transport truck for the ride to the top of the mountain.
Once you're there, you'll receive instructions on the proper way to step off a zipline platform and prepare for landing on the other end. These days, you don't even have to worry about braking, because our new braking system ensures that guests come to a full stop at the end of the line.
Safety is indeed one of the priorities for our guides, who are also known for their guest interaction and comedic skills. Once you're on a platform, you'll be harnessed to a safety cable at all times, and your guide will personally make sure that you're securely clipped to the zipline trolley and are ready to step off into the wild blue yonder.
Other noteworthy features about Smoky Mountain Ziplines include a fun vertical rappelling feature to get you from the end of one of our ziplines to the beginning of the next one, minimal walking between zipline platforms and the option of hosting a group outing or a party at our outpost.
Now that you know what to expect, all you have to do is wait until spring, and then give us a call to make a reservation for your next zipline adventure!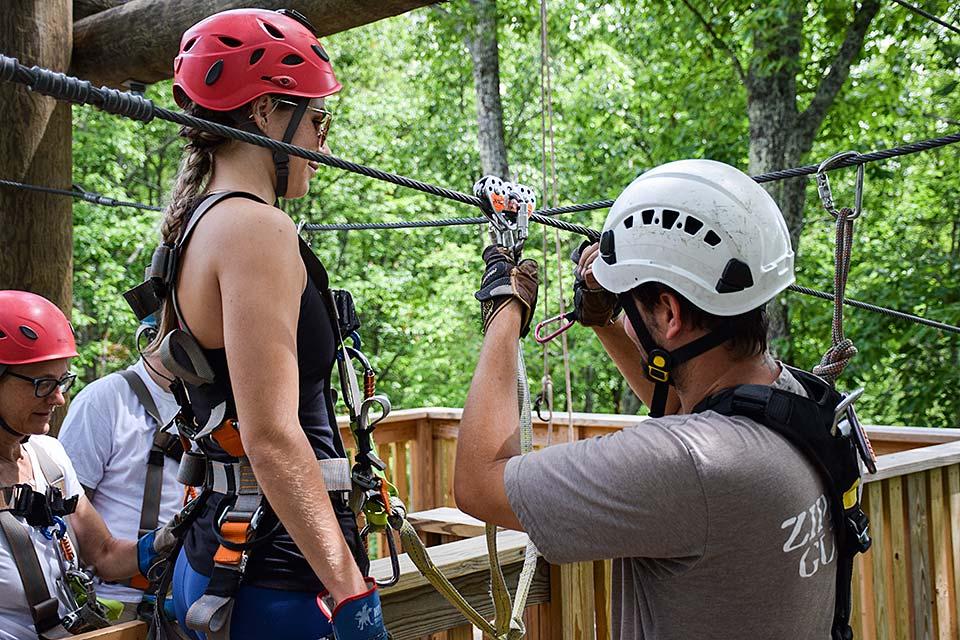 This content posted by Smoky Mountain Ziplines. Visit our home page, smokymountainziplines.com for more information on zipline adventures in the Smoky Mountains.