Blog for Zip line Attraction in the Smoky Mountains
Located in Pigeon Forge, TN and near Gatlinburg and Sevierville.
Smoky Mountain Harvest Festival
By Ross Bodhi Ogle
Posted on September 18, 2018
You can't say we don't do things in a big way in the Great Smoky Mountains. Even our special events can last for months and months. Such happens to be the case with Smoky Mountain Harvest Festival, which is currently under way and runs through November 25.
Actually, this celebration of autumn in the mountains kicked off on September 7, but now that summer is officially coming to an end in the next few days, we feel a little better about talking fall in the Smokies. And besides, it seems those sweltering days of summer may just be giving way to the first cool brushes of a new season.
Fall is actually one of our favorite times of year to be the Smokies. Once the leaves start turning later this month and reach their peak in October, the region's foliage becomes a blanket of vibrant color, with the deciduous trees signing off until spring with a temporary palette of reds, yellows and oranges. This makes the Smokies the perfect place to spend a crisp, sunny fall day, especially if you're taking in the scenery from your favorite spot within Great Smoky Mountains National Park.
But Smoky Mountain Harvest Festival really ups the ante in terms of reasons to come to the Smokies between now and Thanksgiving. The communities of Sevierville, Pigeon Forge and Gatlinburg all lay down the welcome mats to their respective towns by dressing up for the season in traditional fall decorations. Lots of businesses adorn themselves with hay bales, scarecrows, pumpkins and gourds and the like.
Each town also has a long slate of individual special events designed to help visitors get into the mood of the season and make the most out of their time. For example, Dollywood has its own Harvest Festival, highlighted by tons of fall décor throughout the park and Dollywood's Southern Gospel Jubilee, which features some of the nation's top gospel music artists performing multiple shows daily at the various Dollywood venues.
Harvest Festival at Dollywood also features Great Pumpkin LumiNights, consisting of thousands of carved and illuminated jack-o-lanterns as well as new pumpkin-themed food options and entertainment activities. In addition, the theme park's community of craftsmen is complemented by guest artisans from all over the country, who combine to present one of the biggest and most diverse craft events in the Southeast.
Other Pigeon Forge events include Old Mill Heritage Day (9/22), the National Quartet Convention (9/23-29), the Pigeon Forge Rotary Club Crafts Fair (9/29-10/27) and even a little seasonal overlap in the form of Pigeon Forge Winterfest Kickoff on November 6.
Meanwhile, in Gatlinburg, they'll be gearing up for Smoky Mountain Harvest Festival with new seasonal decorations, including life-size, three-dimensional scarecrow people. And up at Ober Gatlinburg Ski Resort, folks will be stepping off the aerial tramway at the top of the mountain to celebrate Oktoberfest, a month-long festival featuring Bavarian-style food, drink and music.
Ripley's Haunted Adventure will get even spookier leading up to Halloween with its annual Fright Nights on Fridays throughout the month of October, and the Gatlinburg Craftsmen's Fair will showcase top crafters from across the nation October 4 through 21. The Smoky Mountain Trout Tournament, (10/6-7) and Gatlinburg's own Winterfest Kickoff on November 7 help round out the possibilities.
In Sevierville, look for events like the weekly Downtown Sevierville Farmer's Market (through 10/5), Robert Tino's Smoky Mountain Homecoming Festival (10/5-7) and the town's Winterfest kickoff on November 9.
Our zipline in Sevierville, TN, will be helping visitors get into fall by offering them outdoor fun on pleasant days and gorgeous views of the Great Smoky Mountains in all their autumnal glory. We hope that in between all the special events of Harvest Festival you can carve out some time to visit us at Smoky Mountain Ziplines.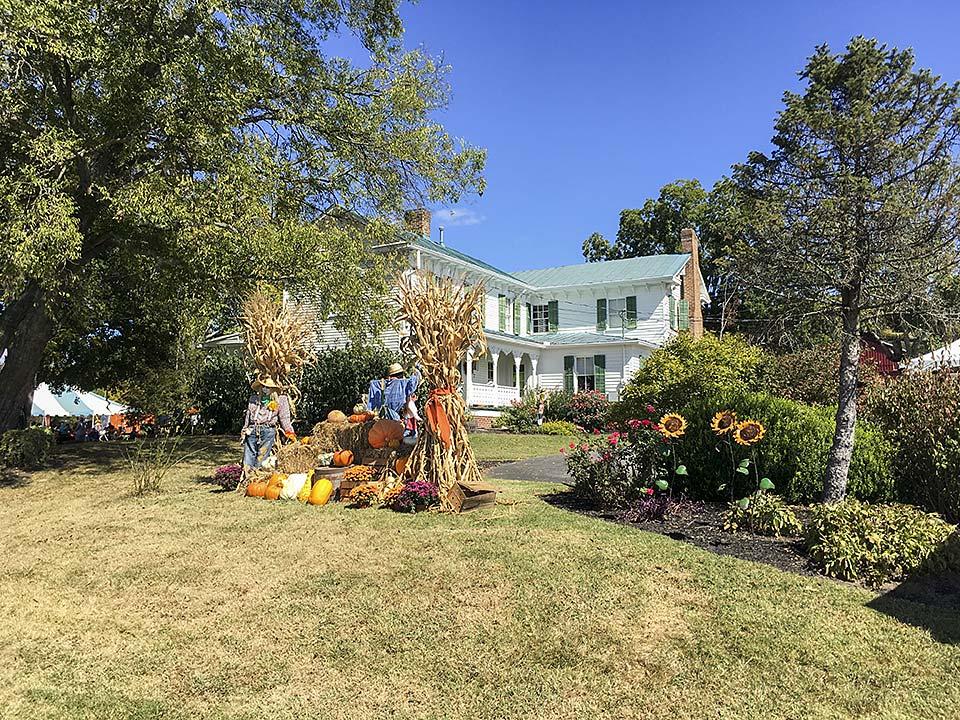 This content posted by Smoky Mountain Ziplines. Visit our home page, smokymountainziplines.com for more information on zipline adventures in the Smoky Mountains.