Blog for Zip line Attraction in the Smoky Mountains
Located in Pigeon Forge, TN and near Gatlinburg and Sevierville.
Ober Gatlinburg – A Downhill Experience For Winter
By Ross Bodhi Ogle
Posted on December 11, 2018
What's the most fun way to travel downhill in the Smokies? It's Smoky Mountain Ziplines, naturally! Our course features seven individual ziplines that take you from the top of our scenic wooded mountain to the bottom in high-speed fashion. We offer one of the longest zipline experiences in the area, and you'll discover there's nothing quite like soaring through the treetops like a bird to add a little adrenaline boost to your day.
Unfortunately, you've only got a few weeks left to get in on the action for 2018. We'll be open weekends only through the end of the year in addition to all of Christmas week (except for Christmas Day itself). Then we'll do just a little bit of winter hibernation until spring rolls around and the daytime temperatures start to climb once again.
The good news, however, is that if you're the kind of person who gets their kicks from outdoor adventure, you don't have to wait until spring to have a little fun here in the Smokies. While our Gatlinburg canopy tours are on hiatus, you can enjoy downhill fun of a different sort at Ober Gatlinburg Ski Resort. Located on top of Mt. Harrison, overlooking downtown Gatlinburg, this longtime winter destination delivers fun in a multitude of ways, from skiing and snowboarding to inner tubing. They've even got an aerial tramway and a scenic chairlift that let folks enjoy tremendous views from a mountaintop vantage point but without necessarily having to take an active approach.
Ober Gatlinburg has been a popular regional ski destination for nearly 50 years. And it all started with skiing. Today, 10 different slopes are available (depending on weather conditions), ranging from the tame Ski School and Cub Way slopes to the more challenging Mogul Ridge and Grizzly trails. Seven different lifts are in operation to transport skiers and snowboarders from the resort to the top of each trail. For those who are new to the sport, Ober Gatlinburg offers ski and snowboard lessons as well as equipment and clothing rentals. There's even a freestyle terrain park for participants who want to hone their skills and take them to the next level.
Visitors who may not want to take on the challenge of skiing or snowboarding will certainly enjoy the excitement of snow tubing. Ober Gatlinburg has a 10-lane tubing course that lets each guest enjoy as many as 90 minutes of downhill fun. And no, you don't have to climb the hill at the end of each run. The course's Magic Carpet escalator takes you back to the top without having to burn unnecessary energy.
The ski and tubing season is just getting started up there and will generally run through mid-March. During that time, visitors are advised to go to the website to check on daily slope conditions and to see which trails and lifts are operational that day. If you want to lay eyes on the resort and see how much snow is on the ground, visit this webcam at http://www.resortcams.com/webcams/ober-gatlinburg. Even if we haven't received actual snowfall in the Smokies, the resort is capable of manufacturing its own snow, guaranteeing a skiable base throughout the season as long as the temperatures are conducive.
Visitors to Ober Gatlinburg will find much more than skiing and tubing, however. Guests can coast from higher to lower elevations on the mountain coaster or alpine slide. And the scenic chairlift – the longest of its kind in the United States – takes guests even further up the mountain for fantastic views of Gatlinburg below and the nearby Smokies.
You'll also have fun with the resort's indoor ice-skating rink as well as ice bumper cars, a children's snowy play area, wildlife encounter, carousel and arcade. There's also a restaurant on site in addition to several indoor shops and food vendors.
There are two ways to get to Ober Gatlinburg. You can drive from downtown Gatlinburg to the top of the mountain via Ski Mountain Road. Or you can take the Aerial Tramway from its downtown boarding station directly up to the resort. The tram cars are big enough to accommodate 20 guests as well as all their snow gear.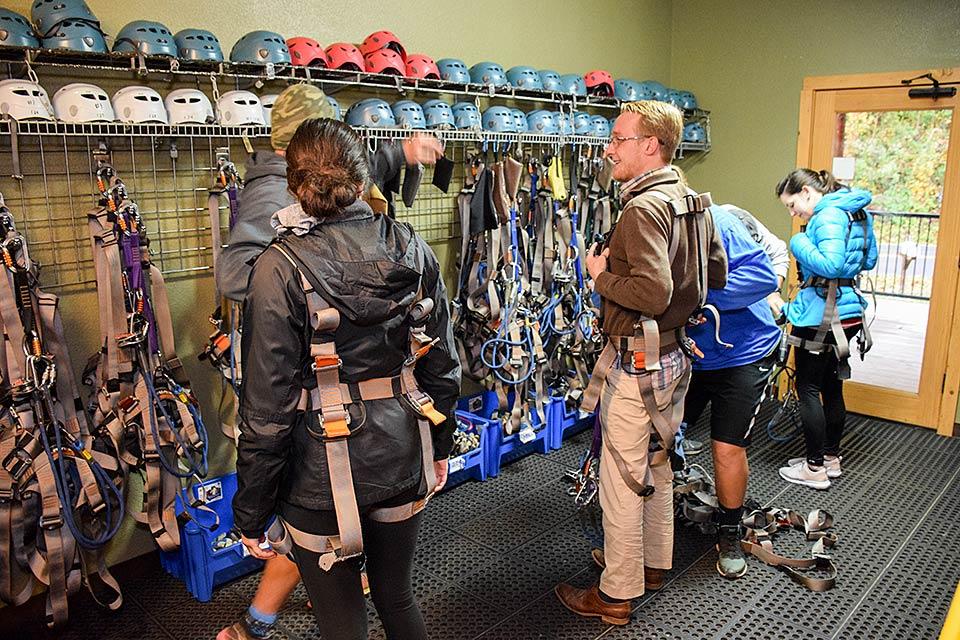 This content posted by Smoky Mountain Ziplines. Visit our home page, smokymountainziplines.com for more information on zipline adventures in the Smoky Mountains.