Blog for Zip line Attraction in the Smoky Mountains
Located in Pigeon Forge, TN and near Gatlinburg and Sevierville.
Let It Snow
By Ross Bodhi Ogle
Posted on December 1, 2020
We've already had our first snow of the year in the Smokies, and it was an early one. You know who's not complaining about it? The folks at Ober Gatlinburg Ski Resort. For them, this just means they're getting an early start preparing for a season of winter fun on top of Mt. Harrison. They have several inches of natural snow, and they are currently in the process of manufacturing more snow to add to their base, all with the hopes of opening the slopes in the very near future.
This week, we'll tell you all about what's going on up at Ober this year and what you can expect if you decide to visit. You also have a few weeks left to visit us at Smoky Mountain Ziplines. Skiing, ziplines, Gatlinburg... Sounds like a great way to spend the weeks leading up to Christmas.
The first thing you need to know about Ober Gatlinburg is how to get there. You have two options. One is drive up Ski Mountain Road from downtown Gatlinburg until you get to the resort. It's a scenic drive, but what if winter weather has made the road treacherous? No problem. Just hop on board OG's Aerial Tramway, which departs from its downtown station on the Parkway. The spacious gondolas carry as many as 120 passengers on the 2.1-mile journey up 1,500 feet to the top of the mountain. And yes, if you have your own ski gear, you can bring it with you on the tram.
Once you're at the top, skiing/snowboarding is the main activity. They have 10 slopes ranging from beginner to advanced. Most of them are intermediate, and each is serviced by either a double or a quad chairlift. If you're a newbie, you can take lessons on site at their ski school and even rent all the gear and much of the clothing you'll need to get started. Advanced skiers and snowboarders can take advantage of the Ober Gatlinburg Freestyle Terrain park, which is essentially like a skateboard park for snowboarders.
Ticket options vary. You can ski a full session from 12 to 10 p.m. or just go with a twilight session (3 to 10) or night skiing only (6 to 10). Tickets do not include lessons or equipment rentals.
While the slopes haven't opened just yet, you can definitely do some snow tubing now through next Easter at Ober Gatlinburg. The 10-lane course lets you slide downhill on a snow tube, and the best part is that their magic carpet lift will carry you back to the top of the hill. Sessions last 90 minutes. Ober also has a Cubbies Snow Zone, which is a snowy play area for kids. It's only open on weekends during ski season and is subject to weather conditions.
Even if you're not into snow sports, there's still a lot of ways to have fun at Ober Gatlinburg. You can ice skate inside the main resort building, ride a scenic chairlift further up the mountain, ride the mountain coaster or the alpine slide, have a go at the ice bumper cars or see wild animals at the wildlife encounter. There are also several other family amusement-style activities like a climbing wall, mini golf, a maze and more.
If you're thinking about heading up to Ober Gatlinburg in the near future, you can read their latest slope report here: https://obergatlinburg.com/slope-report/.
Or if you want to see what things are looking like on top of the mountain, you can view their live webcams here: https://obergatlinburg.com/webcams/.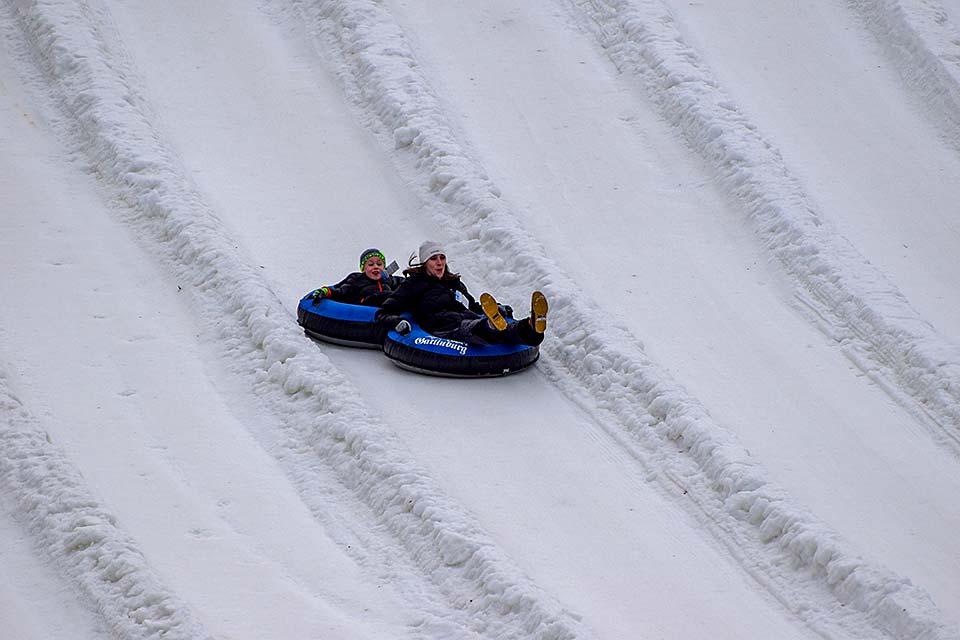 This content posted by Smoky Mountain Ziplines. Visit our home page, smokymountainziplines.com for more information on zipline adventures in the Smoky Mountains.