Blog for Zip line Attraction in the Smoky Mountains
Located in Pigeon Forge, TN and near Gatlinburg and Sevierville.
It's Zipline Time In Tennessee
By Ross Bodhi Ogle
Posted on March 6, 2018
Smoky Mountain Ziplines is officially open for the 2018 season! And we're excited to be back, providing our guests with an unforgettable experience that includes ziplines, Smoky Mountains and more fun than you've probably had in a long time. If you've ziplined with us in previous years, then you have a good idea of what we have to offer. But if you've never ziplined with us before, or if you've never been on a zipline at all, then read on for an overview of everything we'll have to offer this year.
• Easy to find. Located just two miles off the Pigeon Forge Parkway, our outpost is close to town, but our actual location is far from congested. We're nestled in the rural foothills of Sevier County, so you'll definitely get the feeling you've gotten away from it all for a few hours. It's the best of both worlds for those looking for a way to escape into nature without the commitment to a full trip into the national park.
• Lots of ziplining action. We offer seven different lines, with a total length of 4,200 feet of cable. So no dinky zipline runs here. You'll fly high, and you'll fly far, at speeds of up to 25 miles per hour. We're proud to be the home of one of the longest and biggest zipline experiences in the Smokies.
• Safety is key. As a matter of fact, one of the first things you'll do after you check in at our outpost is get geared up by your tour guide. He or she will outfit you with a safety helmet, harness and gloves, all chosen to fit you comfortably but protectively. From then on, you'll be in the capable hands of experienced guides, who are always looking out for your well-being.
• Skilled guides. From getting you suited up before your tour, to giving you tips on the best way to take off and land on our zipline platforms to serving up group-friendly humor, our expert guides are what set Smoky Mountain Ziplines apart. They're there to make sure you get through the day safely and, typically, laughing all the way. In fact, we send out two guides with each group to make sure that no guest is left untethered or unattended the entire time.
• Minimal walking. Don't worry; you won't have to walk to the top of our mountain before starting your canopy tour. We transport each tour group in an open-air military-style vehicle that's ideal for the steep trek up to the first zipline platform. Just hang onto the handrails, smile and be sure to say hello to your fellow tourists. There's also minimum foot time in between ziplines – but just enough to let you enjoy the beauty and serenity of our hillside setting.
• Beautiful views. Our wooded setting is scenic enough, but at several points along our tour, especially from atop of one our specially designed zipline towers, you'll be treated to awe-inspiring views of the Great Smoky Mountains. These make for great photo opps if you happen to have your camera or phone along for the ride.
• Easy stopping. In previous years, our guests were responsible for slowing themselves down using their leather gloves, but for a couple of years now, we've had a new braking system that automatically slows you down as you approach the landing platform, and it allows our guides to easily pull you in the rest of the way should you come up a little short.
• Vertical drop feature. We have a 30-foot, controlled-descent, freestyle drop (similar to rappelling) that will take you from one of our landing platforms down to the ground below, to the start of the next zipline. You'll be assisted by guides, and it's a lot of fun.
• Great value. When you see how much zipline fun we have to offer and how much time you get to spend on our course, you'll see how much you get for the money, compared to other zipline operations in the area.
• Highly rated. Visitors to TripAdvisor.com have us rated as the number one outdoor attraction in Pigeon Forge, with a five-star rating based on nearly 1,600 reviews. Ninety-seven percent of our reviews have us ranked as Very Good or Excellent, with the vast majority of those ratings being Excellent. That site is a great resource for reading firsthand reviews of what it's like to spend a couple of hours with us.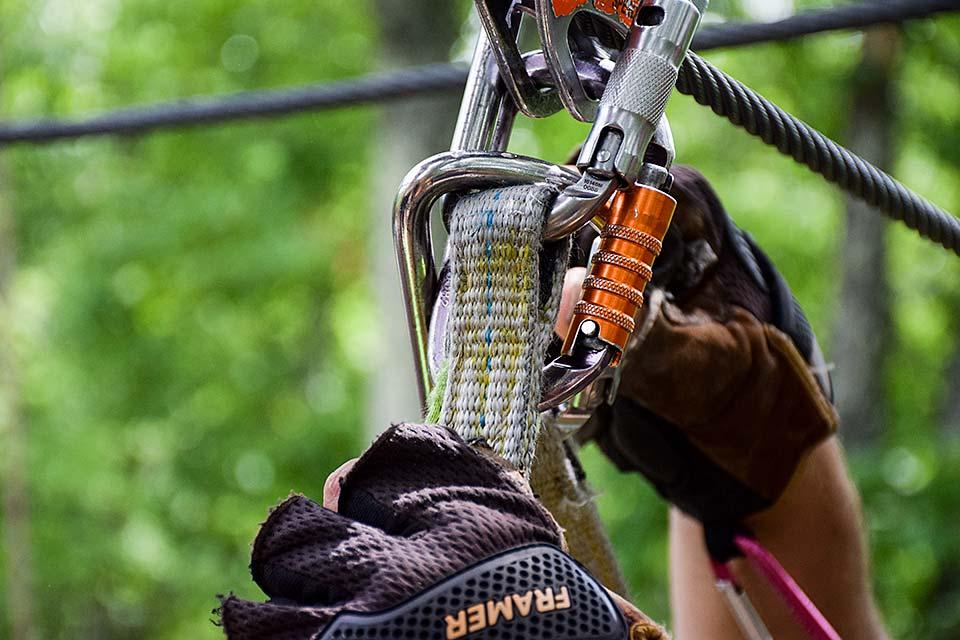 This content posted by Smoky Mountain Ziplines. Visit our home page, smokymountainziplines.com for more information on zipline adventures in the Smoky Mountains.