Blog for Zip line Attraction in the Smoky Mountains
Located in Pigeon Forge, TN and near Gatlinburg and Sevierville.
It's Total Eclipse Time In East Tennessee!
By Ross Bodhi Ogle
Posted on August 15, 2017
Unless you've been living under a rock for the past several months, you're probably already aware that a rare astronomical event will have a major impact on East Tennessee next week – August 21, to be precise. That's the day that much of our region will experience a total eclipse of the sun, and portions of East Tennessee and the Great Smoky Mountains lie in the path of totality – that is, the zone in which the sun will be totally obscured as the moon passes between it and the earth. And when you consider that the last total solar eclipse viewed from the contiguous United States was in 1979, you can see how this will be a rare event indeed.
We realize that while many of you reading this may live in this area already, some of you may live far beyond the zone of totality. So if you're visiting from out of town next week, we'd like to point out some helpful tips for experiencing this amazing phenomenon.
While Great Smoky Mountains National Park is expected to be a prime spot for viewing the eclipse (in fact, the National Park Service is hosting a special ticketed eclipse viewing at Clingman's Dome), Newfound Gap Rd. (which connects Gatlinburg and Cherokee, NC, via the national park) will be closed that day to accommodate shuttles for ticketed guests. So we advise seeking out other areas of the Smokies, or at least of the national park, to view the eclipse. For example, Cades Cove and Oconaluftee Visitor Center will also host staff-guided viewings for free, but the roads to those sites may close if traffic becomes too congested. The peak of totality will be in mid-afternoon, so unless you're somewhere with a lot of tree cover, you should have a pretty good view of the event just about anywhere in the region.
The eclipse will begin at around 2:30 p.m. Eastern time, and totality will last anywhere from 30 seconds to two and a half minutes, depending on which part of the zone you're located. If clouds don't obscure the sun that day, you'll be able to see the moon pass between earth and the sun as well as resulting phenomenon like the diamond ring effect – created just as the sun slips completely behind the moon – and the glow of the sun's corona as it shines around the perimeter of the moon's circumference.
Of course, we also hope you're aware that you should not look at the sun or the eclipse with your naked eyes or even regular sunglasses. It's recommended that you purchase specially filtered glasses made with aluminized Mylar or use No. 14 welder's glass to look directly at the eclipse. Or if you don't trust the safety of your eyes to any of these products, you can always watch live on TV or online via any number of websites, including astronomy.com and nasa.gov.
And don't forget about your camera's eyes either. The sensors found in your phone's camera or in any other digital camera can fry if focused directly at the sun, so don't ruin a good piece of equipment just to capture the event for posterity. Plenty of professionals will be doing that.
Smoky Mountain Ziplines will be open on Monday as usual, but you might want to get your ziplining done in the morning or later in the afternoon so you can make time to watch the eclipse. Our course is heavily shaded, so it might not make for the best eclipse viewing during the actual event – but it still has the best zip lines Gatlinburg, TN or Pigeon Forge, TN have to offer.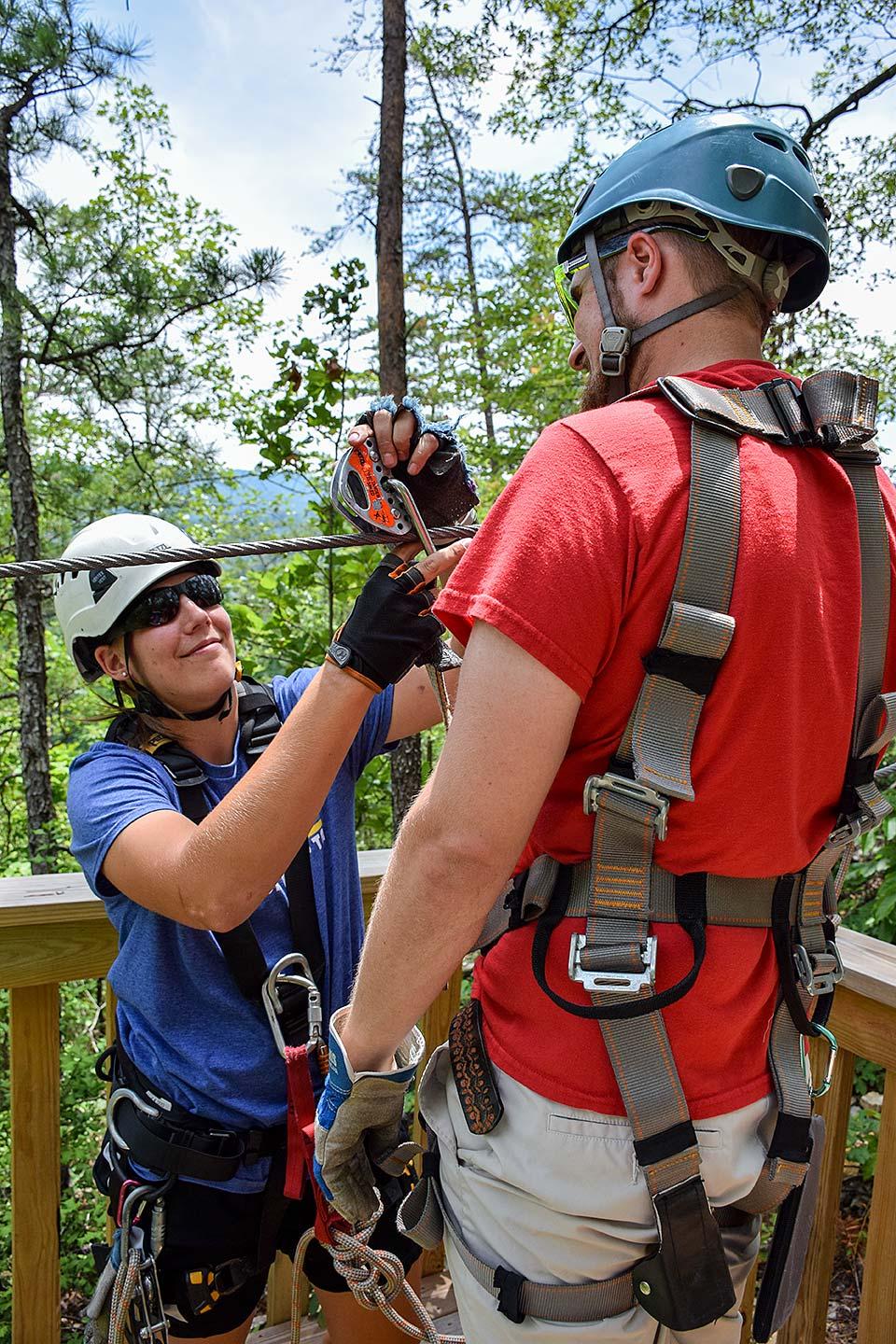 This content posted by Smoky Mountain Ziplines. Visit our home page, smokymountainziplines.com for more information on zipline adventures in the Smoky Mountains.