Blog for Zip line Attraction in the Smoky Mountains
Located in Pigeon Forge, TN and near Gatlinburg and Sevierville.
It's A Beautiful Time To Zipline!
By Ross Bodhi Ogle
Posted on September 29, 2020
If you're ready to ride a zip line, Pigeon Forge, TN, is the place you want to be this weekend. We're looking forward to some beautiful weather over the next several days, complete with mild temps and lots of sunshine. The conditions are ideal to come to our outpost in the mountains and experience for yourself one of the most exciting attractions in East Tennessee.
Whether you visit by yourself, as a couple or with a whole group of people, all you have to do is contact us by phone or via the website and make your reservation for a tour. Upon your arrival, we'll have a complimentary beverage for you while you wait for the rest of your group to show up.
Once everyone is together, two of our guides will take over. They'll start by taking you into the gear room, where everyone will be outfitted with a properly fitting harness as well as a helmet and gloves. From there, one of our military transport vehicles will back right up to our front porch, and it's all aboard. We'll carry you to the top of the mountain, where the first zipline is ready and waiting.
Our canopy tour features a total of seven ziplines. They start out short and easy, which is a great way to get your feet wet if you've never done any ziplining before. From there, the lines get longer and higher and faster. In all, they total more than 4,200 feet in length, which is close to a mile. Some of the lines are as high as 150 feet above the ground, with individual lines running as long as 800 feet. That's almost the length of three football fields.
Our guides will make sure you're safe every step of the way. When you're stepping up onto a launch platform or exiting a landing platform, guests are tethered securely at all times. When it's your turn to ride a line, your guide will clip your harness onto the cable. All you have to do then is step off the platform and let gravity do its thing.
Each zipline run is a blast for the senses. You're high off the ground, you're moving fast, mature trees surround you as you whiz by them. The wind is in your hair, and on a beautiful day (we're expecting a bunch of them this week), the scenery of the Great Smoky Mountains in the distant is indescribable.
The course has other cool features as well. It's designed so that there's not a lot of walking from one zipline to the next (not that walking through the woods on a gorgeous day is a bad thing), and we have a vertical descent feature that lets you travel 30 feet down from one zipline platform to the next. It's almost like rappelling, and your guide will assist you with that as well.
When you're done ziplining, our transport truck will be waiting to carry you and your group back to the outpost. On an average day, you can expect to spend as long as two hours enjoying the Great Smoky Mountains in a unique way.
If you've ziplined with us before, you know firsthand what a great experience we offer. If you're new to Smoky Mountain Ziplines or if you've never ziplined at all, listen to what one of our customers said just this week: "I would definitely recommend this place to anyone. Not only do you have a lot of fun, but these guys are all about making sure that you're safe while having fun. It's a great place for families also."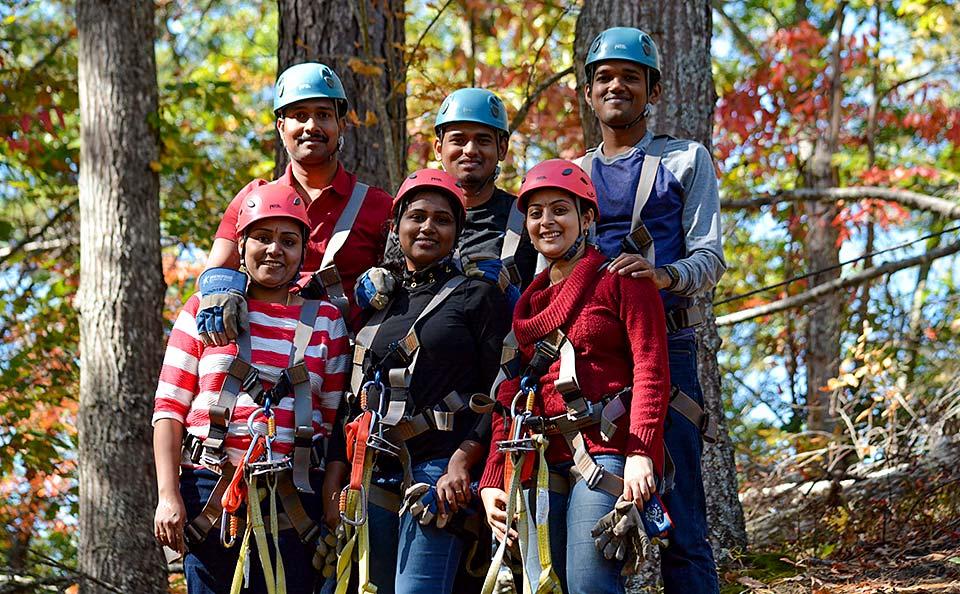 This content posted by Smoky Mountain Ziplines. Visit our home page, smokymountainziplines.com for more information on zipline adventures in the Smoky Mountains.