Blog for Zip line Attraction in the Smoky Mountains
Located in Pigeon Forge, TN and near Gatlinburg and Sevierville.
How Well Do You Know Dolly Parton?
By Ross Bodhi Ogle
Posted on February 23, 2021
Most folks know Dolly Parton was born and raised right here in the Great Smoky Mountains, near Sevierville, Tennessee. But beyond that, how much do you know about the legendary country music singer and actor? This week, we're going to put you to the test. Take our quiz and see how your knowledge base stacks up to the fact. Then next week, we'll share the correct answers and dive a little deeper into the star's history. Good luck!
1. True or false? Dolly has snake tattoos on both arms, which is why she wears long sleeves.
Answer: False.
2. True or false? Dolly the sheep, the first animal to be successfully cloned, was named after Dolly Parton.
Answer: True.
3. Which of the following artists has NOT recorded a cover of Dolly's hit "Jolene?"
The White Stripes
Zac Brown Band
Ray LaMontagne
Taylor Swift
Answer: Taylor Swift.
4. Dolly Parton sings about a type of blues that only women really understand. According to one of her songs, what is that type of blues?
Pregnancy Blues
Bad Hair Day Blues
PMS Blues
Bra Blues
Answer: PMS Blues. "If I'd have been a man, I'd be somewhere right this very minute with some old cranky, naggin', raggin' hateful woman with those old PMS Blues."
5. True or False: Dolly covered Whitney Houston's international hit "I Will Always Love You," which introduced the track to a country audience.
Answer: False. It was Dolly's song first, but most of you probably knew that.
6. Which artist dethroned Dolly from her previously held position as the most Grammy-nominated woman in history?
Celine Dion
Alison Krauss
Adele
Beyoncé
Answer: Beyoncé. Prior to the 2015 Grammys, Queen B and Dolly were tied with 46 nominations each.
7. Dolly Parton claims she once entered but lost what type of competition?
A hot-dog eating contest
A karaoke-off in Las Vegas
An American Idol-style competition in Japan
A Dolly Parton lookalike contest
Answer: A Dolly Parton lookalike contest. It supposedly happened at a Halloween contest on Santa Monica Boulevard years ago.
8. After a 25-year drought, in which year did Dolly once again hit the number-one spot on Billboard's Top Country Albums chart?
2017
2016
2013
2011
Answer: 2016.
9. True or False? Dolly contributed more than $1 million of her own money to the development of the Moderna vaccine?
Answer: True.
10. Dolly grew up with how many siblings?
13
11
6
4
Answer: 11.
11. How old was Dolly when her debut album, Hello, I'm Dolly, was released?
24
21
20
16
Answer: 21. It came out on February 13, 1967.
12. Bonus question: Has Dolly Parton ever ridden our Smoky Mountain zip line?
Answer: No. Unfortunately, she has issues with motion sickness.
So while you're chewing on Dolly Parton trivia for a while, we can tell you that we're getting an early taste of spring here in the Smokies this week, which is getting us pretty fired up for reopening for the 2021 season in just a matter of weeks.
It's not too early to start planning your next visit to the mountains either. And if your idea of a great vacation includes riding the best ziplines, Smoky Mountains scenery and a good dose of Southern hospitality, then you'll want to include a stop at Smoky Mountain Ziplines in your travel itinerary.
We're looking forward to a big season at our outpost, located just two miles off the Parkway in Pigeon Forge. We're close to all the excitement but far enough way that you will definitely feel like you've found true isolation and beauty in the Great Smoky Mountains. We hope to see you in 2021!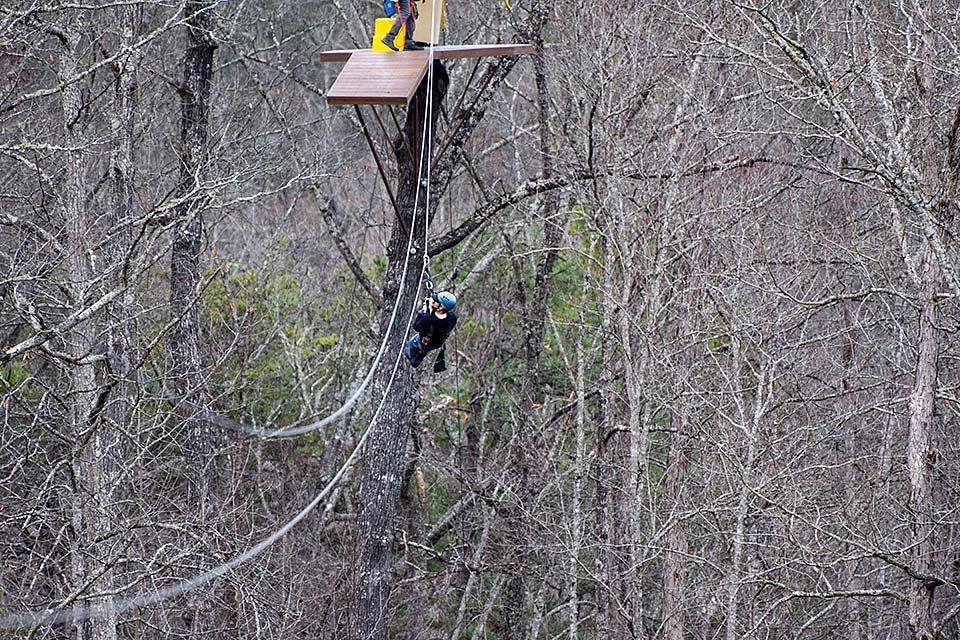 This content posted by Smoky Mountain Ziplines. Visit our home page, smokymountainziplines.com for more information on zipline adventures in the Smoky Mountains.