Blog for Zip line Attraction in the Smoky Mountains
Located in Pigeon Forge, TN and near Gatlinburg and Sevierville.
Saddle Up! Horseback Riding In The Mountains
By Ross Bodhi Ogle
Posted on July 13, 2021
There are lots of ways to see the Great Smoky Mountains up close. You can drive through them, hike them, bike them (the pedal kind or the motor kind) and even rent an ATV to take you overland. But a lot of people overlook the fact that touring the Smokies on horseback is a simple but unique way of immersing oneself in an old-school mountain experience. It's you and one of nature's amazing creatures exploring some of the most beautiful parts of the country.
This week, Smoky Mountain Ziplines is going to saddle up and hit the trail as we introduce you to just a few of the horseback-riding outfitters here in East Tennessee. They offer different types of experiences depending on their settings, size of acreage and points of geographical interest. And there are even more stables at your disposal with a simple Internet search. But whichever way you go, we're confident you'll be able to find a stable that will meet your travel and adventure needs.
And speaking of adventure, maybe you could pair up a horseback morning with an afternoon on our Sevierville zip line and make it a full day of wonder in the great outdoors!
Cades Cove Riding Stables
We're starting with this one because it's not only been around a long time, but it's one of only a couple of stables physically located within the boundaries of Great Smoky Mountains National Park-fittingly in the Cades Cove section. Just drive there and follow the signs to the stables (before you enter the one-way loop road). They offer guided trail rides on which you'll be on your own horse and follow a guide through the wilderness areas of the Cove. Rides depart in groups of no more than nine, and they last around one hour. Use of safety helmets is encouraged for all riders, and they're required for guests ages 14 and younger. Cades Cove Riding Stables also offers guided carriage rides and hayrides. Whichever way you choose to tour the area, you'll have a good chance of seeing different types of native wildlife, including deer and bears.
Twin Valley Bed And Breakfast Horse Ranch
This highly rated ranch is off the beaten path, situated in the foothills of the Smokies near Walland, TN. Guests can ride miles of wooded trails that deliver spectacular views while also learning about native wildlife, history and lore. Whether you're an experienced rider or learning to develop your skills, Twin Valley has something for you, including horsemanship clinics, family rides and lunch rides. They can provide a horse for you from their stable of mounts, or you can even bring your own horse if you prefer. If they provide the horse, they'll do their best to match the animal with the rider, depending on the guest's experience level. If you choose to stay overnight on the property, a cabin, a ranch house and a lodge are available for rental.
Deer Farm Riding Stables
Horseback riding is one of the main things they offer at this rugged setting east of Sevierville, TN. They offer 30-, 45- and 60-minute rides on the property. Guests ages 5 and older can ride their own horse as long as they meet minimum height requirements. Their horses are well-cared-for, and this includes giving them two days of rest each week and keeping them in the shade between rides. In fact, the trails at Deer Farm are 60 to 85 percent shaded, depending on the season. But that's not all that's available at Deer Farm. They're also known for their exotic petting zoo, where guests can interact with critters like elk, baby goats, camels, zebras, emus, kangaroos, pot-bellied pigs and more. They also offer pony rides for younger kids.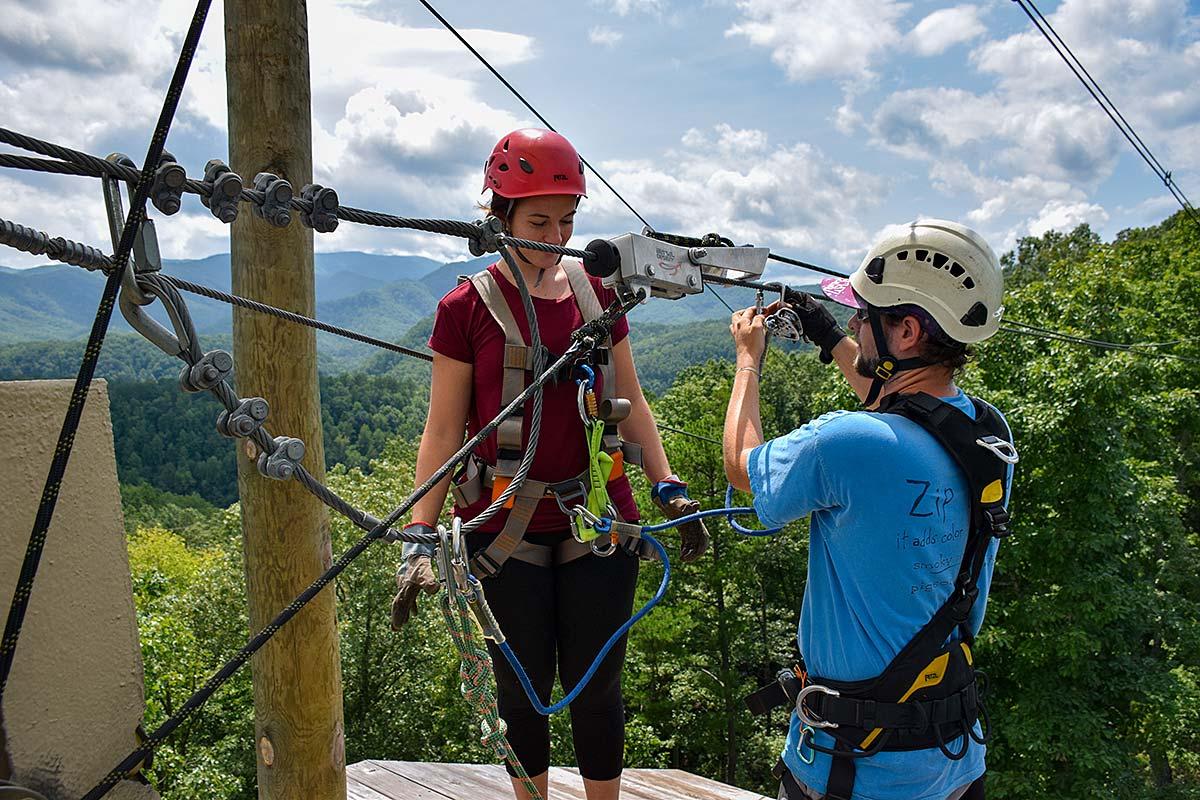 This content posted by Smoky Mountain Ziplines. Visit our home page, smokymountainziplines.com for more information on zipline adventures in the Smoky Mountains.