Blog for Zip line Attraction in the Smoky Mountains
Located in Pigeon Forge, TN and near Gatlinburg and Sevierville.
Happy Birthday, America!
By Ross Bodhi Ogle
Posted on June 30, 2020
We're living through some unusual and turbulent times in our country right now, but maybe as we approach our nation's birthday, we can all find some common ground in our love and appreciation of the United States of America. If you're coming to the Smokies for 4th of July weekend, we'll give you a heads-up that some of the area's traditional Independence Day events – like the Midnight Parade in Gatlinburg and the Patriot Festival in Pigeon Forge – have been canceled for this year in the interest of public safety.
But there are still some things you can do while enjoying your vacation in the Smokies that will still allow you to tap into the spirit of the holiday and take some time to appreciate all the good things about living in the good old U-S-A.
First, the City of Gatlinburg is going to present a special Independence Day fireworks show at 11 p.m. on July 4. The event will take place at the Gatlinburg Space Needle and will feature fireworks and pyrotechnics launched from the top of the 400-foot-tall attraction. It will give folks staying downtown or visiting downtown a chance to see the show from up close or from a distance, for those who may not want to get into the middle of a big crowd. This is very similar to the New Year's Eve countdown and fireworks show the city stages at the Space Needle every December 31. It would appear that this show was put together as a way of filling in for the Midnight Parade (although that event used to take place at 12 a.m. on July 4).
Pigeon Forge is taking a similar approach to celebrating the holiday. Although the full Patriot Festival (including the music concerts) has been rescheduled for 2021, the city is still putting on a fireworks show of its own beginning at 9:30 p.m. on the 4th. The 20-minute display will be simulcast by WIVK-FM 107.7, and those who gather to view the fireworks are encouraged to exercise safe social-distancing measures. When possible, drive-in participation is recommended to minimize the gathering of larger crowds. This event will take place at Patriot Park.
Another way of observing Independence Day would be to get outdoors and spend some time in one of the most beautiful natural resources in the country – Great Smoky Mountains National Park. Its 522,000 acres, spanning parts of Tennessee and North Carolina, is the most visited national park in the country and typically welcomes upwards of 9 million guests in a year (that number will be smaller for 2020). It's a shining example of how beautiful America the beautiful actually is.
While you're in the park, you can take advantage of amenities such as 800-plus miles of hiking trails and 2,100 miles of streams. Right now, all the major visitor centers are open, and major campgrounds like Cades Cove, Deep Creek, Elkmont and Smokemont are operational as well. Most of the main roads are open, but your best bet is to check the park's website, nps.gov/grsm, before visiting to find out what's accessible and what's not. In addition to hiking, fishing and camping, the park is great for bicycling, picnicking or taking a scenic drive. Popular auto destinations include Cades Cove, Roaring Fork Motor Nature Trail, Foothills Parkway and U.S. 441 between Gatlinburg and Cherokee, North Carolina.
Finally, going ziplining may not be considered doing one's patriotic duty, but if you're so inclined to join us that weekend and learn how to zip line Smoky Mountains style, we'll be happy to have you join us. We do ask that you book your tour in advance, either by calling us or visiting our website.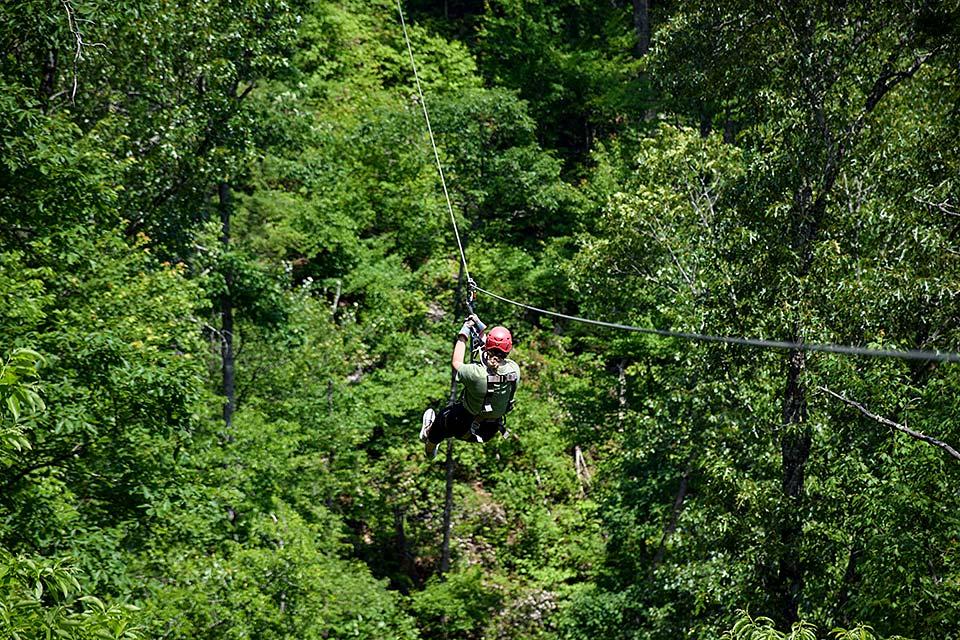 This content posted by Smoky Mountain Ziplines. Visit our home page, smokymountainziplines.com for more information on zipline adventures in the Smoky Mountains.