Blog for Zip line Attraction in the Smoky Mountains
Located in Pigeon Forge, TN and near Gatlinburg and Sevierville.
Good Food And Great Competition
By Ross Bodhi Ogle
Posted on August 20, 2019
There's been a trend taking place in the Great Smoky Mountains over the past 10 years or so. We've been seeing more and more dinner attractions come to Pigeon Forge, entertaining productions that combine multicourse meals with spectacular competition-based shows. The one that's been around the longest, the show originally known as Dixie Stampede, got it all started back in the '80s, and now several more have joined the ranks, giving area visitors more choices than ever when it comes to entertainment.
This week, Smoky Mountain Ziplines presents a quick overview of what's in store when it comes to planning your next big vacation night out.
Dolly Parton's Stampede
We've already mentioned this one, so let's start there. Billed as "the most fun place to eat in the Smokies," this Civil War-themed show is based on a friendly rivalry between the North and the South. Audience members are seated on either the north or south side of the 35,000-square-foot arena, and cast members and servers are decked out in either Yankee blue or Rebel gray attire. You find out soon that horses are the real stars of the show, as the blue and the gray go head to head in a series of trick-riding stunts, races and competitions. The show also features elaborate musical productions, comedy, audience participation and amazing special effects. The four-course meal includes a whole rotisseries chicken, smoked barbecue pork loin, their signature creamy vegetable soup, a biscuit, veggies and more.
Hatfield & McCoy Dinner Show
This show has been around a few years and, as the name suggests, is based on the legendary feud between the Hatfield and McCoy families. Throughout the show, the two families try to settle the score once and for all through feats of strength, jaw-dropping stunts and other competitive events. There's also plenty of singing and dancing and comedy to entertain the crowd. Their Southern home-style feast consists of fried chicken, pit pulled barbecue, creamy soup, vegetables and dessert.
Pirates Voyage Dinner & Show
This Dolly Parton-produced dinner attraction is the newest arrival on the Pigeon Forge scene. In this case, two different crews of pirates – the Crimson and Sapphire – battle on land, on deck, in the water and high in the air to determine who winds up with a lost treasure. The action takes place on and around full-sized pirate ships in a hideaway lagoon and showcases mermaids, tropical birds and more. The four-course feast starts with a biscuit and creamy vegetable soup (See a pattern yet?) and moves on to cracklin' pan-fried chicken, a bone-in pork chop, mac and cheese, a peach turnover and beverages.
Paula Deen's Lumberjack Feud Show and Adventure Park
There used to be a similar Lumberjack Feud show on the Parkway several years back, but Paula Deen launched this newer version just a couple of years ago. The show is all about lumberjack skills, and for this production, the fictional Dawson and McGraw families compete for family pride as real-life lumberjack athletes participate in 13 different events, including axe throwing, chopping, sawing, speed climbing, log rolling and more. Audience members can even participate in interactive events on stage. This venue is different in that instead of serving a meal, the property has several restaurant vendors on site, and you are encouraged to bring your food into the covered outdoor seating area and enjoy it while you watch the show.
Dinner attractions are great for watching exciting feats of adventure, but if you want to be a participant in your own adventure, get the full "zip line Tennessee" experience with us. We're just two miles off the Parkway in Pigeon Forge, so it's convenient to plan a zipline trip and a dinner attraction for the same day.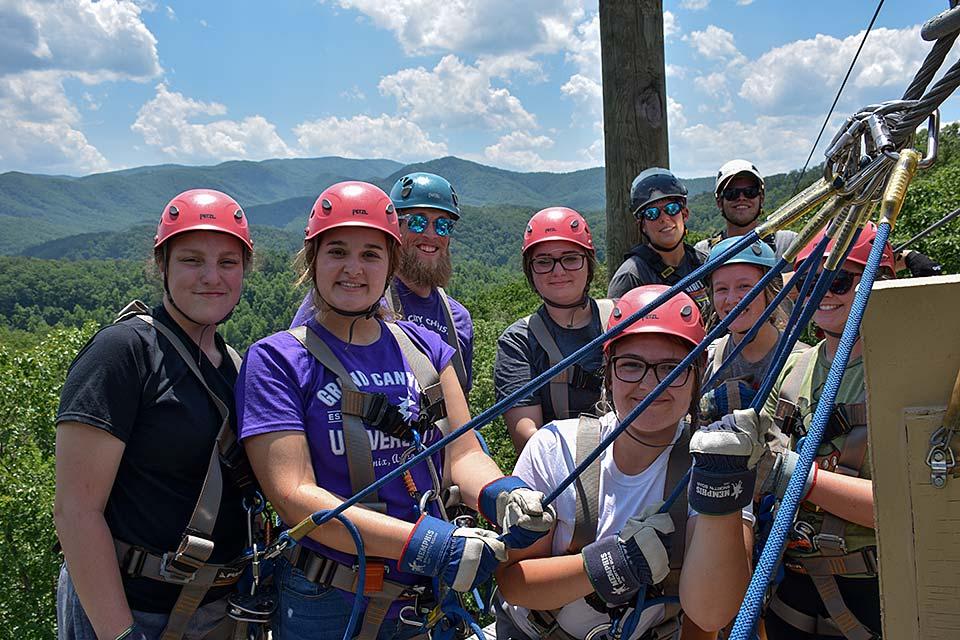 This content posted by Smoky Mountain Ziplines. Visit our home page, smokymountainziplines.com for more information on zipline adventures in the Smoky Mountains.