Blog for Zip line Attraction in the Smoky Mountains
Located in Pigeon Forge, TN and near Gatlinburg and Sevierville.
Choosing Your Smoky Mountain Accommodations
By Ross Bodhi Ogle
Posted on August 27, 2019
It's usually one of the first decisions you make when you're planning a trip to any vacation destination: Where are you going to stay? It makes sense to do that first, because if you don't secure your accommodations, there's not much point in planning all the other aspects of your trip first. So this week, we'll give you a quick overview of your lodging options in the Great Smoky Mountains. We won't be recommending any specific properties, but we will give you some idea of what types of properties are available so you can make the best choice to fit your time frame, budget and size of your party.
Hotels and Motels
Obviously, this is one of the most popular choices among Smokies visitors. And once you get off I-40 Exit 407 in Sevierville, you'll find a wide range of hotels and motels all the way through Pigeon Forge and Gatlinburg and right up to the border of Great Smoky Mountains National Park. The vast majority of them are located on or just off the Parkway in all three towns, although some of the more notable side streets, like Historic Nature Trail and River Road in Gatlinburg, have several options to choose from as well.
You'll find everything from well-known national brands to locally owned, mom-and-pop motels and everything in between. There's also a wide range of prices, depending on the size of the property, its amenities and its location. The time of year you visit will also affect your pricing; rates tend to be higher during peak seasons like summer and October. As far as amenities go, most places will at least have an outdoor swimming pool, while larger hotels might also have game rooms, indoor pools, in-room kitchenettes, guest laundry facilities and more.
Disadvantages include being limited to a single room or suite, but hotels generally offer more scheduling flexibility compared to overnight rentals.
Overnight Cabin Rentals
This is a huge market in the Smokies. And whereas most hotels and motels are found pretty close to the Parkway, overnight rentals tend to be in the more private, rural areas of the county. That makes them great for peaceful mountain getaways, regardless of how many people you're traveling with.
Rental properties usually consist of log cabins, cottages or chalets. They're typically rented out through property-management companies, and they are often appealing because of their wide range of sizes. You'll find everything from one-bedroom cabins to huge cabins with six, seven or more bedrooms, so overnight rentals are good for everything from honeymoons and romantic getaways to family reunions and corporate retreats. You might not always find communal amenities like swimming pools and game rooms at an overnight rental, but definitely look for cabin amenities like fireplaces, whirlpool tubs, hot tubs, game rooms and more. Of course, you will also get familiar comforts of home like multiple bedrooms, a full kitchen, laundry facilities and multiple flat-screen televisions.
Another of their advantages is that they can be quite cost-effective when many guests are involved, although many management companies require a minimum number of nights to make a booking.
Resorts and Lodges
This type of property isn't as clearly defined as the others, but it's easy to think of a resort as a hotel with a lot of onsite amenities. For example, Wilderness at the Smokies in Sevierville and Dollywood's DreamMore Resort in Pigeon Forge are accommodations that basically function like a hotel, but the overall resort has all kinds of community features and amenities, including restaurants, day spas and even full water parks. Resorts are great options for families with kids that want a lot of fun and adventure right on the property.
Bed and Breakfast Inns
There aren't as many of these in the Smokies, but if you're looking for a charming, peaceful getaway in the mountains with that special someone, try a B&B. You're usually in for a guest room with a lot of personality, good views, accommodating hosts and a home-cooked breakfast. Of course, there are lots of Air BnB properties in the Smokies too, but be aware that these could range from a traditional overnight rental to a guest room in someone's private residence.
Finally, if your travel plans include fun activities like shows, outlet malls, ziplines, Smoky Mountains and restaurants, you might want to prioritize where you'll be spending most of your time in the Smokies, and then let that determine what type of accommodations will best suit your needs.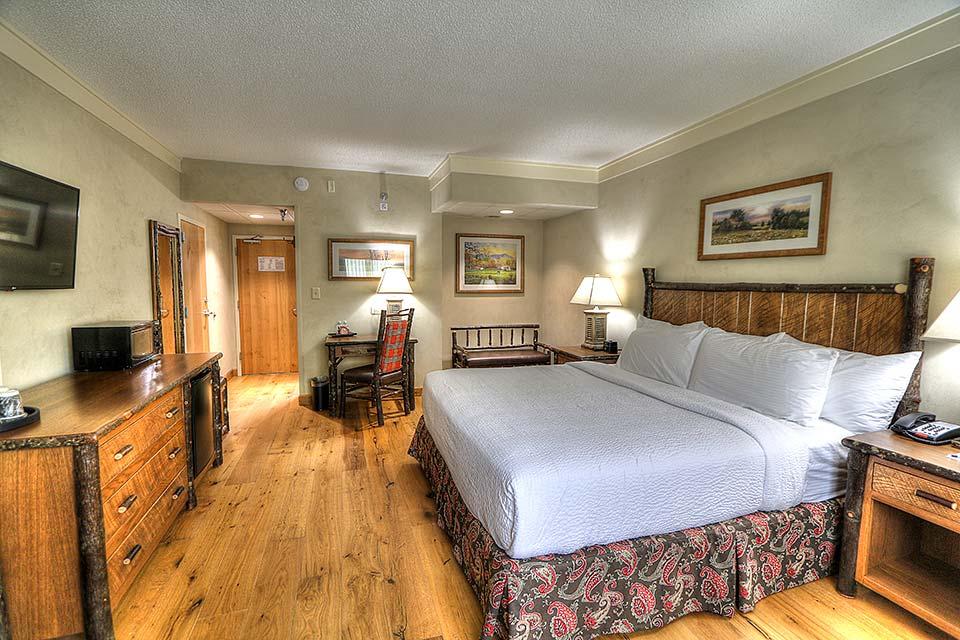 This content posted by Smoky Mountain Ziplines. Visit our home page, smokymountainziplines.com for more information on zipline adventures in the Smoky Mountains.