Blog for Zip line Attraction in the Smoky Mountains
Located in Pigeon Forge, TN and near Gatlinburg and Sevierville.
Santa Sightings
By Ross Bodhi Ogle
Posted on November 23, 2021
Jolly ol' Saint Nick isn't due to make his annual rounds for a few more weeks yet, but if you visit the Great Smoky Mountains of Tennessee just about any time between now and Christmas Day, you're likely to see the big guy making a number of appearances in places like Sevierville, Pigeon Forge and Gatlinburg. No one can say the man doesn't get around.
If you happen to be visiting the Smokies this season, and especially if you're traveling with little ones who would love to get a glimpse of Santa Claus, we're here to share with you just a few of the places he might be popping up in the next few weeks. Whether he's dishing out candy, taking gift requests or just posing for a photo, the man in the white beard and the red suit proves that Christmas truly is a magical time of the year.
Christmas Parades
It seems that Santa always finds time to star in a Christmas parade, and 2021 is no exception. In fact, he'll be appearing in several hometown parades in the Smokies-the Fantasy of Lights Christmas Parade in Gatlinburg on December 3, the Sevierville Christmas Parade on the 4th and the Townsend Christmas Parade on the 5th.
In Gatlinburg, the fun starts at 7:30 p.m. on the 3rd, when the parade steps off from Baskins Creek Bypass on East Parkway before winding its way through downtown and ending at traffic light #10. The parade features marching bands, giant balloons, dancers, musicians and, naturally, Santa Claus. The 59th edition of the Sevierville parade runs from 10 a.m. to 1 p.m. on the 4th. In Townsend, the parade runs from the IGA to Nawger Nob Village the following day.
Music Theater Shows
We devoted a whole blog post to the holiday-themed shows at all the Pigeon Forge music theaters just a few weeks ago. But we'll reiterate here that the many of them include appearances by Santa Claus at some point during the onstage festivities. Some of the theaters include Country Tonite Theatre and Dolly Parton's Stampede.
Polar Express Train Ride
We mentioned this Bryson City, North Carolina, attraction in last week's blog post, but an appearance by Santa is part of each vintage train ride through the Smoky Mountains. In fact, when each excursion reaches its "North Pole" destination on select dates through December 31, Saint Nick will be there to greet kids and parents alike.
Photo Opportunities
A number of attractions in the Smokies area are welcoming Santa Claus to their establishments this holiday season to pose for photographs with good little boys and girls. These include Ripley's Aquarium of the Smokies in Gatlinburg on November 26 as well as Crave Golf Club and Toy Box Mini Golf, both in Pigeon Forge on December 4.
These are just a few of the places you'll find the bearded one. Others include the Little River Railroad and Lumber Company Museum in Townsend, The Christmas Place in Pigeon Forge, Anakeesta in Gatlinburg and Wilderness at the Smokies in Sevierville.
Dollywood
During the theme park's annual Smoky Mountain Christmas Celebration, Santa will be making his final decisions about who's gift-worthy at Santa's List… Naughty or Nice. Taking place in The Village section of Dollywood, this attraction allows families to discover which list their names are on, and they can also have their photo made with Saint Nick as they peer through a window of his cabin in the Smokies.
We're not expecting to see Santa Claus at Smoky Mountain Ziplines until his regularly scheduled journey on Christmas Eve night. But we'll still be open on weekends and select dates during holiday weeks. If you'd like to squeeze in a Pigeon Forge zipline adventure before the year ends, just give us a call to book your tour.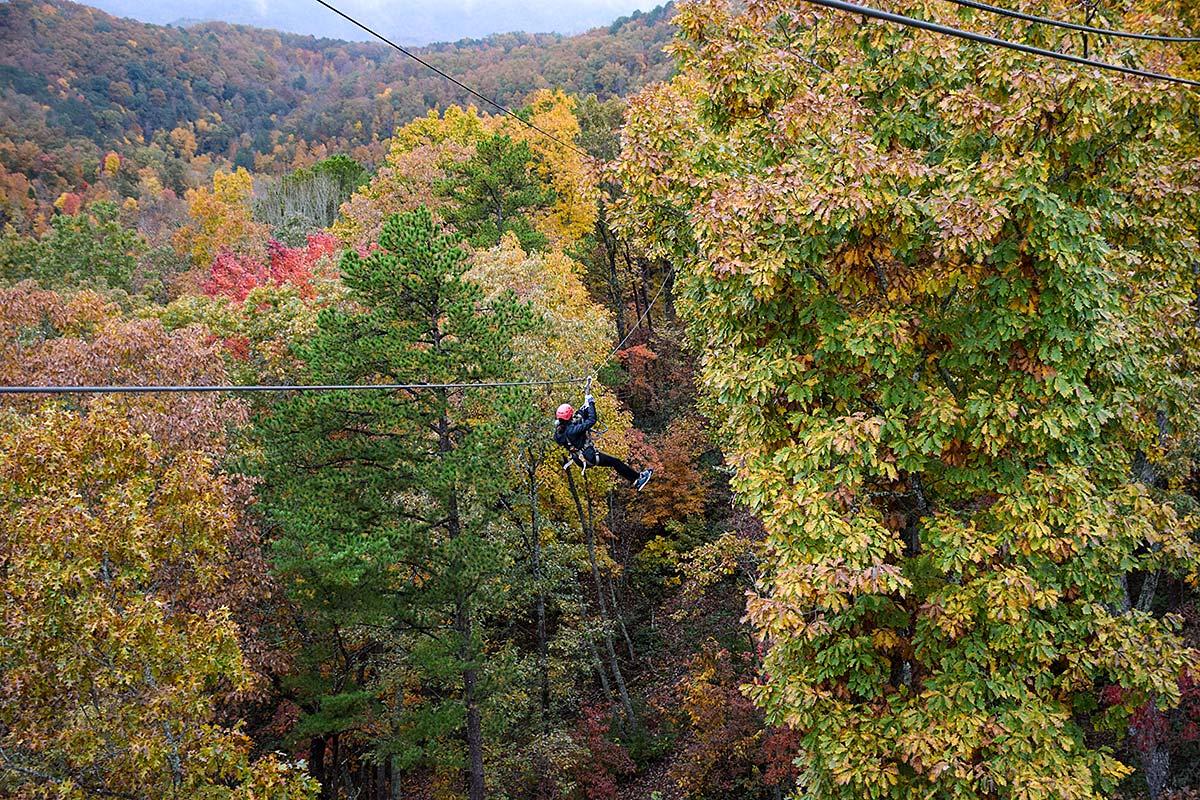 This content posted by Smoky Mountain Ziplines. Visit our home page, smokymountainziplines.com for more information on zipline adventures in the Smoky Mountains.