Blog for Zip line Attraction in the Smoky Mountains
Located in Pigeon Forge, TN and near Gatlinburg and Sevierville.
7 Things You'll Enjoy About Smoky Mountain Ziplines - Besides Ziplining
By Ross Bodhi Ogle
Posted on August 23, 2017
Our guests come to Smoky Mountain Ziplines for one primary purpose – to experience the adrenaline-surging excitement of riding a zipline. Whether it's someone's first time or 101st, speeding through the treetops like Tarzan is just plain fun, and it's an experience we're always more than happy to share with folks in town to visit the Great Smoky Mountains.
Naturally, not all of your time here is actually spent riding on our zip lines in Pigeon Forge, TN. There's a certain amount of preparation time leading up to that first step off the launch platform, and there's some amount of time spent watching other guests take their turn. But along the way, you'll discover that even when you're not making the most of your airtime, there's plenty to like about your canopy tour.
1. The ride to the top
Once you get checked in and geared up with your guide, you'll be grouped with as many as 9 other people on the morning or afternoon of your outing. As a group, you'll board one of our all-terrain military transport trucks, which will take you on a steep, bumpy trek up to the top of the mountain and the beginning of our canopy tour. You'll have to hang on to the railing at times, but it's actually a lot of fun just negotiating the terrain and getting the adventure started.
2. You'll make new friends
Unless you already know everyone in your group, chances are you'll eventually get to know the rest of the folks on your zipline tour. Maybe it's on the truck ride to the top, or maybe it's while waiting on one of the zipline platforms. But it's hard to share an extreme experience like ziplining with total strangers without breaking the ice at some point. It's fun finding out where people are from, and it's fun to watch how other people react to ziplining – especially if it's their first time.
3. Views, views, views
Yes, our mountainside canopy tour, by definition, has a lot of trees and a lot of shade. But there are parts of our course that offer wide-open views of the surrounding landscapes, including big chunks of the Great Smoky Mountains. Some of the scenes are breathtakingly inspiring, like something you'd see on a postcard, and we're lucky to be able to offer those views to our guests at no extra charge. You'll enjoy some of the views from the lofty perch of one of our landing/launch platforms, built high above the ground, at treetop level.
4. Rappelling feature
This is something we introduced last year, and it's been a big hit. After you finish one of the longer ziplines, you'll be lowered 30 feet down to the start of the next zipline via cables and pulleys. Your guides will be responsible for gently transporting you from one level to the next, but it does give you a sense of what it's like to rappel three stories down.
5. Souvenir photos
We've got photographers taking your photo at different points along the canopy tour, and you'll get a chance to purchase one or more as souvenirs before you leave the property. Whether you're together as a couple or with a large group, these commemorative pics will help you preserve your memories of your day on the ziplines. And with us taking the shots, you'll get professional-quality photos that free you up to enjoy riding the lines.
6. Complimentary beverages
Thirsty? Before you take off on your tour or when you arrive back at base camp, help yourself to a free beverage from our cooler. Take your pick from our selection of ice-cold sodas or water.
7. Base camp event facilities
We have meeting facilities at our base camp that are ideal for group gatherings like birthday parties, corporate outings or family reunions. Contact us in advance, and we'll help you plan how to utilize our facilities to accommodate your event in conjunction with a canopy tour.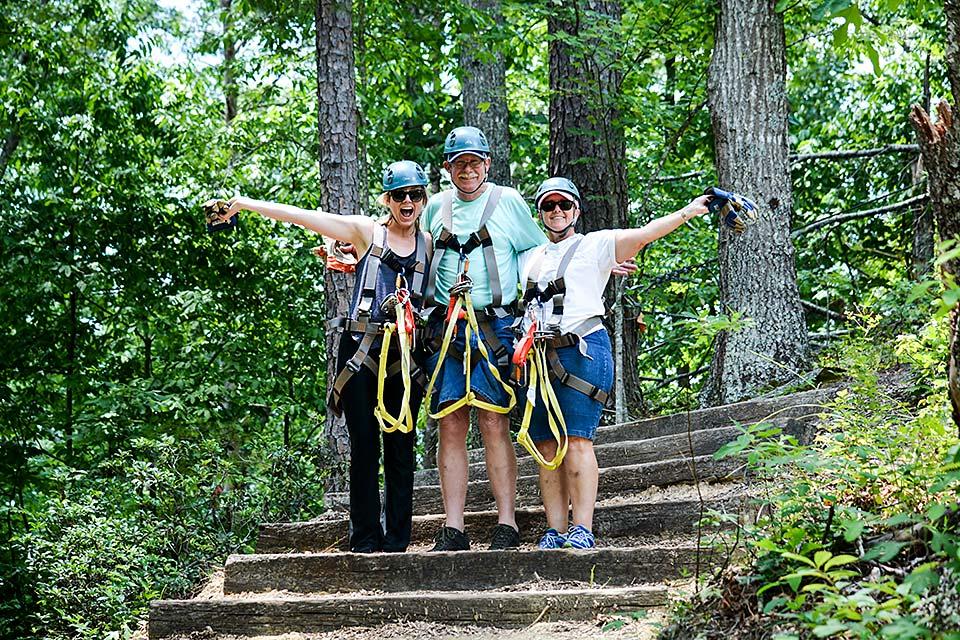 This content posted by Smoky Mountain Ziplines. Visit our home page, smokymountainziplines.com for more information on zipline adventures in the Smoky Mountains.