Blog for Zip line Attraction in the Smoky Mountains
Located in Pigeon Forge, TN and near Gatlinburg and Sevierville.
6 Things You Will See At Smoky Mountain Ziplines
By Ross Bodhi Ogle
Posted on July 26, 2016
We get a lot of repeat guests at Smoky Mountain Ziplines, but we also get a lot of folks who have never visited us before, or for that matter, ever ridden a zipline before. That's OK; we love introducing newbies to one of the most fun outdoor activities in the Smokies. But we do get a lot of questions from our first-timers about some of the things they'll see while taking one of our Gatlinburg canopy tours. That's why this week, we'll get you up to speed about some of the sights you'll see the next time you join us for some ziplining in the mountains.
1. Our newly redesigned course – During the off-season, we did some major reconfiguring of our old zipline course and introduced a brand-new adventure for 2016. Our new canopy tour takes outdoor fun to new heights with lines as long as 800 feet and as high as 150 feet. The tour features towering pole platforms that get you closer to the trees than any other zipline course in the area. Altogether, you'll enjoy 4,200 feet of zipline cable, including our new Deus 7300 automatic belay device.
2. New braking system – On our old ziplines, riders had to use a gloved hand to grip the cable in order to slow themselves down. This year, we have a new braking system that allows hands-free zipping without worry about how you'll stop at the other end.
3. Green woodlands – Our course is built into the rugged foothills of the Great Smoky Mountains and zigzags its way down multiple valleys. The entire area is thickly wooded, ensconcing our guests in the peacefulness of lush green foliage, and all those native trees provide a lot of welcome shade on warm days. That canopy is one of the main features of our tours, and our new platforms really get guests close to those treetops.
4. Mountains – Although our course is in the mountains, there are several opportunities along the way to view some of the biggest and most beautiful peaks in the Smokies. We even have photo opps built in so that you can get some memorable shots of you and your party with the mountains in the background.
5. Happy people – During the summer, chances are you'll have as many as 10 people in your tour group, which means you'll get to see up close how much fun others are having at Smoky Mountain Ziplines. It's almost a guarantee that the people who finish each zipline after you will arrive at the landing platform with big smiles on their faces.
6. The best guides in the Smokies – Our tour guides are our greatest assets. We include two guides per tour for maximum safety and thorough instruction that will guarantee you'll know everything you need to know. We also get a lot of positive comments about how fun our guides are to hang out with on a tour. They're great at interacting with guests and handling everything from answering questions to managing a guest's uncertainty.
Give us a call today to book your next tour. There's a lot for you to see, so we hope to see you soon.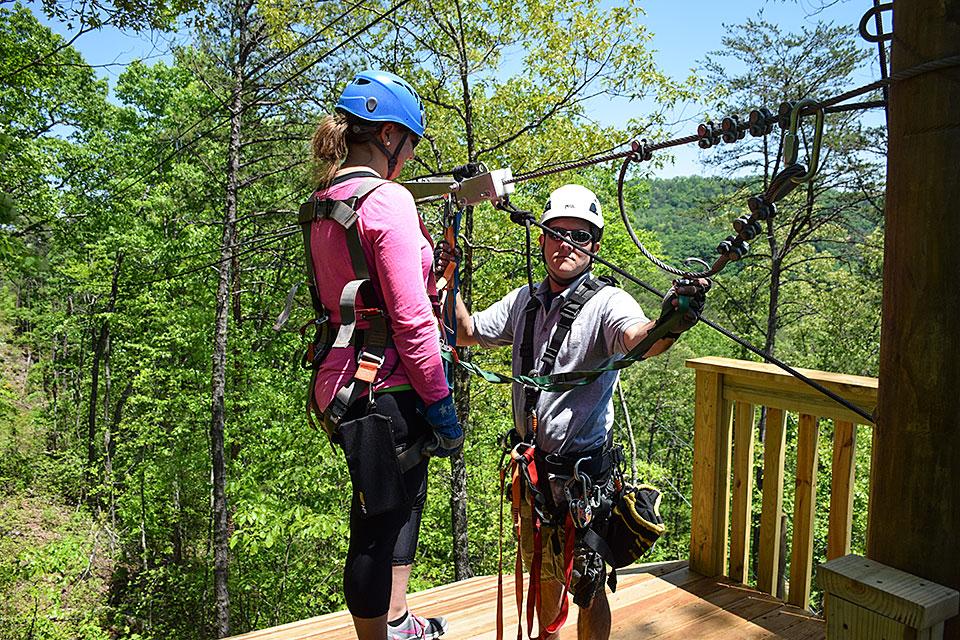 This content posted by Smoky Mountain Ziplines. Visit our home page, smokymountainziplines.com for more information on zipline adventures in the Smoky Mountains.