Blog for Zip line Attraction in the Smoky Mountains
Located in Pigeon Forge, TN and near Gatlinburg and Sevierville.
5 Ways To Save Money On Ziplining
By Ross Bodhi Ogle
Posted on October 4, 2016
Have you had a chance to check out our new zipline course yet this year? If not, what are you waiting for? Now that we're in October, you can enjoy our redesigned course during one of the most pleasant times of year, in terms of both weather and beautiful mountain scenery.
Even better, Smoky Mountain Ziplines offers guests multiple ways to save money on their zipline experience throughout the rest of 2016. Here are the discounts we're currently offering:
• If you get a copy of our brochure, you can call ahead and use the Smoky Mountain Ziplines coupon in the brochure to get $15 off the price of your reservation.
• If you book your tour online (www.smokymountainziplines.com), you'll save $15 off the price of your reservation.
• If you are enlisted military personnel, you and your immediate family will receive $5 off any ticket your purchase.
• If you are a senior age 65 or older, you'll get $5 off the price of your ticket.
• We also offer seasonal specials that change throughout the year. If you haven't seen our latest special advertised, be sure to ask our staff about it at the time you make your reservation, and he or she will apply the best price your party qualifies for.
However, we're proud of the fact that even at full price, our canopy tour is one of the best ziplining values you'll find in the Smokies. Our redesigned course is the largest and newest tour in Pigeon Forge, offering more than 4,200 total feet of ziplining cable.
And the layout of our course allows guests to experience more unique thrills than other area companies have to offer. For example, you can enjoy great mountain views from our new tree-mounted zipline tower, or you can experience the fun of a 30-foot, controlled-descent freestyle drop between two of the ziplines.
Our course helps guests maximize airtime and minimize walking time. Our military-style transport trucks haul tour groups from our base camp to the top of the mountain, and you'll have to do very little walking between ziplines. In some cases, the landing platform for one zipline is also the launch platform for the next one.
Our guests also appreciate the fact that we're very easy to get to. Smoky Mountain Ziplines is located just two miles off the Parkway in Pigeon Forge – close to lodgings but far enough from town to allow our guests to experience a true remote, mountain adventure. Our base camp facility is large enough to accommodate group events like parties, and we even provide complimentary canned drinks and bottled waters for our customers.
What also sets us apart from the competition is our staff. Our tour guides are all professionally trained, safety-conscious and really great at entertaining their groups. We're always getting comments about how funny our guides are, but at the same time, they take guest safety very seriously. You can relax and enjoy your zipline experience knowing you're in very good hands.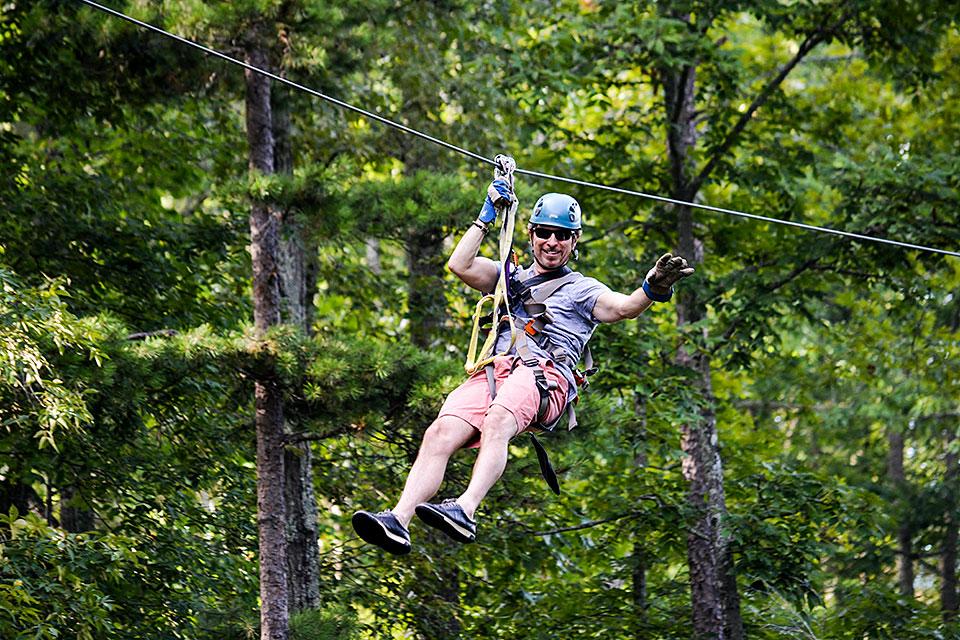 This content posted by Smoky Mountain Ziplines. Visit our home page, smokymountainziplines.com for more information on zipline adventures in the Smoky Mountains.