Blog for Zip line Attraction in the Smoky Mountains
Located in Pigeon Forge, TN and near Gatlinburg and Sevierville.
3 Great Reasons To Visit Smoky Mountain Ziplines This Week
By Ross Bodhi Ogle
Posted on October 26, 2021
If you haven't been able to visit our ziplines in the Smokies yet this year, it's still not too late to squeeze in a memorable zipline adventure with us before 2021 winds down. We still have a couple more months left before we take our annual winter break, but if you continue reading, we'll share with you three great reasons to schedule a canopy tour this week. There's still lots of fun to be had in the Great Smoky Mountains, so don't let procrastination separate you from what could be one of your best outings of the year.
1. Fall foliage
We devoted a couple of recent posts to the annual transformation of the area foliage into its fall palette of colors. Sure, there are lots of places where you can enjoy viewing the autumnal spectrums of reds, yellows and oranges that are spread across the landscape like blankets. But just imagine that kind of scenery serving as a backdrop for a ziplining adventure in the Great Smoky Mountains. Our seven individual ziplines carry guests through the treetops of the foothills' hardwoods. Many of our lines are actually anchored to trees, so you cannot get a closer view of their beauty.
Even when you're not actually riding a zipline, you'll be immersed in forest majesty as you hang out on the platforms or make the short stroll from one zipline to the next. The trip up the mountain to the start of the tour and the drive back down after the last zipline are scenic journeys in their own right. We shuttle our guests up and down in open-air military-style transport trucks, so you'll have unobstructed views of the landscape before you even hit the first zipline.
There are also locations on the canopy tour where guests are afforded long-distance views of the Great Smoky Mountains range. You'll see majestic peaks from a unique perspective that few travelers get to enjoy.
2. Mild temperatures
Right now, we're in a seasonal sweet spot in the Smokies-far removed from the scorching heat of summer but still weeks away from the first freezes of winter. It's the kind of weather where you can get away with either shorts or long pants, depending on your tolerance, and from day to day, you might be able to get away with anything from a T-shirt to an outer layer. In any case, you can dress for comfort as you take on our adrenaline-inducing zipline course. And if you happen to catch us on a sunny fall day, just consider that a bonus. There are few sights more stunning than our rolling rural acreage on a fall day when the air is crisp and the sun beams down from a clear blue sky.
3. Seven ziplines' worth of fun
With seven ziplines totaling well over 4,000 feet in length, we offer one of the most complete zipline experiences in the Smokies. We start the tour off with shorter ziplines to let our first-timers get acclimated, and then from there, your flights get longer and longer, with some lines stretching as far as 800 feet and hanging more than 150 feet above the forest floor. Plus we do more than transport you from tree to tree. We also have a vertical descent feature that essentially lets you rappel from one of our zipline platforms to the ground (with assistance from our guides).
And speaking of our staff, they're part of what makes our canopy tours so much fun. They're with you at the basecamp, ensuring that you have all the properly fitting safety gear you need. Then they accompany you to the start of the canopy tour and give you all the instructions you'll need. And of course, they accompany you from line to line, making sure that everyone safely gets from point to point while also doing a fantastic job of keeping each tour group entertained.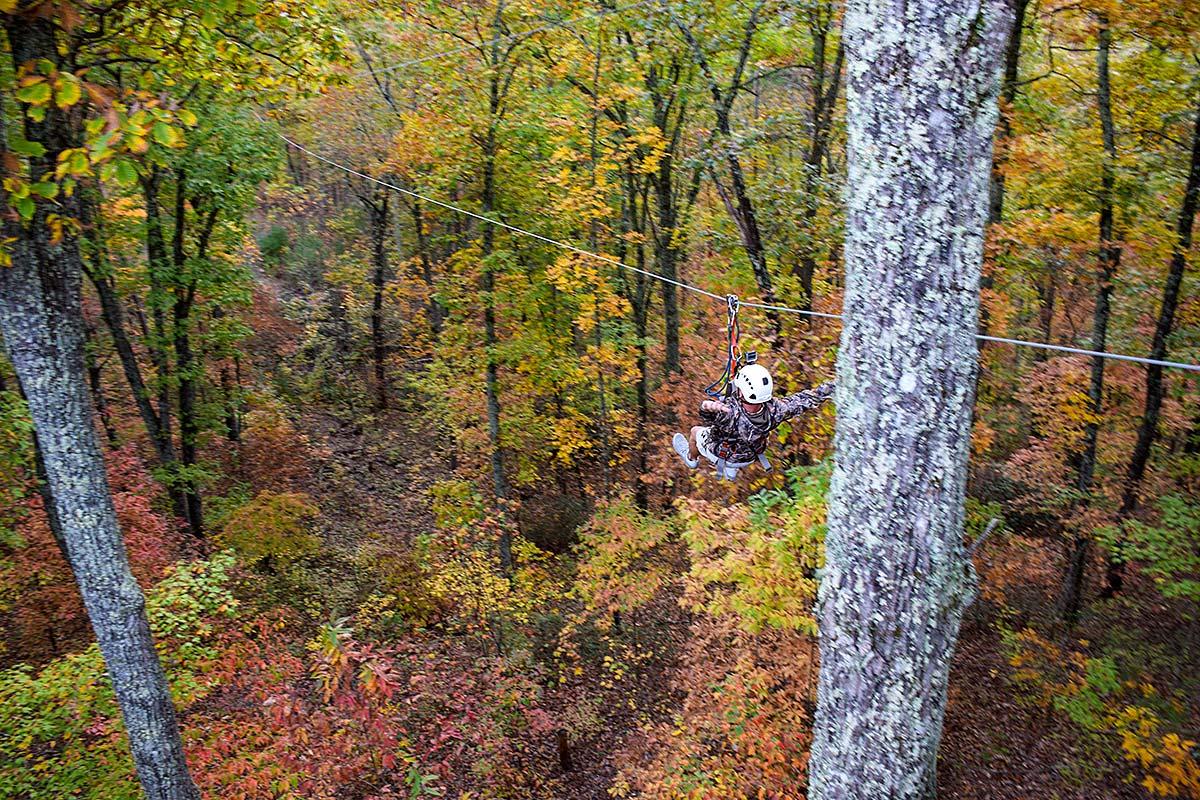 This content posted by Smoky Mountain Ziplines. Visit our home page, smokymountainziplines.com for more information on zipline adventures in the Smoky Mountains.