Blog for Zip line Attraction in the Smoky Mountains
Located in Pigeon Forge, TN and near Gatlinburg and Sevierville.
10 Great Reasons To Visit Smoky Mountain Ziplines This Summer
By Ross Bodhi Ogle
Posted on July 18, 2017
If you're planning a vacation in the Great Smoky Mountains this summer, chances are you've spent some amount of time trying to decide how you're going to fill your days and nights. There's so much going on around here that sometimes, we know the prospect of choosing only a few options for your vacation itinerary can seem daunting. Where does a person begin?
Well, we'll admit that there's stiff competition for visitor attention, which is why we wanted to give you 10 quick reasons why you need to include Smoky Mountain Ziplines in your summer travel plans in the Smokies. We think once we've made our case, you'll be eager to give us a visit and book a tour.
• We're home of the largest and newest canopy tour in Pigeon Forge. With more than 4,200 feet of cable divided among our seven lines, we offer more zipline airtime than any other outfitter in town.
• Our ziplines in the Smokies let you experience more unique thrills than other zipline companies. Since we keep you flying longer, you have more opportunities to experience the speed and exhilaration that only comes from ziplining. And our views are not to be missed!
• Minimal walking. Our m35a3 military trucks do the heavy hauling, carrying each tour group from our base camp to the top of the mountain, where all the downhill zipline fun begins.
• Our exclusive 30-foot, controlled-descent, freestyle drop lets guests rappel straight down from the end of one zipline run to the beginning of the next one.
• A massive new zipline tower delivers one-of-a-kind views that only get better when you step off the platform and begin flying down the next ziplines. This tower is impressively tall and literally puts guests at treetop level. It's an exhilarating place to take a break between two of our longer ziplines.
• We're centrally located for convenience. Even though we're on top of a mountain and in a secluded, woodsy spot, we're only two miles from the Parkway in Pigeon Forge. You can go from the heart of all the action to our peaceful mountain acreage in just a few minutes.
• Our large base camp building accommodates your group for parties and celebrations after the tour. This makes us an ideal activity for families, church groups, corporate outings and more. Plus we offer free canned drinks and bottled water for our zippers, before or after your adventure.
• Our well-trained staff is totally committed to ensuring that your time at Smoky Mountain Ziplines is completely unforgettable. They stay with you the entire time, facilitating your progress through the course and making sure you are safe and secure at all times. On top of that, they're pretty funny and have a great rapport with their groups.
• We offer professional photos to commemorate your day on the ziplines, and they're reasonably priced.
• Speaking of reasonable prices, we provide a great overall value, considering how much zipline time you get on your two-hour tour. No other zipline company in Pigeon Forge offers so much for the money.
That's just 10 reasons to visit, right off the top of our heads. We could think of more, but hopefully, you'll take our word for it that Smoky Mountain Ziplines is worth the trip. Call us or book a tour from our website, and we think you'll agree that no other Pigeon Forge canopy tours deliver as much as we do.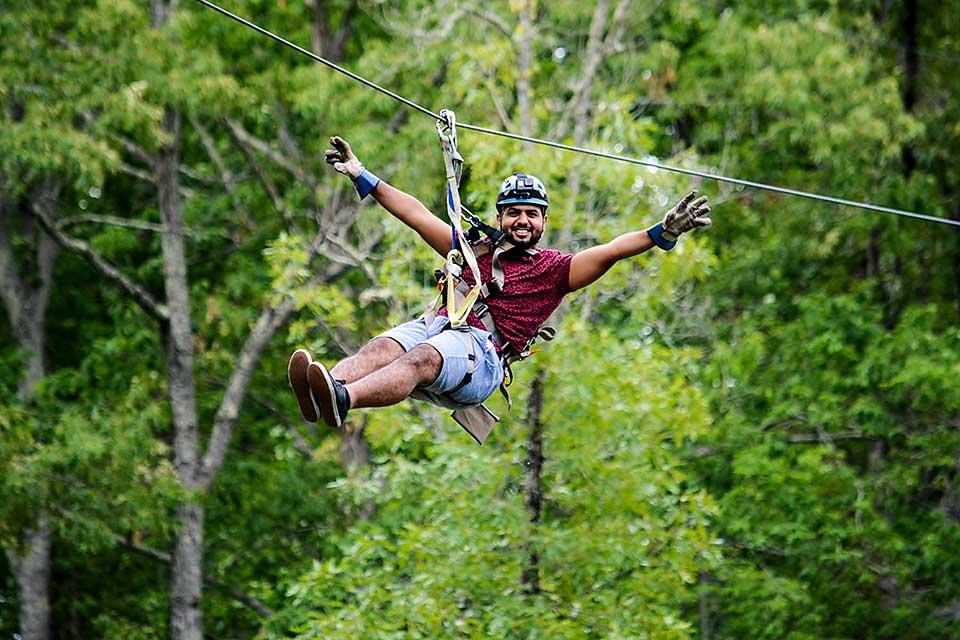 This content posted by Smoky Mountain Ziplines. Visit our home page, smokymountainziplines.com for more information on zipline adventures in the Smoky Mountains.