Blog for Zip line Attraction in the Smoky Mountains
Located in Pigeon Forge, TN and near Gatlinburg and Sevierville.
What's New In The Smokies For 2018 - Part 1
By Ross Bodhi Ogle
Posted on February 13, 2018
February hasn't historically been considered one of the prime months for visiting the Great Smoky Mountains of Tennessee (although there's really never a BAD time to visit), but that doesn't mean you can't start licking your chops now and looking ahead to see what lies waiting later this year when you do finally make that next trip to the Smokies. So to help give you a sneak preview of what's in store in Gatlinburg, Pigeon Forge and Sevierville this year, read on. We can do some early unveiling of a number of new attractions, restaurants, shops and more, and in the process, we might just spark a few ideas for what your next mountain vacation may entail.
The National Enquirer Attraction
If you're a fan of tabloid journalism, then this might be the place for you (Hey, we're not here to judge…). In any case, the world's most famous tabloid newspaper will be getting its own attraction in Pigeon Forge, across the Parkway from the Titanic Museum Attraction. The National Enquirer Attraction will feature interactive exhibits covering everything from celebrity gossip to psychic predictions. If you're concerned about the family friendliness of the experience, not to worry. The 14,000-square-foot facility will be G-rated and suitable for all ages.
The Mountain Mile Shopping Center
Get ready for a brand-new shopping destination in Pigeon Forge this year. The Mountain Mile & Tower Shops Center will be making its debut in 2018, featuring more than a mile of road frontage and occupying more than 174 acres. It will be situated near the intersection of Teaster Lane and Jake Thomas Blvd., placing it right in the heart of the city, near already established destinations like the Cal Ripken Experience, the LeConte Convention Center and The Island multipurpose development.
Pigeon Forge Snow
We previewed this coming attraction just a couple of months ago, but it will be interesting to see how a year-round snow-tubing experience goes over in the Smokies. The indoor facility, located near The Island in Pigeon Forge, will offer a downhill inner tube course on man-made snow, making it accessible even on the hottest days of summer. Come to think of it, what a great time to take advantage of such a cool attraction. Get it? Cool???
Acrobats of China
This impressive stage production actually opened in November, but it's so new, it's worth including in our 2018 preview. Showcasing the talents of amazing acrobats from China, this show includes feats of strength, agility and balance. Similar shows in the Smokies have gone over well in years past, offering a high-quality form of entertainment for all ages. Here's hoping this newest version of a Chinese-acrobatics show enjoys a long run.
In addition to these attractions, look for a couple of new expansions to existing points of interest. For starters, the Riverwalk Greenway in Pigeon Forge has been extended, offering a peaceful pedestrian-access route along the banks of the Little Pigeon River. It's a fun and traffic-free way to walk or bike north and south in Pigeon Forge. With the addition of the extension, users can travel from the Pigeon Forge Community Center to The Island and then onward to Patriot Park and the LeConte Center. Or vice versa.
And later this year, motorists will finally be able to drive the infamous missing link of the Foothills Parkway, which offers some of the most stunning views of the Smoky Mountains, free of commercial clutter and distractions. The route will take drivers all the way from Wears Valley to Chilhowee Lake.
Also, don't forget that Smoky Mountain Ziplines will be back this spring. So if you're ready to have the time of your life on the best ziplines Pigeon Forge, TN, has to offer, be sure to make us a part of your 2018 travel plans as well. See you soon!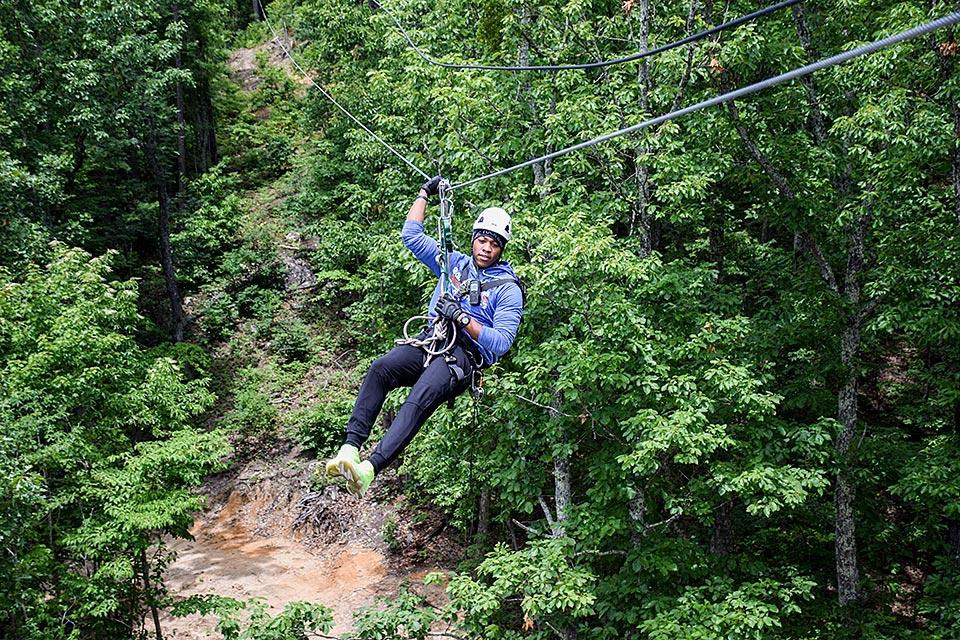 This content posted by Smoky Mountain Ziplines. Visit our home page, smokymountainziplines.com for more information on zipline adventures in the Smoky Mountains.