Blog for Zip line Attraction in the Smoky Mountains
Located in Pigeon Forge, TN and near Gatlinburg and Sevierville.
What To Look Forward To In 2021 - Part Two
By Ross Bodhi Ogle
Posted on January 5, 2021
Most of us are probably looking ahead in 2021 with a sense of hope for brighter days to come. Hopefully, as the new vaccines get rolled out, it will become safer for folks to travel in larger numbers, and we can get back to enjoying the Great Smoky Mountains the way we did prior to the pandemic.
With that sense of optimism in mind, let's preview some of the new businesses that are coming to the Smokies as well as some of the ones that have already set up shop just in the last few months. From attractions and accommodations to restaurants and shops, there are new opportunities for fun and places to explore on your next trip to the mountains. Also remember that we'll be back open in the spring, just about when the weather will be right for enjoying a ride on a zipline. Smoky Mountains Ziplines will be looking forward to seeing you again in a couple of months.
Got An Axe To Grind?
Some folks use an axe to chop wood. Others think it's a lot more fun to hurl one of those suckers across a room at a wooden target. If you're in that second group, then keep your eyes peeled for several axe-throwing attractions in Pigeon Forge. The newest, Country Roads Axe Co., is currently under construction, but when it finally opens its doors, Country Roads will offer a unique recreational experience you'll always remember. The location will also be the site of West By God coal-fired pizza. Did you know that coal-firing can cook a pizza in just three to five minutes? That's fast service!
Meanwhile, the Pigeon Forge Axe House is already open for business on the Parkway. As a World Axe Throwing League-affiliated location, the Axe House's lanes, targets and axes are all regulation and league-ready. They also specialize in house-made pizzas, and even kids can get in on the axe throwing if they're big enough!
And that's not all, hatchet breath! They're now offering axe throwing at the Lumberjack Feud Show in Pigeon Forge as part of their Adventure Park experience.
A View To A Thrill
If you like views from high places, there are a couple of new things you need to check out in the Smokies. You might start with the Anavista Observation Tower, one of the most recent additions to the Anakeesta development overlooking downtown Gatlinburg. It's actually the highest point in the downtown area, offering 360-degree views of the Smokies, including locations as far away as Kentucky. The tower is surrounded by a lush botanical garden with walking trails and areas for interactive play. Two glass panels in the floor allow guests to see straight down to the garden 60 feet below. Anakeesta also has a newish dining option called the Smokehouse, where smoked meats like pulled pork, brisket and chicken are big on Southern flavor.
In Pigeon Forge, be sure to look into the Mountain Monster at the Mountain Mile. This new attraction, which is also up and running, actually features three rides-the Monster Fall, the Monster Dive and the Monster Launch-which either drop you or launch you from the site's 200-foot-tall tower. Take a look around at the top, if you dare…
A Three-Hour Tour
Who doesn't like to sightsee when they're in the Great Smoky Mountains? Now there are two cool and fun new options for doing that. One is the Redneck Comedy Bus Tour, which offers two-hour, comedy-filled rides complete with more mullets and memories than you could hope for in one expedition. Redneck attire is strongly encouraged.
Also look for Double Decker Bus Tours in Pigeon Forge. These super-sized busses aren't just transportation around town. Thanks to the knowledgeable tour guides, you'll pick up a lot of insider information on where to eat, what to see and what to do while you're in the area. You can purchase a one-way ride or a full day pass.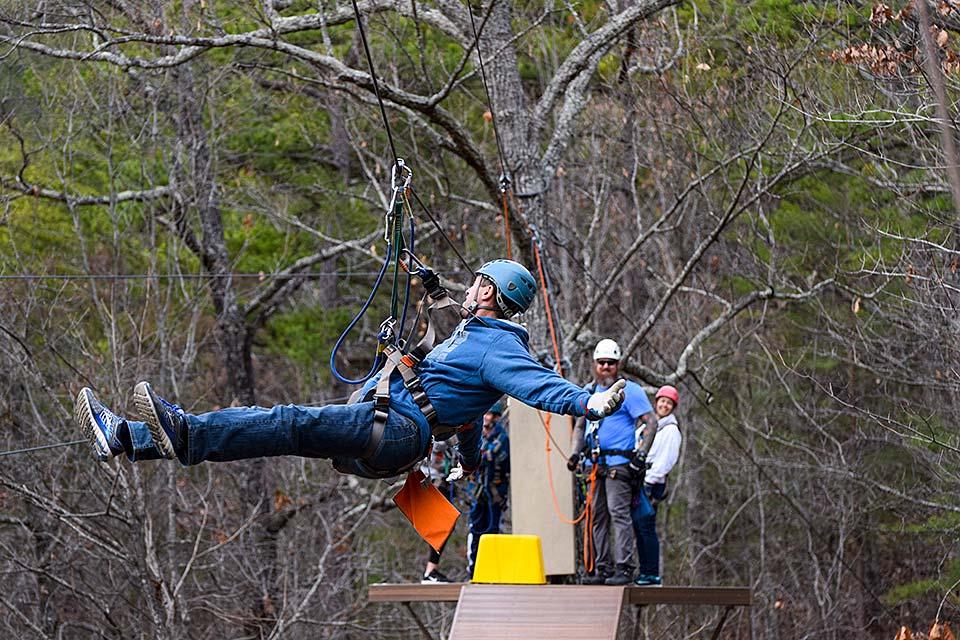 This content posted by Smoky Mountain Ziplines. Visit our home page, smokymountainziplines.com for more information on zipline adventures in the Smoky Mountains.