Blog for Zip line Attraction in the Smoky Mountains
Located in Pigeon Forge, TN and near Gatlinburg and Sevierville.
The Dos (And Don'ts) Of Ziplining
By Ross Bodhi Ogle
Posted on July 19, 2022
Many of our first-time customers at Smoky Mountain Ziplines have a lot of questions for us, especially if they've never been ziplining before. Some of their questions are about ziplining in general, while some are about the specific way we do things here at our attraction. So this week, we thought we'd cover some of the fundamental dos and don'ts of ziplining.
We're taking a purposefully humorous approach to the subject, so while all the dos are definitely guidelines you should take to heart, you may want to take our don'ts with a wink and a grain of salt. In addition to offering the area's best ziplines, Smoky Mountains views and unforgettable experience, we try to make things fun.
DO – Approach ziplining with an open mind if you're a first-timer. The prospect of stepping off a platform high off the ground and trusting a metal cable to support you can be a little frightening, but our safety record is unparalleled. Our guides are experienced and know how to keep our guests safe. That may not guarantee that you won't have a few butterflies fluttering in your gut right before that first zipline ride, but you can take confidence in knowing that thousands of people before you, of all ages, have taken those first steps before and wound up having the time of their lives.
DON'T – Grab onto a nearby tree for dear life and start screaming like a baby out of sheer terror. It's unsettling for the other guests, and it makes you look like a baby. Also, we're pretty sure that can't be good for the trees.
DO – Book your zipline tour in advance. We can't really accommodate walk-up parties, so we prefer that you make your reservations ahead of time, either by phone or via our website. We run our tours in groups of up to eight people, so by booking ahead of time, we can fit all of your party into a single tour group (if there are more than eight of you, let us know) and fill it out with other guests if we need to.
DON'T – Show up unexpected at our outpost claiming that you're being chased by monsters and that the only way you can escape them is by riding our ziplines. That's the oldest trick in the book. We're not falling for that one again…
DO – Wear close-toed shoes and either long pants (jeans/khakis) or lengthier shorts that are made of sturdier fabric. For example, shorts that are too short or made of flimsy material make for a less comfortable ride because the safety harness you're required to wear gets cinched around your upper thighs.
DON'T – Wear a bikini or a Speedo on the zipline course. It won't be comfortable for you, and we need all the other guests in your tour group paying attention to the guides - not your semi-nakedness.
DO – Listen to your guides. Everything they tell you to do is for your safety, whether it's trying on the right size piece of safety gear or stepping up to the launch platform in the right sequence or holding onto your safety harness the correct way.
DON'T – Ignore your guides and hurtle yourself off the platform before someone in charge has clipped your harness to the zipline trolley and double-checked to make sure it's secure. As they used to say in the cartoons: "Watch out for that first step… It's a doozy!"
DO – Stay hydrated, especially on hot summer days. We provide you with complimentary beverages before and after your tour that you can consume at our facility. And we also have a water stop in the middle of the tour. Unfortunately, we can't allow guests to bring their own beverages for drinking along the way.
DON'T – Show up and chug a six-pack of Mountain Dew immediately before taking our canopy tour. First, soft drinks aren't as hydrating as water, and with that much caffeine and sugar in your system, you'll probably wind up acting obnoxiously before the tour is over. Not to mention the fact that if you get sick from drinking that much soda, you probably don't want to have to vomit from a speeding zipline that's 100 feet above the ground.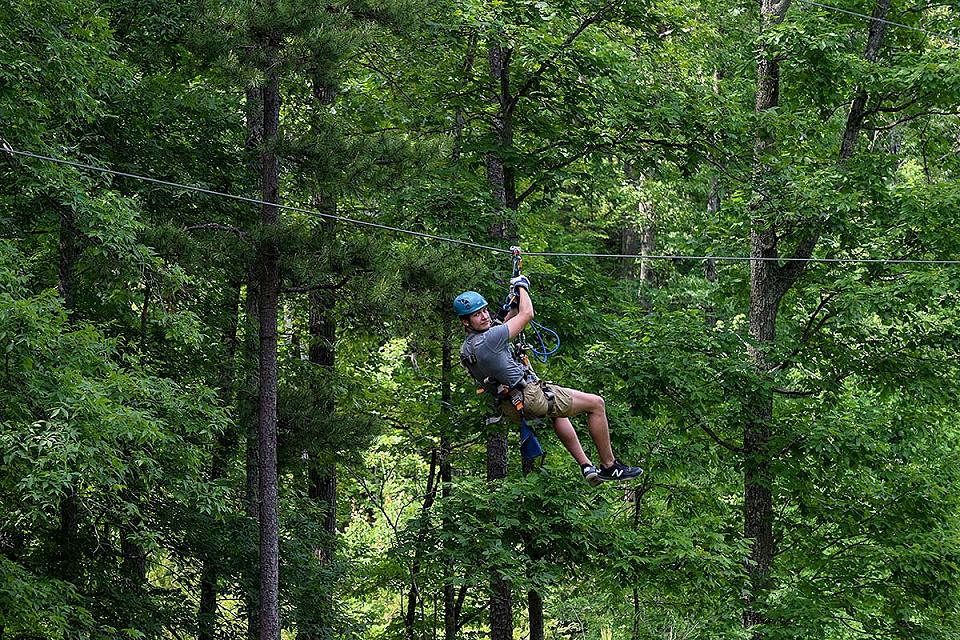 This content posted by Smoky Mountain Ziplines. Visit our home page, smokymountainziplines.com for more information on zipline adventures in the Smoky Mountains.