Blog for Zip line Attraction in the Smoky Mountains
Located in Pigeon Forge, TN and near Gatlinburg and Sevierville.
The 5 Kinds Of Zipliners
By Ross Bodhi Ogle
Posted on September 11, 2018
Here at Smoky Mountain Ziplines, we've watched a lot of people ride ziplines in the years that we've been open – probably thousands of people at this point. As a result, we've come to notice that the majority of our customers fall into one of five different categories of zipline riders, based on their physical and emotional reactions to the zipline experience. There can be some areas of overlap – where one person might exhibit characteristics of two or more of the zipliner profiles – but for the most part, most people tend to fall primarily into one category.
This week, we thought we'd have a little fun and share our observations about the different kinds of zipline customers we've noticed over the years. If you've ziplined before, maybe you'll spot yourself in here somewhere. If you haven't ziplined before, we invite you to come out to our Gatlinburg ziplines and discover which type you are. Keep in mind that the following categories are just for fun and don't reflect any kind of serious thought or research on our part…
1. The Perfectionist
You know who you are. You're the ones who like to do things by the book. And there's nothing wrong with that, because when safety is involved, following the rules is always a good thing. When it comes to ziplining, these are the folks who do exactly what the guides tell them to do, when they tell them to do it. During the zipline run, they exhibit perfect form: legs crossed, maintaining a hold on their zipline harness, facing forward to the extent that physics and gravity allow them to do so. They tend to show signs of distress when the forces of nature spin them around facing backward, and they will make every effort to correct the situation. But upon landing, it's all smiles and high fives, and they're usually eager to move on to the next zipline – so they can perfect their technique, of course…
2. The Screamer
You can spot these characters a mile away. And you can hear them from two miles away. These are the folks who start shrieking the second they step off the launch platform and maintain a steady howl all the way to the other end. Even if you see them disappear into the canopy, you can still hear their caterwauling at the opposite end of the zipline. The screams themselves can mean different things. Some are screams of exhilaration; some are screams of fear. Either way, some people just have to let the world know what they're feeling at that moment.
3. The Stoic
These are your cool customers. They may be having the time of their life, but for some reason, they're hesitant to let others know it. At best, they might plaster a polite smile on their face, but for the most part, they handle their zipline ride as cool as a cucumber. There's not a lot of physical motion or facial emotion on their part. It's simply a matter of holding onto the harness until the zipline run is over. On the other end, they'll act like it was all no big thang. Oh, they have a good time ziplining. But they want the rest of us to think that for them, it's just another day of flying through the air dangling from a steel cable…
4. The Clinger
These guys and gals are part pitiful, part hilarious, depending on your level of empathy. They're the ones who really do want to zipline, but they're still hanging onto some fear and anxiety about it. Nevertheless, they at least have the courage to go through with it. But once they're airborne, they white-knuckle their zipline ride the whole way. They'll grip their harness tightly, and many of them ride the whole line with their eyes closed. We don't recommend that part, because the scenery is beautiful out here, and we offer some tremendous views of the Great Smoky Mountains. We suggest that Clingers let the views be a distraction from their fear.
5. The Daredevil
Daredevils are closely akin to Screamers, but they are truly the most comfortable with the zipline experience. They may also do some screaming along the way, but you might also hear them bellowing some "Yee-haws," some "Woo-hoos" or some "Owwwwwws." They also feel quite comfortable relaxing physically on the zipline. They're most likely to let their hands drop from the harness and perhaps even lie flat in the air, suspended from the zipline as they speed amongst the treetops. Of course, Daredevils are smart enough to be back in position to land feet first on the landing platform, but along the way, they like to make the most of their time in the air.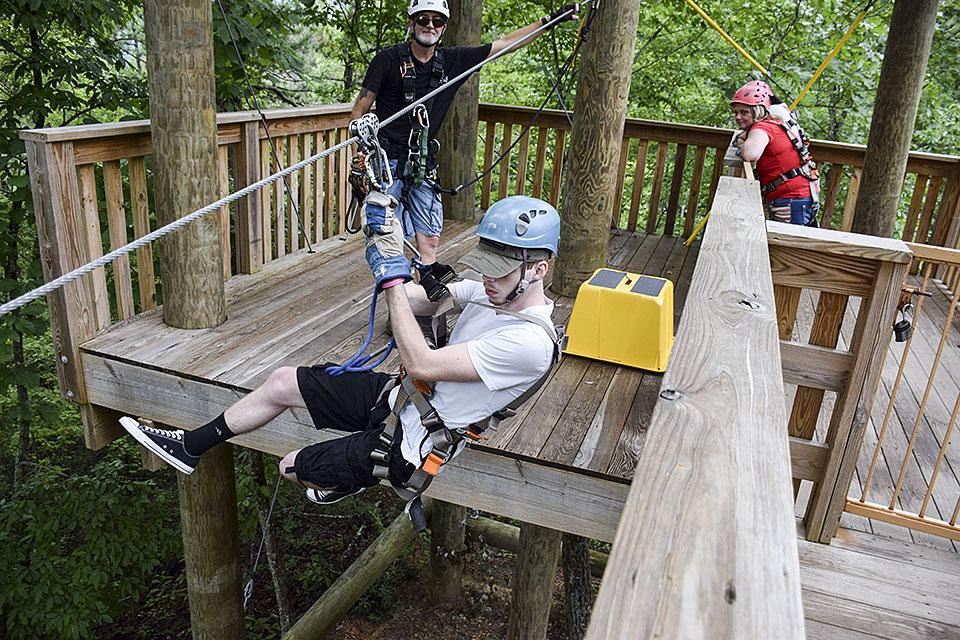 This content posted by Smoky Mountain Ziplines. Visit our home page, smokymountainziplines.com for more information on zipline adventures in the Smoky Mountains.