Blog for Zip line Attraction in the Smoky Mountains
Located in Pigeon Forge, TN and near Gatlinburg and Sevierville.
Special Events Round-Up
By Ross Bodhi Ogle
Posted on August 23, 2016
This is always an odd time of year here in the Smokies. Most area schools have already started classes, but to look outside, you'd swear it was still summer. That's because it IS still summer, which means there are still plenty of opportunities to work in a trip to the Great Smoky Mountains of Tennessee. Whether you have the freedom to travel without regard for school schedules or whether you've still got some weekend playtime ahead of you, there's a lot going on around here.
Most of the major attractions are still running on their full, normal schedules, and you'll also discover a good number of special events taking place in the area. From Gatlinburg to Pigeon Forge to Sevierville, there's no shortage of interesting happenings going down that can add a whole new dimension to your travel plans. Here's a quick run-down of what's in store for the next week or so.
Smoky Mountain Tunes & Tales
Running through September 19, this ongoing event in downtown Gatlinburg features street performances by costumed musicians, storytellers and artists. Along the way, you're bound to learn a little bit about the rich history of the Smokies.
Wallace Hartley Violin Display
Through October 10, you can visit the Titanic Museum Attraction in Pigeon Forge to get a glimpse of the actual violin played by Wallace Hartley, one of the musicians who played on the decks of Titanic as it sank.
Smoky Mountains Songwriters Festival
From August 24 through 28, Gatlinburg will be filled with the sounds of country, gospel and bluegrass music when the Smoky Mountain Songwriters Festival returns to town, featuring 130-plus songwriters and musicians, from novice to professional.
Con Hunley and Janie Fricke in Concert
On August 26 at 8 p.m., you can hear many of your favorite country songs performed live by Con Hunley and Janie Fricke as part of the celebrity concert series staged at Country Tonite Theatre in Pigeon Forge.
Smoky Mountain Jeep Invasion
Hey, Jeep fans, head to the LeConte Event Center in Pigeon Forge August 27 and 28 to check out this all-Jeep show and participate in the Jeep Ride hosted by the Smoky Mountain Jeep Club.
Welcome Home Veterans Parade
On August 29 from 9 to 11 a.m., you can join the city of Pigeon Forge in paying tribute to America's military veterans at the Veterans Homecoming Parade. The route will run northbound on the Parkway beginning at traffic light #8 (Dollywood Lane) and ending at traffic light #5 (Jake Thomas Road).
Tennessee Smokies Baseball
The Tennessee Smokies minor league baseball team will be home at Smokies Park from August 27 to August 31 to take on the Birmingham Barons. In addition to professional baseball, enjoy fan giveaways and special promotions. First pitch is at 7:05 on most dates.
And while you're in town, we hope you find time to spend a few hours with us at Smoky Mountain Ziplines in Pigeon Forge. Visitors this year have been raving about our new zipline course, which offers more zipline time than before, and the course has several new features that will make your morning or afternoon on the ziplines more fun than ever.
Also, we're the top-rated outdoor attraction in Pigeon Forge, according to tripadvisor.com, so if you're looking for the area's best ziplines, Gatlinburg, TN and Sevierville, TN attractions can't offer quite the same experience that we can here at Smoky Mountain Ziplines in Pigeon Forge, TN.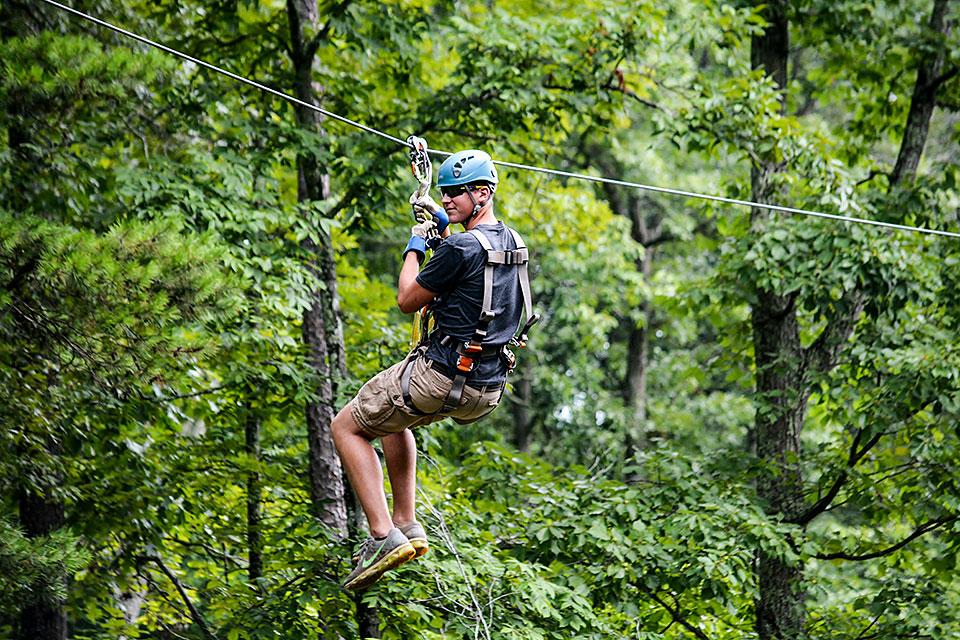 This content posted by Smoky Mountain Ziplines. Visit our home page, smokymountainziplines.com for more information on zipline adventures in the Smoky Mountains.