Blog for Zip line Attraction in the Smoky Mountains
Located in Pigeon Forge, TN and near Gatlinburg and Sevierville.
The Smokies Have Many, Many Mini Golf Courses - Part One
By Ross Bodhi Ogle
Posted on August 25, 2020
Miniature golf: It's practically a requirement when you're visiting the Great Smoky Mountains. Whether you're headed into the Smokies for the day, the weekend or a whole week, lining up at your favorite local mini-golf course and facing off against family/friends has been a vacation staple for decades.
There's something about that little colored ball and overcoming unique obstacles to get it into the hole that is not only fun but it's also relaxing and a great way to bond with your travel buddies. Mini golf is also a great equalizer. You don't have to have any actual golf experience to play, and it's something that practically the whole family can do together, regardless of age.
This week, we're going to highlight just a few of the many miniature golf attractions in Gatlinburg and Pigeon Forge. Maybe you'll discover a venue you've never tried before. Or maybe you've never mini golfed in the Smokies, and you'll find the place where you want to get started.
So grab your scorecard and your tiny pencil; it's time to get rolling.
Crave Golf Club
Located on the Parkway in Pigeon Forge, this sweet attraction offers both indoor and rooftop miniature courses, both themed around sugary treats. The two-tiered rooftop course has 19 handicapped-accessible holes set in environments like Rock Candy Mountain, Bubblegum Garden and Jellybean Jungle. Look for features like rock candy stalagmites, gumball trees and giant lollipops. The indoor course also has 19 handicapped-accessible holes that weave their way among cocoa cliffs and ice cream canyons. There's also a Sugar Safari, in which you interact with sugar cone characters while also trying to avoid a variety of obstacles. One unique feature of Crave is the Spin Zone you'll find at the beginning of each whole. Each player spins a disk and follows the directions before teeing off. For example, if someone in your group lands on a candy or ice cream icon, they mark it on their scorecard. Anyone who collects 19 of either can exchange their scorecard for a prize at the concessions counter.
Hillbilly Golf
This is one of the oldest and most beloved mini golf attractions in the Smokies. Located on the Parkway in Gatlinburg, it's been around for decades. It's not the most challenging course in the area, but it has a lot of charm. You start off by riding an incline railway up a mountainside until you're 300 feet above street level. From there, you take your pick of two 18-hole courses, both of which gradually wind their way downhill until you're back at the Parkway. The holes themselves are, predictably, hillbilly themed. You'll see all sorts of rural décor like outhouses and covered wagons. But the setting also has rocky features and lush native plants, not to mention thick forest growth. So it's a peaceful, shady experience that can provide welcome relief on the hottest days of summer.
Professor Hacker's Lost Treasure Golf
This Pigeon Forge attraction is also located on the Parkway (Sensing a theme here?). Lost Treasure Golf has the distinction of being on the site of what used to be Magic World theme park. That was a small-scale (some would say cheesy) amusement park geared toward kids and was in business from 1971 to 1996. Some of the features from that park, including a volcano, were held over and integrated into the two 18-hole courses at Professor Hacker's Lost Treasure Golf. The attraction offers an Indiana Jones-themed experience of adventure and exploration. It's based around the fictional explorer, archaeologist and paleontologist Professor Duffer A. Hacker. You'll follow in his footsteps as you putt your way through and around features like a vintage airplane, a pirate's ship, a waterfall, dinosaurs and more. A mining train takes you on a short ride to the first hole of your course.
Most of these attractions offer more than miniature golf. Depending on the location, look for activities like bumper boats, go carts, mirror mazes, escape rooms, mini bowling and more. What you won't find, however, are ziplines. But Smoky Mountain Ziplines can take care of that for you and make sure your travel fun includes a little bit of everything: mini golf, zip lines, Gatlinburg, TN, Pigeon Forge, TN and more.
Check back with us next week, and we'll profile several other popular mini golf attractions in the Smokies.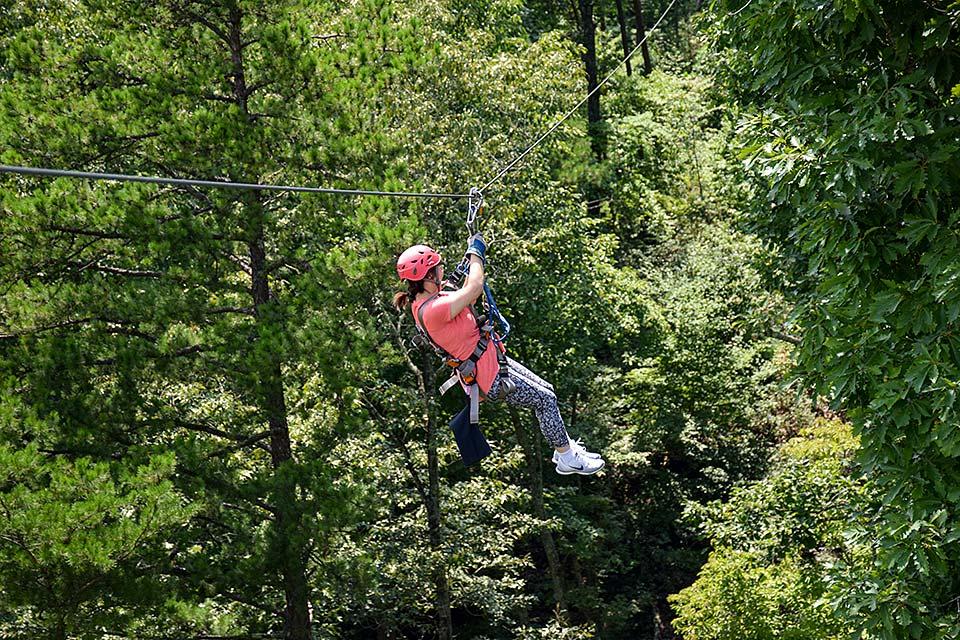 This content posted by Smoky Mountain Ziplines. Visit our home page, smokymountainziplines.com for more information on zipline adventures in the Smoky Mountains.