Blog for Zip line Attraction in the Smoky Mountains
Located in Pigeon Forge, TN and near Gatlinburg and Sevierville.
Sharing Some Imagination
By Ross Bodhi Ogle
Posted on July 14, 2020
There are few things that can help a child throughout his or her educational years than instilling an early love of reading. And that's the idea behind Dolly Parton's Imagination Library, a program that mails free books to children all over the world, from birth until they begin school. The intent is for parents to read to their children and begin nurturing a love of literacy early on, so that by the time they start school, they already have developed a passion for books. And in some cases, they may already have learned how to read.
"I created the Imagination Library as a tribute to my daddy," Dolly has said. "He was the smartest man I have ever known, but I know in my heart that his inability to read probably kept him from fulfilling all his dreams. Inspiring kids to love to read became my mission."
The books are geared toward children based on the year they were born. For example, kids born this year are receiving the age-appropriate titles Who Says Quack? in the United States and Twinkle Twinkle Little Star in Australia. Five-year-olds in the U.S. are currently receiving a book called Blue Sky, White Stars. The first book each child receives is the classic The Little Engine That Could. The last book each receives on graduating from the program is Look Out Kindergarten, Here I Come!
Dolly launched the program in 1995, and it grew quickly. At first books were only distributed to children living in Sevier County. By 2000, the program had become such a success that it went nationwide. Just three years later, Imagination Library had already sent out 1 million books. As of June 30, 2020, that number had reached 140,230,751. That's a lot of books and a lot of kids whose lives may be permanently changed for the better because of it.
In addition to the United States, books also go to children in Canada, the United Kingdom, the Republic of Ireland and Australia. The library also offers audio and Braille titles in an effort to reach as many preschool kids as possible.
One great aspect of the program is that it's free to recipients, regardless of family income. This is a tremendous advantage to families whose resources may not allow for the purchase of children's books. A good education can change a life. If a child from a family of limited means is able to appreciate reading early, it can lead to a stronger education, which can ultimately allow that child to shift his or her family's trajectory out of poverty.
The Imagination Library has received a number of honors and awards for its dedication to enriching the lives of children everywhere. Among them are the Best Practices award from the Library of Congress Literacy Awards (2014) and the Good Housekeeping Seal of Approval (2001), to mention just a couple. To enroll your child in the Imagination Library or to learn more about it, visit www.imaginationlibrary.com.
Of course, being able to spark the imagination of children is a subject close to Dolly's heart. She has often spoken of the role imagination played in her own meager upbringing and how her early childhood dreams propelled her from rural Sevier County, Tennessee, to international superstardom as a recording artist, live performer and actress.
Besides the Imagination Library, Dolly Parton has done a lot for the Smoky Mountains region. Her Dollywood theme park and multiple theater attractions have contributed a lot to the growth of the area over the past 30 years. That kind of growth has only been a benefit to businesses like Smoky Mountain Ziplines. Our ziplines in Pigeon Forge have been a popular attraction for years thanks to all the folks who enjoy traveling to the Smokies year after year.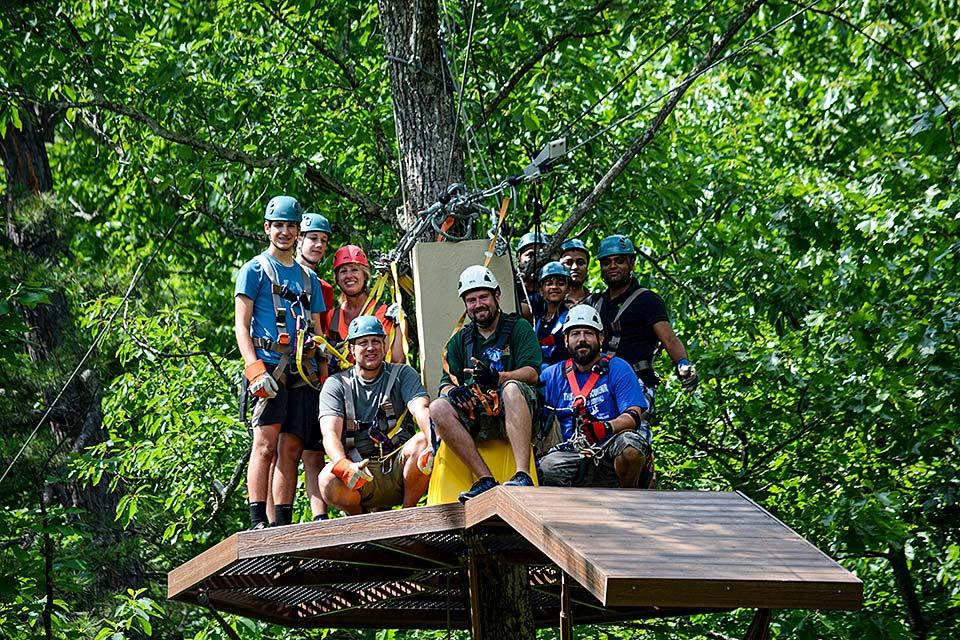 This content posted by Smoky Mountain Ziplines. Visit our home page, smokymountainziplines.com for more information on zipline adventures in the Smoky Mountains.