Blog for Zip line Attraction in the Smoky Mountains
Located in Pigeon Forge, TN and near Gatlinburg and Sevierville.
Music Theater Preview - Part 1
By Ross Bodhi Ogle
Posted on June 1, 2021
Now that Memorial Day has come and gone, summer vacation time is officially here. In the Smokies, things are really starting to get ramped up, and we expect to see a whole lot more people coming to town compared to last summer.
If you think you'll be among the millions who travel to Pigeon Forge, Gatlinburg and Sevierville this year, you might be interested in spending part of your vacation time enjoying some live entertainment. This is certainly the place to do it. With more than a dozen venues in town hosting a wide variety of shows, the Smokies have something for all ages and tastes. This week, we'll give you an overview of what you can expect to find this season. Unless we specify otherwise, all of the shows are located in Pigeon Forge either on or just off the Parkway.
Comedy Barn Theater
This has been one of the most popular shows in town for more than 25 years. Located in the big red-and-yellow barn, the Comedy Barn is geared toward tickling your funny bone with comedians, magicians, jugglers, animal acts, a live band and more. They specialize in clean, family-friendly entertainment that has proven to go over big with all ages.
Grand Majestic Theater
This venue has a little something for everybody thanks to four different stage productions. Magician Terry Evanswood, who has been performing in the Smokies for nearly 25 years, takes the stage at 2 p.m. with a show that features everything from close-up magic to large-scale illusions. The 5 and 8 p.m. shows vary, depending on the day. The lineup includes the Soul of Motown (Motown's greatest hits), Hit Parade (jukebox favorites from the '50s and '60s) and Hazzard Hoedown (a musical comedy featuring characters based on The Dukes of Hazzard TV show). They also have seasonal shows like 'Tis The Season (Christmas), a New Year's Eve show and Reflections on Elvis.
Country Tonite Theatre
This venue certainly celebrates the best of modern country music, but as they often say, you don't have to like country music to love Country Tonite. It's a fast-moving show that mixes things up with singers, dancers, musicians, youth performers, comedians and musical styles that also include gospel and patriotic. They're celebrating their 25th season in the Great Smoky Mountains.
Main Event Theater
If you're into musical tribute shows, you might want to check out this theater located just up the hill from the Red Roof Mall in Pigeon Forge. Conway Twitty tribute performer Travis James starts the show, and the second half features other artists paying tribute to the music of Neil Diamond, Tom Jones and more. Tribute artist Stewart Chapman does his all-Elvis show during the 2 p.m. matinee performance.
Pirates Voyage Dinner & Show
This action packed show features a showdown between two rival gangs of pirates. In each performance, the Crimson and Sapphire crews battle it out on land, on deck, on the water and in the air, with all the action taking place in a hideaway lagoon in a large indoor arena. The pirates face off in a series of competitions for bragging rights, and the audience gets in on the action too. Beautiful mermaids, tropical birds and a belly-busting four-course feast all add up to an evening of fun, feast and adventure.
Great Smoky Mountain Murder Mystery Dinner Show
Located in the Riverview Factory Stores on Teaster Lane, this interactive live show lets audiences help determine who has committed a ghastly onstage murder. The theater serves a three-course meal, and depending on the night you visit, you'll enjoy one of three different comedic productions-Moonshine Murders, Who Shot The Sherriff and Marriage & Murder.
Check back next week to read Part 2 of our music theater preview for 2021. And in the meantime, remember that while live shows are a great way to spend an evening, the best way to spend your vacation day is on the best ziplines Sevierville and Pigeon Forge have to offer. Make your reservations today for Smoky Mountain Ziplines.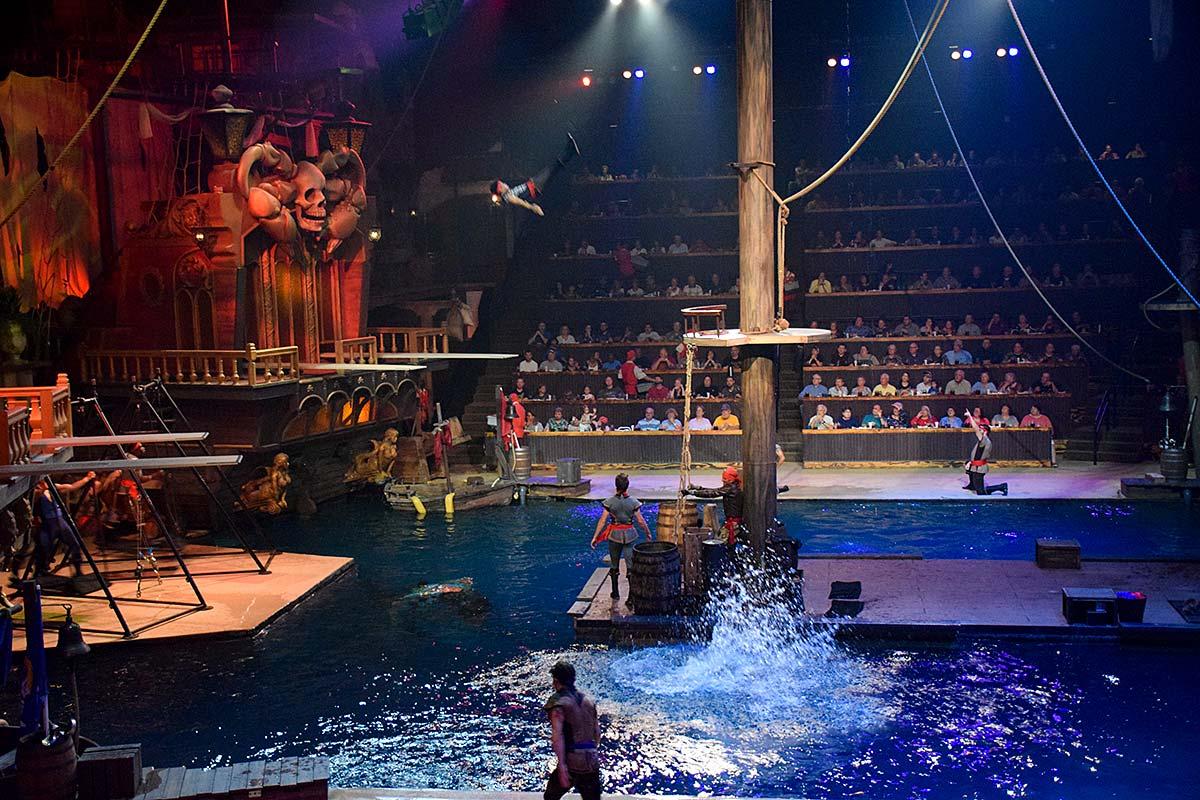 This content posted by Smoky Mountain Ziplines. Visit our home page, smokymountainziplines.com for more information on zipline adventures in the Smoky Mountains.