Blog for Zip line Attraction in the Smoky Mountains
Located in Pigeon Forge, TN and near Gatlinburg and Sevierville.
Motorcycle Destinations
By Ross Bodhi Ogle
Posted on April 19, 2022
People use all modes of transportation to get to the Great Smoky Mountains. Most drive their own car, truck or SUV. Some fly and rent ground transportation. Many visitors to the Smokies, however, prefer the two-wheel approach to touring the scenic mountains of East Tennessee and Western North Carolina. If you're a motorcycle owner and are thinking about heading to the Smokies in the near future, then this post is for you. This week, we're going to lay out some of the best-loved destinations and routes for those who prefer seeing the sights with their feet up and their hands on the handlebars.
Cherohala Skyway
This scenic route runs from Tellico Plains, TN, to Robbinsville, NC. If you decide to go point to point, it's 51.1 miles one way, and it will take the typical biker about an hour and a half to complete the one-way journey. Along the way, you'll pass through two national forests - Cherokee National Forest and Nantahala National Forest. The route is also known for its long curves, eye-pleasing views and relatively low levels of traffic, compared to routes like Tail of the Dragon (see below).
The Dragon/Tail of the Dragon/U.S. Hwy. 129
This popular route is also a point-to-point journey, starting in Chilhowee, TN, and ending in Deals Gap, NC (assuming you start on the Tennessee side). At 15 miles in length, it is significantly shorter than Cherohala Skyway, and most folks can complete the trip in about 25 minutes. The Dragon is best known for its 318 curves within the space of about 11 miles, which is one reason it's so popular with bikers. There are also professional photographers set up at multiple points along the route. If you visit their websites, you can probably find photos of yourself from the day of your visit. Those pics are for sale, of course.
One note of caution, however: Because it's so curvy, fatalities are not uncommon on The Dragon, usually caused by someone taking a curve too fast and either laying their bike down on the pavement or entering oncoming traffic. Also note that many who travel this route like to see how fast they can make the trip. So if you're interested in a more leisurely laid-back ride, you might consider Cherohala Skyway instead, where you're less likely to deal with another biker (or motorist) riding your tail.
Cherohala Skyway Loop
This is a big undertaking, but boy, can you see a lot of beautiful scenery and experience an eventful day on the road. This outing begins and ends in Maggie Valley, NC, and the 245-mile route will take you the better part of the day, including rest stops and lunch. Highlights include both Cherohala Skyway and Tail of the Dragon as well as great views, sweepers, twisties and Fontana Dam.
Smoky Mountain Loop
Also originating and ending in Maggie Valley, this loop is similar in length and travel time to the one mentioned above, but its notable points include Clingmans Dome, Bald River Falls, Cherohala Skyway and Foothills Parkway.
Foothills Parkway
Speaking of Foothills Parkway… This thoroughfare stretches across much of the Tennessee side of the Smokies but is broken up by multiple unfinished sections. One popular segment is located near Gatlinburg. Another runs from Wears Valley, TN, through Walland, and on to Chilhowee, TN. The Wears Valley to Walland segment is the newest, but the views from Walland to Chilhowee are spectacular. That chunk is 16.8 miles long and takes about a half-hour, without stops. Look for panoramic mountain views, foliage, slight curves, a few straightaways and even some hiking trailheads.
U.S. Hwy. 441
In this case, we're talking about the stretch running from the south end of Gatlinburg to Cherokee, NC. Along the way, you'll climb to the crest of the Smokies range along twisting two-lane roads, and then you'll head back down the other side once you cross the state line into North Carolina. It's 47 miles in distance and usually takes about an hour and a half, depending on traffic. But the up-close views of the mountains are unforgettable. Other highlights include forestland, Clingmans Dome, the Rockefeller Memorial, the Appalachian Trail and numerous hiking opportunities.
Another place bikers should consider stopping in the Smokies is Smoky Mountain Harley Davidson in Maryville. Located on U.S. Hwy. 321, this dealership is known for its barbecue and live music concerts. It's also conveniently situated for easy access to many of the scenic routes mentioned above.
At Smoky Mountain Ziplines, we're motorcycle-friendly too! We have lots of parking available on site, and we contend that ziplining Gatlinburg is about as exciting as riding a motorcycle. We'll even provide the helmet.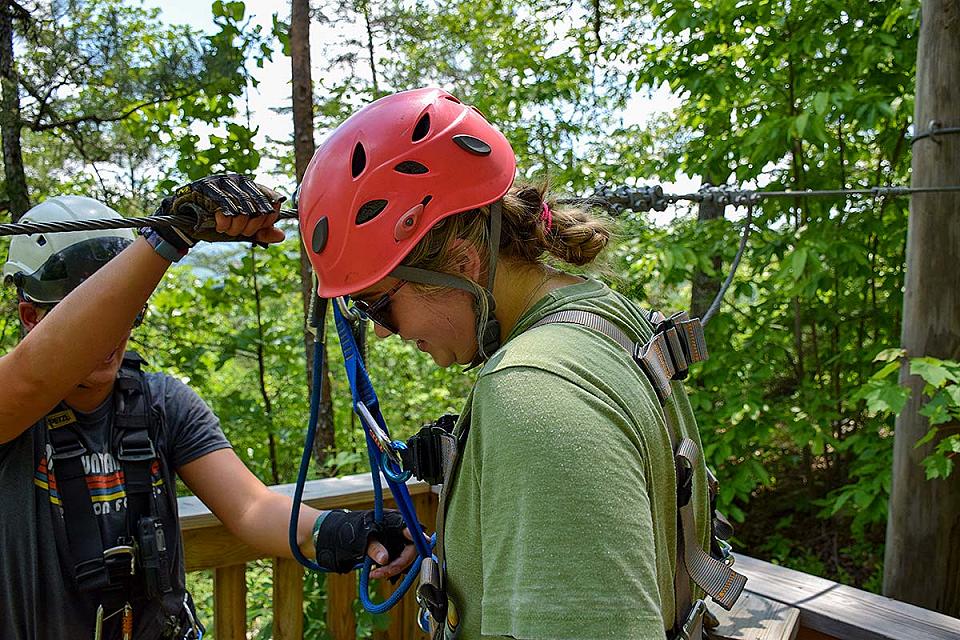 This content posted by Smoky Mountain Ziplines. Visit our home page, smokymountainziplines.com for more information on zipline adventures in the Smoky Mountains.