Blog for Zip line Attraction in the Smoky Mountains
Located in Pigeon Forge, TN and near Gatlinburg and Sevierville.
More Fall Festivals
By Ross Bodhi Ogle
Posted on September 28, 2021
Last week, we gave you the rundown on this year's Harvest Celebration at Dollywood. Through the end of October, guests of the Pigeon Forge theme park will enjoy seasonal décor, fall foods, guest entertainers and visiting craftsmen-in addition to Dollywood's usual lineup of rides, shows and attractions. And it's all set against the color-changing backdrop of the Great Smoky Mountains in autumn.
But that's not the only seasonal celebration you'll find if your travels take you to or through the Smokies during the next four or five weeks. This week, we'll introduce you to several of the other special festivals taking place through October as we usher in a glorious time of year in the mountains.
Smoky Mountain Harvest Festival
This event used to be a county-wide festival shared by the communities of Gatlinburg, Pigeon Forge and Sevierville, but in recent years, it's been mostly a Gatlinburg thing (although Sevierville does have its own Harvest Fest). Gatlinburg's celebration runs from September through Thanksgiving and sees the town decked out in colorful fall decorations as it hosts several smaller events under the Harvest Festival umbrella. These include the annual Chili Cookoff on the first Wednesday in November and several craft shows, such as the Gatlinburg Craftsmen's Fair. Also, attractions like the Mysterious Mansion and Ripley's Haunted Adventure make Gatlinburg a perfectly spooky place to celebrate all things Halloween!
Fall Harvest at The Island
This multipurpose destination in Pigeon Forge also gets gussied up for autumn with décor galore, including flower displays, hay bales, pumpkins and gourds, antique vehicles and farm equipment, and much more. There are plenty of locations for photo opps thanks to all the custom decorations. This is also a good time to get an aerial view of the surrounding beauty, not just at The Island but also in the nearby mountains; just hop on board the Great Smoky Mountain Wheel (a giant Ferris Wheel) and see all these sights from 200 feet up in the air.
Oktoberfest at Ober Gatlinburg
Ober Gatlinburg is best known as a wintertime ski resort, but in fall, the attraction taps into its Bavarian roots to celebrate the German holiday of Oktoberfest. From late September through October, Ober's guests can enjoy German-inspired cuisine (schnitzel, bratwurst, strudel, turkey legs, salted pretzels, sauerkraut, etc.) and traditional music courtesy of the Smoky Mountain Oompah Band. Dressed in lederhosen and other traditional attire, this group partakes in an array of Bavarian folk dances while performing oompah music, sing-alongs, yodeling and more. While you're on the mountaintop, you can enjoy other great Ober Gatlinburg attractions like ice skating, the alpine slide and mountain coaster, just to mention a few.
Wears Valley Fall Fest
Wears Valley, Tennessee, isn't exactly on the main drag of the Smokies. This small hamlet is about a 15-minute drive from Pigeon Forge, but its quaint setting and scenic views make the extra travel totally worth it. On the third weekend of October (15th through 17th this year), the town's annual Fall Fest features craft vendors and demonstrations; delicious foods like barbecue, grilled corn on the cob, candy apples and more; live country, gospel and folk musicians; and kids' activities like crafts, carnival games and obstacle course and inflatables. This event is a fundraiser for Keep Sevier Beautiful, an organization that works to protect the beauty of the Great Smoky Mountains.
While we don't have our own fall festival here at Smoky Mountain Ziplines, this is still a wonderful place to enjoy the great outdoors in autumn. Our zip lines in Gatlinburg are surrounded by wooded mountain beauty, and the recent combination of mild temps and low humidity we've been enjoying lately are absolutely ideal for flying through the treetops as they undergo their annual color transformation. We hope to see you soon!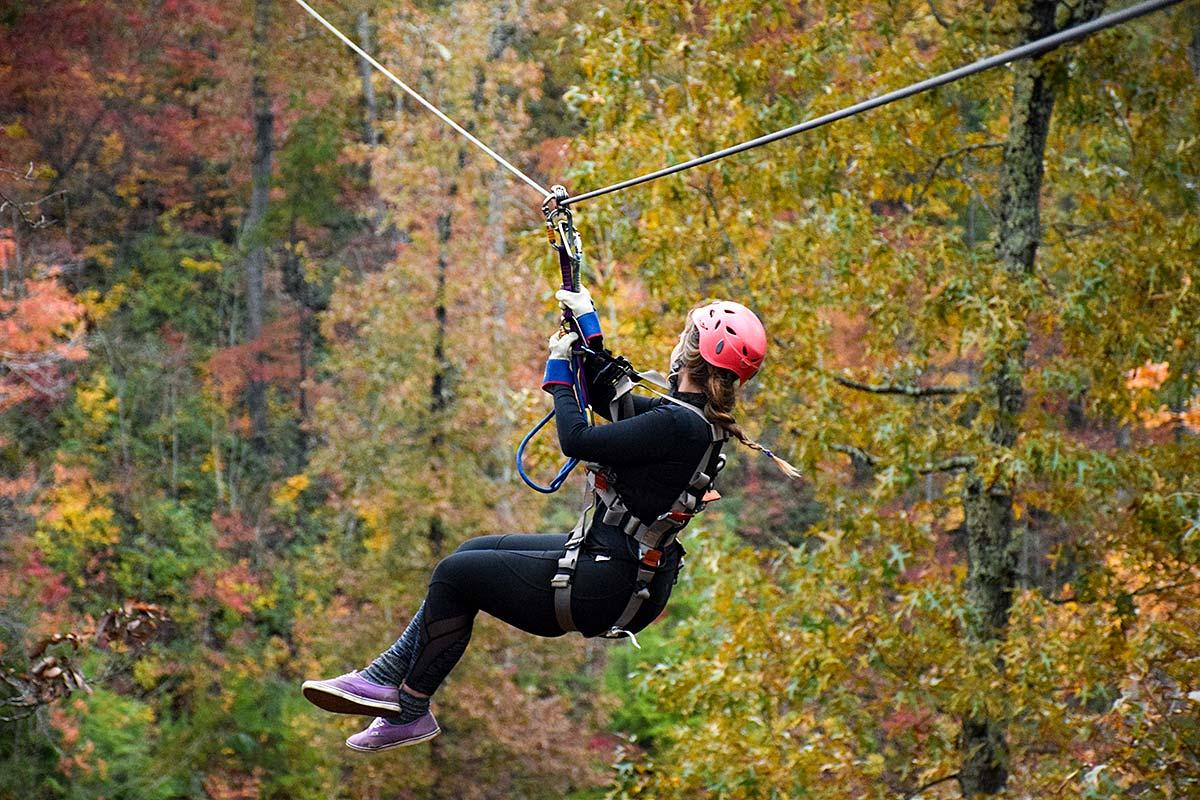 This content posted by Smoky Mountain Ziplines. Visit our home page, smokymountainziplines.com for more information on zipline adventures in the Smoky Mountains.