Blog for Zip line Attraction in the Smoky Mountains
Located in Pigeon Forge, TN and near Gatlinburg and Sevierville.
Live Shows Keep Crowds Happy in Pigeon Forge & Gatlinburg – Part II
By Ross Bodhi Ogle
Posted on March 31, 2015
Last week, we gave you Part I of our preview of all the different live theater shows that you'll be able to find in Pigeon Forge and Gatlinburg this year. As we mentioned in the introduction to that installment, music shows in the Smokies are more than just the usual mix of country, bluegrass and gospel. Our stages are home to a wide range of music as well as comedy, dancing, murder mysteries, magic and more.
This week, we'll take a closer look at a few more of the productions lined up for this year. Of course, we hope you'll visit us at Smoky Mountain Ziplines this season, but if you spend a few hours on our course and are still looking for a few other things to do Pigeon Forge in 2015, this list of theaters and shows is a great place to start.
First Class Celebrity Concerts
129 Showplace Blvd., Pigeon Forge
This celebrity concert series is presented on a regular basis at the Country Tonite venue. Each year's lineup features some of the biggest names in country music, including stars like Loretta Lynn, Aaron Tippin, The Oak Ridge Boys, Ronnie McDowell, Don Williams, Ronnie Milsap and more.
Grand Majestic Dinner Theater
2330 Parkway, Pigeon Forge
This theater has a little something for everyone, offering a total of five different shows on a rotating weekly schedule. The productions include America's Hit Parade, featuring top hits of the '50s, '60s, '70s and more; The Smith Family Show, in which C.B. and Jill Linn Smith entertain with oldies, country, gospel, comedy and more; Hazzard County Hoedown, featuring characters based on The Dukes of Hazzard TV show; a tribute to the legends of Motown, entitled Soul of Motown; and Magic Spectacular, a family magic show for all ages.
Great Smoky Mountain Murder Mystery
2682 Teaster Lane, Pigeon Forge
You won't find this cozy little venue right on the Parkway in Pigeon Forge, but the short journey to this Teaster Lane location will reward you with a unique live murder mystery and dinner show. Currently, two different comedy mysteries are hitting the boards – Whodunnit Lucy and Moonshine Murders – both of which require audience interaction to figure out exactly whodunit. The show also features a multicourse meal consisting of a choice of soup, pork tenderloin, a chicken quarter, sides, New York-style cheesecake and a choice of beverages.
Hatfield & McCoy Dinner Show
119 Music Road, Pigeon Forge
Brought to you by the same company that operates the Comedy Barn Theater, this dinner show is based on the legend of the long-running Hatfield and McCoy feud of West Virginia. These two clans try to settle their differences mountain-style, but along the way, audiences are entertained by a lively mix of singing, dancing, feats of strength, stunts and comedy. The meal includes fried chicken, pulled pork barbecue, mashed potatoes, slaw, corn on the cob, bread, creamy vegetable soup and dessert.
Lumberjack Feud
2713 Parkway, Pigeon Forge
This live dinner show ties in to the history of the timber industry in the Smokies prior to the creation of Great Smoky Mountains National Park. In the show's storyline, two logging families compete for the remaining timber before the park opens. Audiences cheer for either the Dawson or the McGraw family and root their respective teams on to victory as each family team engages in a series of lumberjack events and feats of skill. The competitors are actual champion lumberjack athletes featured on ESPN. They'll swing their axes, fire up their chainsaws, log roll and pole climb throughout some 15 different events. The show also features world-champion timber dogs, and a brand-new pre-show keeps audiences entertained during mealtime. Speaking of which, dinner consists of a half-chicken, red potatoes, biscuit, soup, corn on the cob and dessert.
Magic Beyond Belief
2713 Parkway, Pigeon Forge
This newly revamped show, which takes place on the stage of the Smoky Mountain Opry theater, now stars Siegfried & Roy protégé Darren Romeo. With matinee shows scheduled for every day at 3 p.m. (except Wednesdays), Romeo promises to dazzle audiences with a multifaceted production that includes large-scale illusions, singing, exotic animals, celebrity impressions, comedy and even a magical tribute to Romeo's biggest influences – Siegfried & Roy and Harry Blackstone, Jr.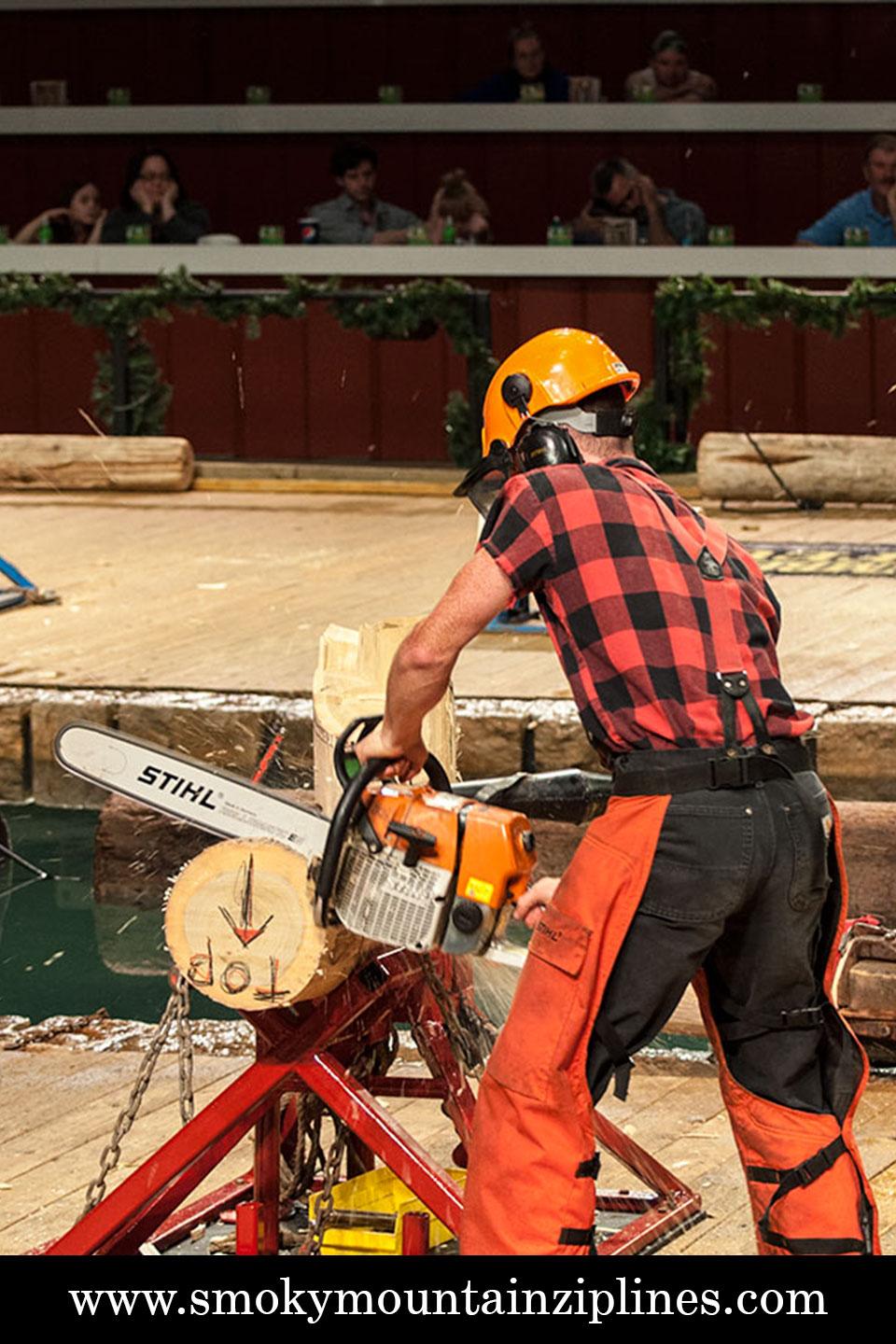 This content posted by Smoky Mountain Ziplines. Visit our home page, smokymountainziplines.com for more information on zipline adventures in the Smoky Mountains.