Blog for Zip line Attraction in the Smoky Mountains
Located in Pigeon Forge, TN and near Gatlinburg and Sevierville.
In Search Of Relaxation? Seek, And You Shall Find It In The Smokies
By Ross Bodhi Ogle
Posted on May 23, 2017
In today's amped-up, maxed-out world, we could all use a little more relaxation. With the daily demands of work, family and sometimes even social pursuits, it seems like there's always something nipping at our heels that requires our attention. Over time, this steady drip-drip-drip of stimuli can lead to lack of sleep, fatigue, chronic worry and high levels of stress.
But that's what vacations are for, right? Most folks only get a week or two of vacay each year, so when that time rolls around, you want to make the best use of it – making sure you're de-stressing, unwinding and recharging – not just subjecting yourself to a different kind of stress.
Fortunately, the Great Smoky Mountains is a destination that's tailor made for relaxation, and this week, Smoky Mountain Ziplines would like to pass along a few ideas for ways to make that happen.
Have a picnic
Surrounding yourself with the beauty and tranquility of nature is a sure-fire way to slow your heart rate and breathing and bring a smile to your face. We recommend packing a picnic lunch and driving to the Cades Cove community in Great Smoky Mountains National Park. You could simply enjoy your feast at the designated picnic grounds at the entrance to the 11-mile loop road, but you'll get the most bang for you buck heading on into the loop itself. Along that route, you'll find any number of scenic spots where you can pull over, spread out a blanket and enjoy your meal surrounded by majestic mountains and rolling meadows. And who knows? You might even spot some deer or other wild game nearby.
Find a spa
Sure, that's something you could do anywhere, but if you're already in relaxation mode on your trip, why not? In the Smokies, we have any number of spas and resorts that take pampering to a new level. What's your preference? A long deep-tissue massage, a facial, a hot-stone treatment or maybe a full-body seaweed wrap? Throw in a good mani-pedi, and you'll be ready to take on the world.
Head for the water
For a lot of folks, nothing says relaxation like spending time near water. For some, that could mean simply hanging out by (or in) the hotel or motel pool and soaking up some rays all day. For others, that might mean heading out to a larger body of water like nearby Douglas Lake, a TVA reservoir that offers 44 square miles of outdoor fun, including skiing, tubing, jet skiing, fishing and swimming. Water parks like Dollywood's Splash Country and the one at Wilderness at the Smokies resort offer water-themed fun of a more energetic nature, although for the ultimate laid-back ride, you can always kick back in an inner tube and float your way along either park's lazy river feature. Which leads us to…
Grab a tube
For a more authentic inner tube experience, we recommend visiting one of the many tubing companies located in Townsend, Tennessee. They don't call it the peaceful side of the Smokies for nothing, especially when for a reasonable fee, you can rent a tube, plop down and float your way down the Little River. The pace is relaxed, the water is refreshing, and there's nothing more peaceful than letting yourself drift with the current.
Of course, we don't want you to slip into a coma while you're in the Smokies. It's perfectly find to break up some of that chill time with an exhilarating morning or afternoon of ziplining. Our Smoky Mountain zipline attraction is guaranteed to get your adrenaline flowing and heart racing again!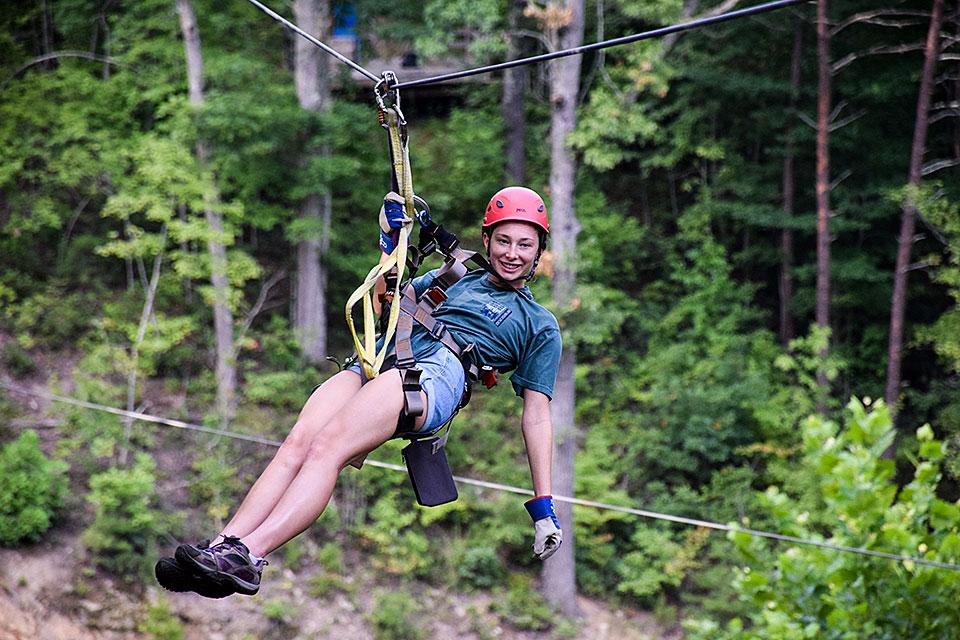 This content posted by Smoky Mountain Ziplines. Visit our home page, smokymountainziplines.com for more information on zipline adventures in the Smoky Mountains.