Blog for Zip line Attraction in the Smoky Mountains
Located in Pigeon Forge, TN and near Gatlinburg and Sevierville.
Go-Carts And Arcades And Golf, Oh My!
By Ross Bodhi Ogle
Posted on August 29, 2017
We spend a fair amount of time on this blog steering visitors toward a lot of the major attractions in the Great Smoky Mountains area. Popular stops like Dollywood, Ripley's Aquarium of the Smokies and the Titanic Museum and Attraction naturally garner a lot of attention because of their size and popularity. We also like to play up unique destinations like our own Smoky Mountain Ziplines as well as attractions that showcase live shows or animals or wonders of the world.
This week, however, we don't want to overlook some of the fundamental attractions, the bread-and-butter tourist stops that have been popular for decades and likely will be for years to come. We're talking about family amusement centers – places that feature traditional activities like go-cart tracks, miniature golf courses, bungee towers and video arcades. There's something about these businesses that appeals to all ages, and let's face it – they're just a lot of fun. So this week, we'll run down a representative sampling of amusement centers in the Smokies.
Here they are, in no particular order:
The Track
This Pigeon Forge fun stop has been around a long time, and while go-cart action is the star of the show, there's a lot more to do than first meets the eye. Of course, you can get your racing fix on one of four go-cart track experiences, designed for everything from rookies to experienced drivers. The Wild Woody is a rollicking wooden track full of twists, turns and bumps. Also on hand are a number of kiddie rides for younger guests as well as bumper boats and cars, the jungle-themed Gator Golf miniature golf course and, naturally, Fat Daddy's Arcade. Guests looking for bigger thrills might try a leap from the bungee tower or a wild pendulum swing on the SkyFlyer.
SpeedZone Fun Park
Also in Pigeon Forge is this go-cart-themed attraction that offers four different tracks: Kids Track, Coaster Track, the wooden Tennessee Twister and the Slick Track for all your slipping and sliding go-cart needs. This place is a good choice for go-cart purists who want to focus on racing without any other amusement-style distractions.
Lazer Port Fun Center
They have go-carts as well at this Pigeon Forge Parkway landmark, but the real name of the game is laser tag. With two 7,000-square-foot laser tag arenas, Lazer Port is one of the largest such attractions in the Smokies. Also of interest are their 18-hole indoor black-light mini golf course, their family arcade and their go-cart track, which is one of the newest and tallest in Pigeon Forge, standing some 50 feet high. It's full of twists and drops, including a 40-foot downhill straightaway.
Gatlin's Smoky Mountain Fun
Formerly known as Fort Fun, this downtown Gatlinburg family amusement center really does have a little bit of everything, and it's within walking distance of just about everything else in downtown Gatlinburg. Want to play miniature golf? Take your pick of both indoor and outdoor courses. They also have laser tag and a motion-ride simulator that synchs motion seats with one of two films – Smash Factory or Astro Canyon Coaster. Gatlin's also offers bumper cars, escape games and even gem mining, where guests can pan for gold and other valuable gems on site.
Ober Gatlinburg
Yeah, yeah, Ober Gatlinburg is one of those big area attractions we said we weren't going to talk about this week. But forget about the winter sports for a minute. Their amusement park has kiddie rides, an outdoor maze, mini golf, an arcade and a classic, old-fashioned carousel. All this in addition to headline attractions like their Ski Mountain Coaster, alpine slide, scenic chairlift, water slides and wildlife encounter.
If you're still interested in finding the best destination to try out a zip line, Pigeon Forge is where you'll need to go. That's where we're located, just two miles off the Parkway near the south end of town.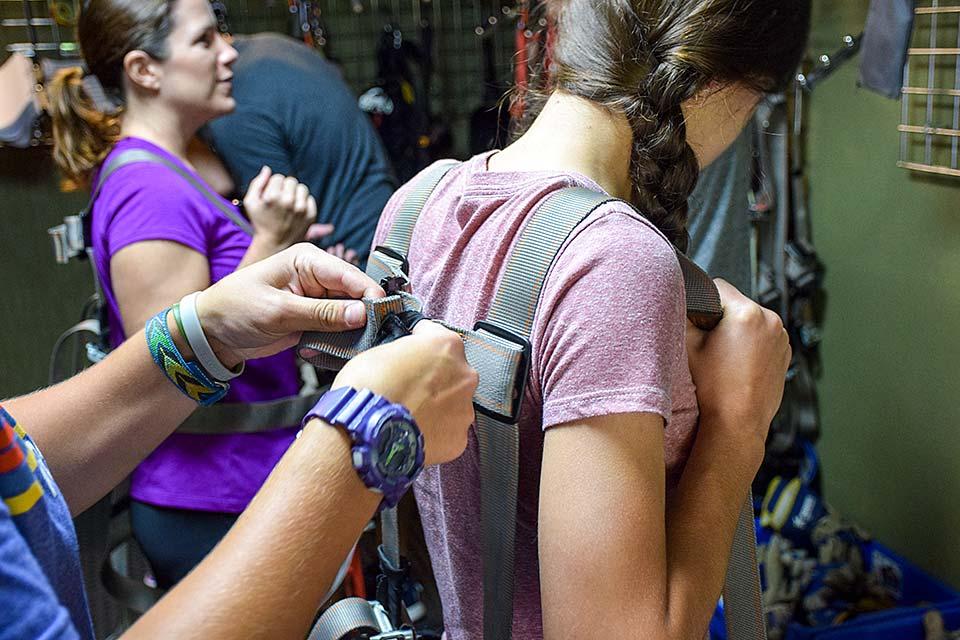 This content posted by Smoky Mountain Ziplines. Visit our home page, smokymountainziplines.com for more information on zipline adventures in the Smoky Mountains.