Blog for Zip line Attraction in the Smoky Mountains
Located in Pigeon Forge, TN and near Gatlinburg and Sevierville.
Foliage Watch 2018
By Ross Bodhi Ogle
Posted on October 2, 2018
Autumn is one of our favorite seasons here at Smoky Mountain Ziplines. The weather usually strikes a perfect balance during October, with moderate temperatures hovering between warm and comfortable and many sunny days that are ideal for enjoying our Pigeon Forge zipline adventure. This is also the season that the foliage throughout our region begins changing colors. It's an annual seasonal rite of passage that draws visitors from all over the world to the Smokies, just to witness the beauty that nature exudes as our leaves morph from green to a spectrum of yellow, orange and red.
Before we share details about the best times to catch this year's fall colors, we thought we'd start by telling you a little about exactly how and why the leaves change colors and drop from their trees. Because of changes in the length of daylight and in temperature, leaves stop their food-making process. The chlorophyll breaks down, the green color disappears, and the yellow to orange colors become visible. Other chemical changes may also occur, adding more colors through the development of red anthocyanin pigments.
The color results often depend on the species of tree:
• Tulip poplar – golden yellow
• Birch – bright yellow
• Black cherry – yellow
• Dogwood – deep red
• Sourwood – brick red
• Shining sumac – red
• Hickory – golden bronze
• Oak – red, brown or russet
• Maple – everything from orange-red to glowing yellow to bright scarlet or orange
Fortunately for visitors to the Smokies, all these types of trees can be found within Great Smoky Mountains National Park, so a strategically timed drive through the mountains this fall can result in quite a natural color show. In fact, seeing the colors at their peak can often help in identifying the trees' species.
So let's say you want to plan a visit to the Smokies this month, but you want to time your travel to coincide with the colors hitting their peak vibrancy. Well, it's often difficult to precisely pinpoint the peak period, because so many factors can influence the rate at which the leaves change color. Daily amounts of sunlight and rainfall as well as elevation and daily temperatures all have an impact on how quickly or slowly the leaves make their complete transformation.
But we can still offer you some rough guidelines that will help you narrow down your travel window. The colors are already starting to change in the higher elevations of the national park, and we're already seeing brighter colors creeping in here in the valleys and lowlands as well. Colors are expected to peak toward the end of October, with the higher elevations cresting around mid-month and the lower elevations peaking about a week later.
With those travel time frames in mind, we can also suggest several routes for optimal foliage viewing. There are two segments of the Foothills Parkway – one in Cosby, TN, and one in Walland, TN – both of which offer vast, sweeping vistas of mountains and valleys, in some cases on both sides of the route. We also recommend a drive from Gatlinburg to Cherokee, North Carolina, along U.S. Hwy. 441. That route heads south toward the crest of the Smokies near the state line, then descends toward Cherokee.
Keep in mind, however, that because visitation increases so drastically in October that any scenic route you travel is going to experience heavier and slower traffic than normal. The fact that these routes are all two-lane highways doesn't help. But just allow yourself plenty of time to get to your destination, take lots of photos, and enjoy fall in the Smokies.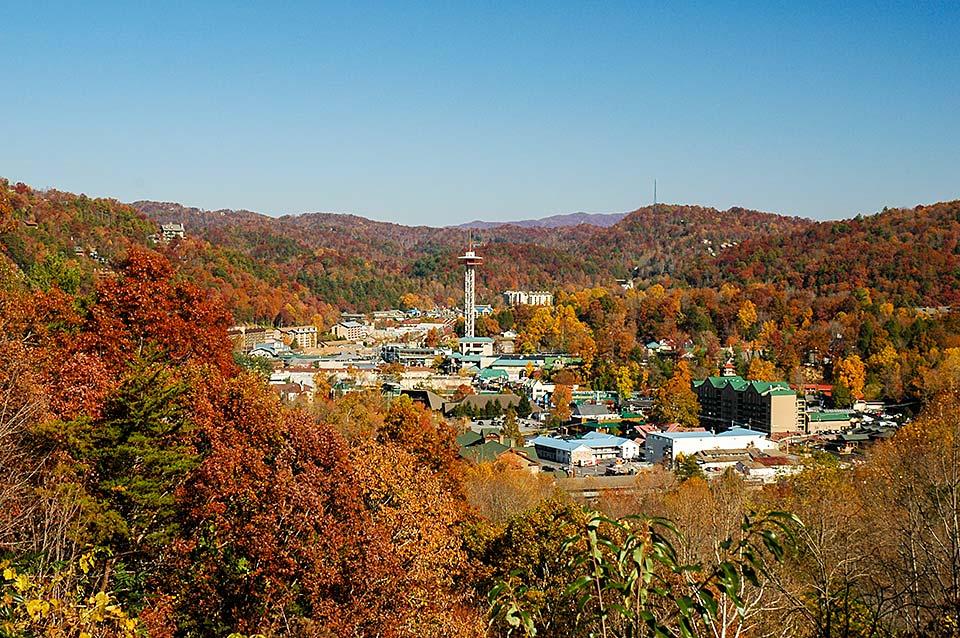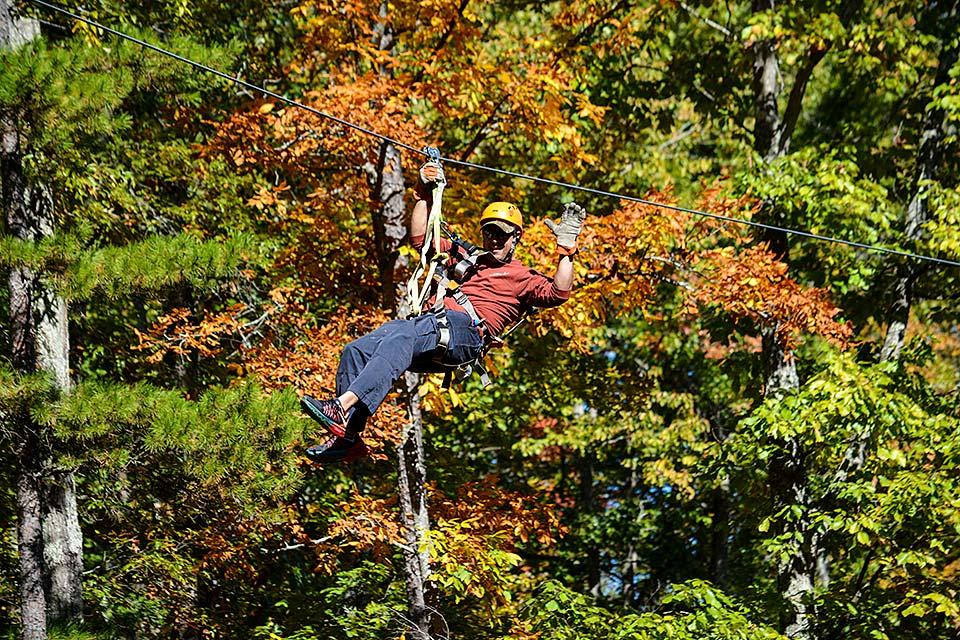 This content posted by Smoky Mountain Ziplines. Visit our home page, smokymountainziplines.com for more information on zipline adventures in the Smoky Mountains.