Blog for Zip line Attraction in the Smoky Mountains
Located in Pigeon Forge, TN and near Gatlinburg and Sevierville.
Discover What's New And On The Horizon In The Smokies
By Ross Bodhi Ogle
Posted on December 15, 2015
Springtime in the Smokies is still a few months away, but it bears mentioning that that's the time of year when new attractions, shops and restaurants like to make their debuts. It only makes sense, considering that's the time of year when the tourist season starts to gain momentum after a bit of a wintertime lull.
But this week, we thought we'd give you a look at some of the new businesses that have come onto the scene in 2015 as well as a sneak peek at a few that are slated to come online in 2016. After all, Winterfest is still going strong in Gatlinburg, Pigeon Forge and Sevierville, and this is a magical time to play in the Smokies. And once we tell you about what's looming on the horizon, we're hoping we'll just whet your appetite to come back and visit us again when the weather turns warmer for good.
Escape games have become very popular lately, and here in the Smokies, some folks have jumped heartily onto that bandwagon. One option is to visit the Trapped Escape Game in Sevierville, where participants are locked in a room and have only 60 minutes to solve puzzles and crack codes hidden throughout the room, all in hopes of finding a four-digit code to escape before the clock runs out. Three different rooms are designed for groups of 2 to 10 players.
Captured, a live escape game located in the base of the Space Needle in Gatlinburg, follows a similar format but utilizes two different room experiences to challenge guests with puzzles and clues.
While you're at the Space Needle, you might want to also challenge your levels of belief by watching a new comedy-magic show called Impossibilities: An Evening of Magic, Mind Reading and Mayhem! Magician-comedian Chris Collins and mentalist Erik Dobell present a night of stunning magic, reality-shattering mind reading and comedy mayhem designed for the entire family. The duo has a combined 40-plus years of experience in the magical arts and has performed all over the world.
The Space Needle also offers two other stage shows – Comedy Hypnosis with Guy Michaels and A Brit of Magic with Keith Fields.
In addition to these new entertainment options, there's even more to look forward to in the months ahead. Lots of folks will literally be jumping up and down for joy with the arrival of two new trampoline parks in the area.
Sevier Air Trampoline Park was originally scheduled to open at Governor's Crossing in Sevierville in November, but at the moment, that opening is running a little behind schedule. When it does open its doors, Sevier Air will be a great year-round option for fun and fitness thanks to a 50,000-square-foot facility that features more than 34,000 square feet of trampolines alone.
The other new trampoline attraction is TopJump, which will be located on the Parkway in Pigeon Forge near Dixie Stampede. It's scheduled to open next spring.
Also opening next spring is The Ripken Experience, a multi-field baseball tournament destination in Pigeon Forge. Created by baseball legend Cal Ripken, Jr., the $22.5 million facility will feature six lighted synthetic-turf fields, each inspired by an actual major or minor league ballpark. The Ripken Experience will offer all the big-league amenities that teams have come to expect from other Ripken facilities located around the country.
Finally, all you roller coaster fans are probably already prepared to get in line for the new wooden coaster coming to Dollywood theme park in Pigeon Forge next spring. The $22 million ride, called Lightning Rod, will be the world's fastest wooden coaster, inspired by the classic hot rods of the 1950s. It will launch riders up 20 stories and up to 45 miles per hour from a standstill, and passengers will enjoy 20 seconds of airtime while riding along the 3,800-foot track. Highlights will include a 165-foot drop and a top speed of 73 miles per hour.
And of course, our Smoky Mountains zipline course will be back from our winter hiatus next spring. We look forward to seeing everyone back with us in March at Smoky Mountain Ziplines.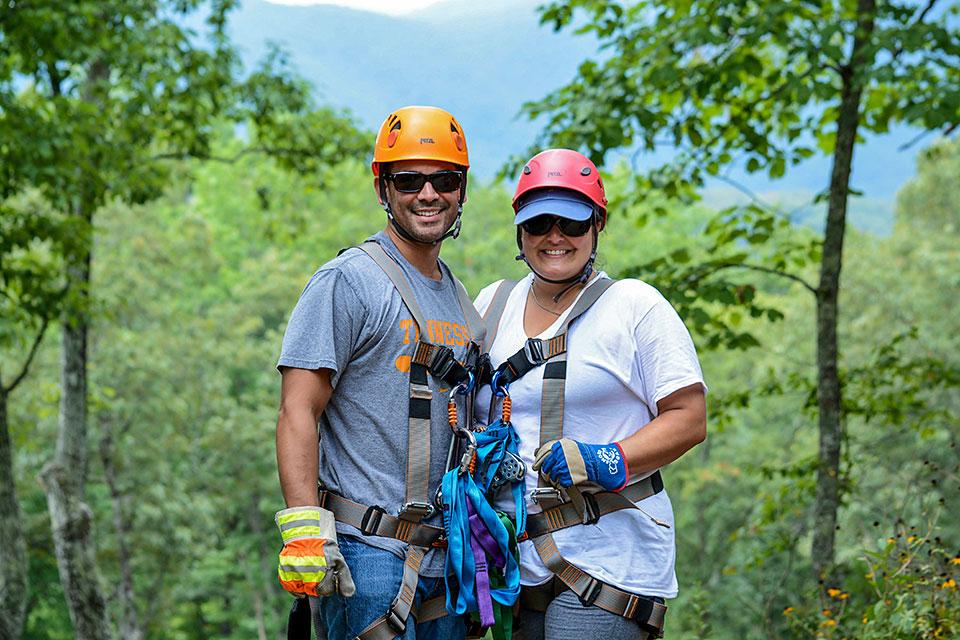 This content posted by Smoky Mountain Ziplines. Visit our home page, smokymountainziplines.com for more information on zipline adventures in the Smoky Mountains.