Blog for Zip line Attraction in the Smoky Mountains
Located in Pigeon Forge, TN and near Gatlinburg and Sevierville.
Be BearWise This Fall
By Ross Bodhi Ogle
Posted on October 19, 2021
Autumn is the season when Great Smoky Mountains National Park receives a high number of visitors, in large part due to the beautiful fall foliage. Many of those visitors take in the scenery by immersing themselves in the park's lush woodlands, where they can enjoy up-close views of nature's color palette of red, yellow and orange.
Fall is also the season when the park's black bear population is on the move, gathering food stores, chowing down and trying to put on the extra fat needed to sustain them through their winter hibernation. This combination of increased human activity and increased bear activity raises the likelihood that the two species will meet, one-on-one.
This week, we will be passing along some tips from BearWise.org, an organization that seeks to educate us humans about black bears and their behaviors, with the ultimate goal of minimizing the negative impacts that people can have on the bears. It's all about teaching us how to live responsibly with one of the region's great wildlife populations.
For starters, there are steps you can take to make sure your home isn't an attractive spot for bears to make their winter dens. Usually, bears will seek shelter in hollow trees or logs, under the root mass of a fallen tree, in rock crevices, high up in a tree or even in a brush pile on the ground. It's also not unusual for some bears to make do with manmade structures like decks, crawl spaces and storage sheds-even discarded tires or landscaping like bushes. Did you know that an adult bear can easily fit through the average-sized pet door? Bears don't have collarbones, so they can squeeze themselves through what look like impossibly small openings.
BearWise recommends doing a walk-through of your property, assuming you live within a reasonable distance of a bear population, and looking for potential denning locations. Some steps you can take include blocking crawl spaces or installing wire fencing or masonry barriers at the entrances to under-deck areas. An added benefit is that this will keep out not just bears but unwanted critters like raccoons and skunks.
Also make sure your storage sheds and outbuildings are securely locked, both at the door and window entrances. And think about storing any bottles of antifreeze securely. It smells sweet to bears, and ingesting it would be harmful to them, just as it would be to a person.
Other areas to look out for as potential bear dens include vacation homes and recreational vehicles. Secure entrances to both types of property and try to remove all foods and any odorous air fresheners from your RV.
Keeping bears from denning on your property not only helps protect that property, but it also minimizes the chances that you'll have a one-on-one interaction with a black bear. Ultimately, all these strategies are also designed to protect the bears themselves. The easier access that bears have to our food and shelter, the more likely they are to stray from their native habitats and foraging grounds and start to become dependent on human shelters and foods to survive. And when that happens, the chances of human-bear interactions increase. The bad news is that such interactions can lead to injury or death for both populations.
We hope you keep all this in mind when you're visiting our Smoky Mountains zipline course in Pigeon Forge. Bear sightings are pretty rare around here, but we do recommend visiting BearWise.org to learn some really interesting facts about bears as well as some tips for what to do if you should come face to face with a bear in the wild.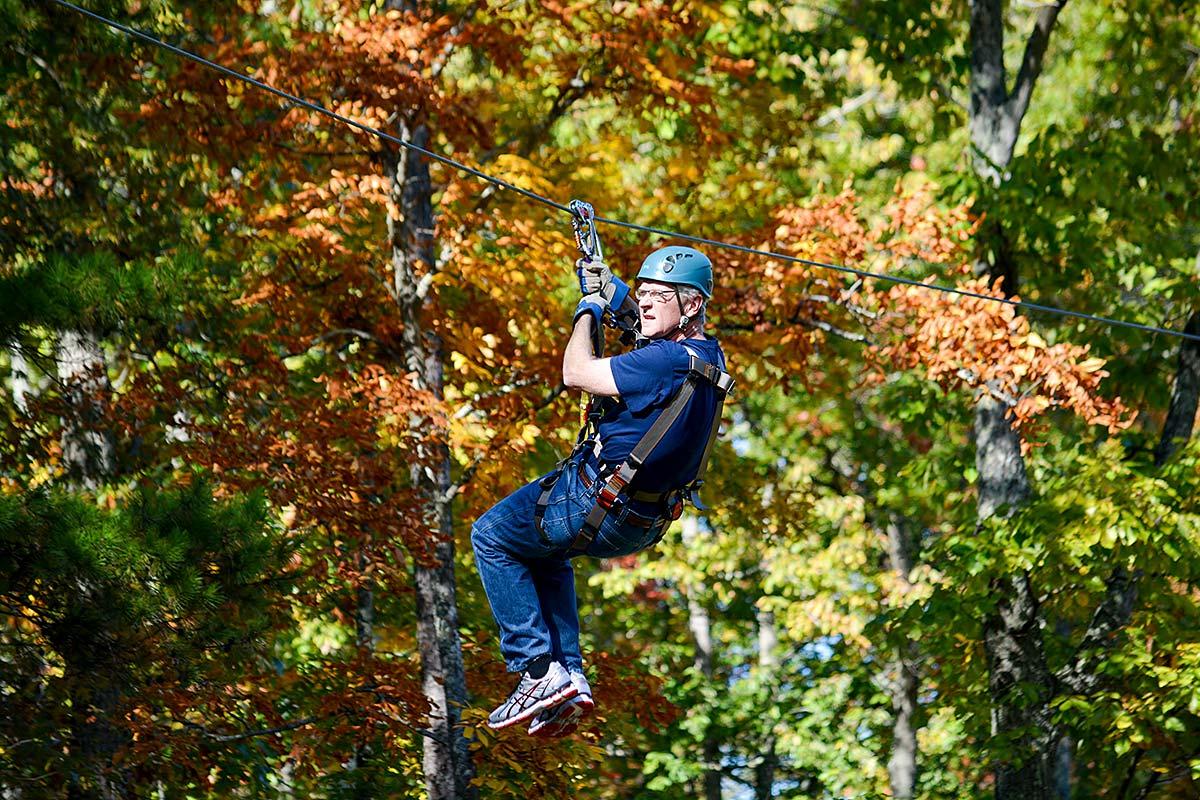 This content posted by Smoky Mountain Ziplines. Visit our home page, smokymountainziplines.com for more information on zipline adventures in the Smoky Mountains.