Blog for Zip line Attraction in the Smoky Mountains
Located in Pigeon Forge, TN and near Gatlinburg and Sevierville.
A Wonderful World Of Color
By Ross Bodhi Ogle
Posted on October 5, 2021
We may be dating ourselves here, but back in the 1960s, there was a Sunday-evening TV show on NBC called Walt Disney's Wonderful World of Color. The title reflected Disney's desire to take advantage of the fact that color television sets were becoming more popular and widespread in the United States. Prior to that time period, most TV shows were broadcast in black and white, so the arrival of color programming was an event in its own right.
Here in the Great Smoky Mountains, we know what it's like to celebrate a widespread arrival of color, except in our case, it has nothing to do with television and everything to do with nature. And it's an event we get to observe every single year in the fall, when the foliage in the mountains is drained of its summer greens and dons the festive autumnal hues of red, yellow and orange.
This week, we're going to pass along some of the latest information we've been able to gather about this year's fall-foliage forecast. Of course, each fall-color yield depends on a number of seasonal circumstances, including daily temperatures, precipitation and amounts of sunshine leading up to the traditional window of peak coloration. But hopefully, you can take the information we're sharing here and use it to plan a trip to the Smokies that coincides with the best possible viewing of our kaleidoscope woodlands.
This week, hints of yellow and gold are already appearing here and there in the higher elevations. The forecast calls for cooler nighttime temps, which will help nudge the colors along for sure. The most brilliant colors are achieved with a run of warm, sunny days and cool (but not freezing) nights. It's expected that the highest elevations will start showing their peak colors over the next couple of weeks and then gradually sweep down into lower-lying areas like Pigeon Forge and Sevierville into the latter half of this month. If color-hindering freezing temps stay away, these peak colors should remain vibrant well into November.
Predicting exactly which week the colors will peak is a science, but some of the guesswork relies on weather forecasts, which aren't always 100-percent accurate. One proactive thing you can do leading up to a fall Smoky Mountain getaway is track the weather here on an app. Look for trends of warm, sunny days followed by cool nights. That would be a precursor to rewarding autumnal viewing. Conversely, if you start seeing early winter freezes in the area, that may be an indicator that the colors will be less than optimal this year.
Another tool you can utilize is a webcam. An Internet search for "Smoky Mountain webcams" will lead you toward the websites of any number of local businesses and organizations that have webcam lenses trained on our natural surroundings. So you can view for yourself what's happening at what elevations and use your best judgment to time your travels with the peak colors.
One thing we know for sure is that Smoky Mountain Ziplines is the ultimate fall activity for viewing the annual color transformation. Ziplining in Gatlinburg gives you a front-row seat to the wonderful world of color that blankets our area each fall. As you travel from the top of our mountainside course to the bottom via seven different ziplines, you'll be flying among the painted treetop canopies themselves, totally immersed in one of nature's annual spectacles. Add in some cool fall temperatures and an adrenaline-filled experience spent with family and/or friends, and you've suddenly created what many would consider an ideal fall day in the mountains.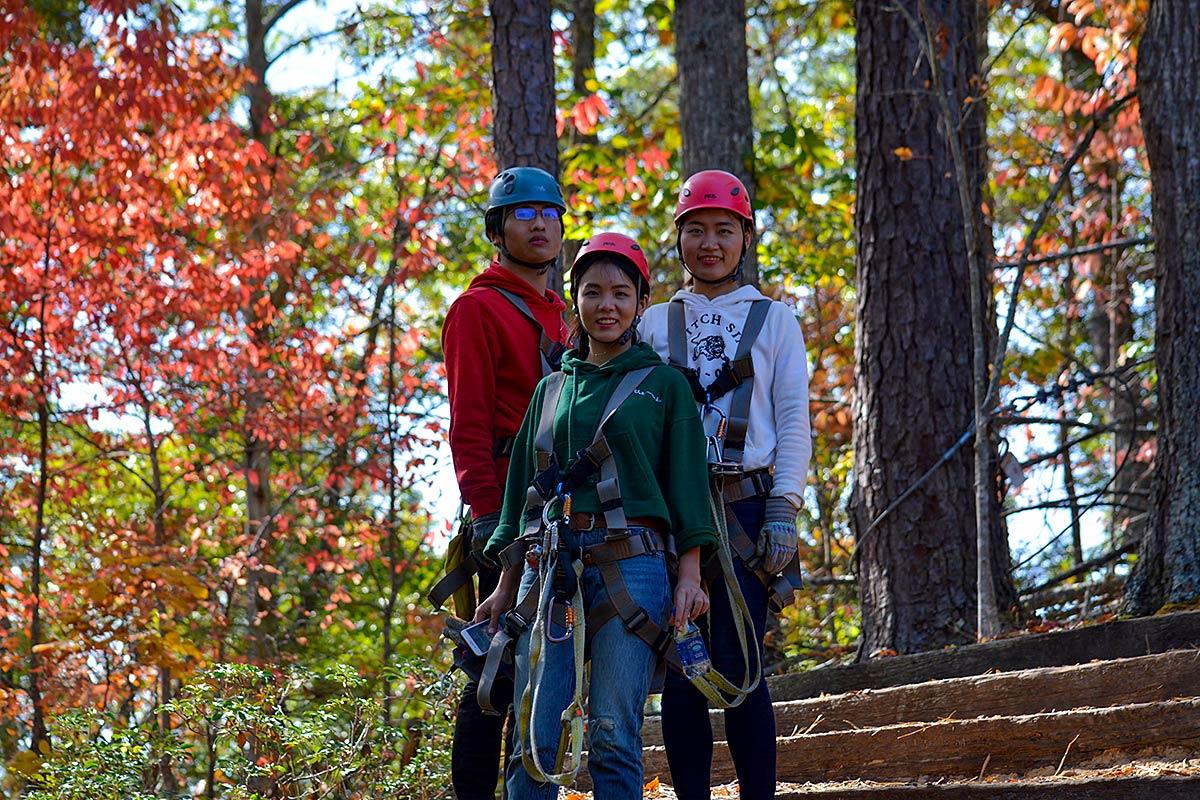 This content posted by Smoky Mountain Ziplines. Visit our home page, smokymountainziplines.com for more information on zipline adventures in the Smoky Mountains.