Blog for Zip line Attraction in the Smoky Mountains
Located in Pigeon Forge, TN and near Gatlinburg and Sevierville.
5 Wintertime Alternatives To Ziplining
By Ross Bodhi Ogle
Posted on February 4, 2020
Although our Smoky Mountains zipline attraction is on hiatus, we realize that some of you still like to have outdoor fun all year long. The biggest challenge, of course, is the weather. It's generally too cold to zipline this time of year (and lately, it seems like it just won't stop raining), but there are still a few things you can do right now that will allow you to get outside and get some fresh air and, in some cases, even a little bit of exercise. So until zipline season returns, here are just a few ideas for ways to have fun in the great outdoors of the Great Smoky Mountains.
1. Go on a hike
This is one of the easiest, because there are hundreds of miles of hiking trails you can access in Great Smoky Mountains National Park. And if you stick to the lower elevations, you'll find cooperative conditions and some beautiful scenery, even as most of the deciduous trees are still bare. It's only when you get higher up in the mountains that snow becomes a risk factor when it comes to staying on the trails. Winter is gorgeous in its own right, though, so don't miss out on the unique landscapes that it affords. Note that there are both planned and weather-related road closures in the national park all season long, so consult their website, www.nps.gov/grsm, for the latest updates.
2. Winter sports
At Ober Gatlinburg Ski Resort, this is actually the best time of year to take advantage of winter-sport activities like snow skiing, snowboarding and snow tubing. Whether you drive to the top of the mountain on Ski Mountain Rd. or take the Aerial Tramway up from downtown Gatlinburg, this year-round attraction has a lot of ways to take downhill fun in the Smokies to the next level. Even if you're a novice, Ober Gatlinburg has lessons and gear rentals to help you get started, and there's something there for all ages. If skiing or snowboarding isn't your thing, anybody can have fun snow tubing, and they also have indoor ice-skating along with a restaurant, shops and other attractions.
3. Horseback riding
This outdoor activity is a little more passive than the ones we've mentioned so far, but what a great way to take in some beautiful mountain scenery. There are many horseback-riding companies in the area, and between them, they offer a wide array of locations, scenery, trail experiences and more. Some offer guided rides, while others allow you to explore on your own. And again, there's an option for all experience levels, from tenderfoots to old cowboys. Whether you want to go on a family ride or spend a little quiet time in the mountains on your own, don't overlook this long-time favorite outdoor recreation.
4. ATV rides
Think of this as yet another alternative for taking in the stunning landscapes of the Great Smoky Mountains. This one, however, combines sightseeing with the thrill of operating an off-road vehicle and exploring places that most auto traffic just doesn't have access to. Of course, we're not just talking about traditional ATVs; this could include Jeeps or any kind of four-wheeler for that matter. Like ziplining, there's a bit of a rush involved, depending on the type of vehicle you're renting and the locations you're covering.
5. Fishing
This is the most laid-back of everything we've covered today, but fishing is something you can do any time of year as long as you've got the right gear, adequate clothing and lots of patience. There are hundreds of miles of streams in the national park alone and lots of rivers outside the park as well. There's also a wide range of types of fish, but trout is among the most popular in these parts. You can bring your own equipment or seek out a local outfitter to help you get geared up for your outing. Just make sure you do a little research beforehand and obtain the proper licenses required for the location you plan to visit.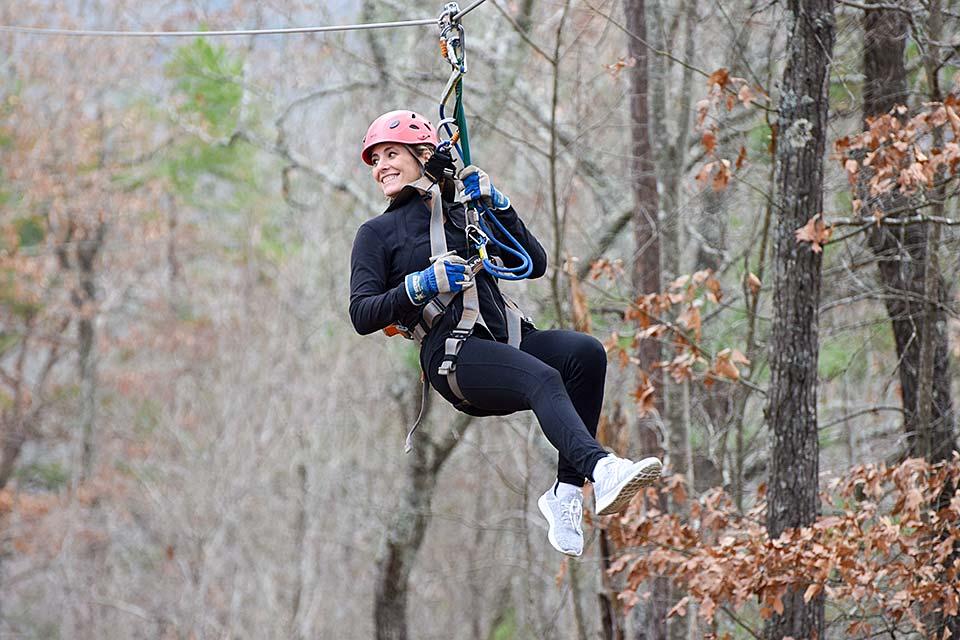 This content posted by Smoky Mountain Ziplines. Visit our home page, smokymountainziplines.com for more information on zipline adventures in the Smoky Mountains.