Blog for Zip line Attraction in the Smoky Mountains
Located in Pigeon Forge, TN and near Gatlinburg and Sevierville.
5 Alternate Ways to Get to the Smokies, Part I
By Ross Bodhi Ogle
Posted on July 5, 2016
We hope you're planning on doing some traveling in the Great Smoky Mountains of Tennessee this summer. Between the gorgeous mountains, the national park and all the attractions, shops, restaurants and special events you'll find in Gatlinburg, Pigeon Forge and Sevierville, there's enough in this area to fill weeks and weeks of vacation time.
Historically, most folks traveling to the Smokies enter what's known as the Smokies corridor from Interstate 40 at Exit 407. From there, Tenn. Hwy. 66 (Governor Winfield Dunn Pkwy.) funnels travelers right into downtown Sevierville, and from there, the Parkway runs all the way through Pigeon Forge, into Gatlinburg and Great Smoky Mountains National Park.
In many cases, that route makes sense. Especially since Hwy. 66 was widened to three lanes in each direction in the last few years, it's a lot easier to get to your favorite destinations than it was when the highway was just two lanes. But this week, we'll show you a few other ways to get into the area, many of which offer some scenic stops along the way. You may find a more direct route to your lodgings or, in some cases, enjoy less congested travel.
1. U.S. 441 from Knoxville
If you leave downtown Knoxville via Chapman Hwy., that route (U.S. 441) will also take you to downtown Sevierville. At the intersection of Chapman Hwy. and Tenn. Hwy. 66 in Sevierville, take a right on Forks of the River Parkway to resume your journey into the heart of the Smokies corridor. On the busiest of days, this can be a less congested way to get into Sevierville.
2. U.S. 411 from Newport
If you're approaching the Smokies via Interstate 81 or via Interstate 40 coming from Asheville, consider exiting Interstate 40 at Newport, Exit 432A, taking U.S. Hwy. 25W to U.S. 411 and then heading west. You'll get to downtown Sevierville in about a half-hour. The drive during that stretch is pretty scenic, and about halfway along, you'll pass through the Bush's Beans plant and visitor center, which might make for an interesting stopover.
3. U.S. 321 from Lenoir City
If you're heading toward the Smokies from the Chattanooga area via Interstate 75, exit the Interstate at Lenoir City and take U.S. 321 east toward Maryville. Follow the signs through Maryville and continue toward Townsend, TN, aka the Peaceful Side of the Smokies. Once you get to the stoplight at the east end of Townsend, you have a couple of options.
You can continue straight on Lamar Alexander Parkway, enter the national park and then, at the Townsend Y, turn left onto Little River Road, which will take you all the way to Sugarlands Visitor Center in the national park. Or if you take a left at the Townsend stoplight and continue on U.S. 321, that will take you into the heart of Pigeon Forge after passing through the scenic community of Wears Valley. You'll enjoy neat views of Cove Mountain along the way.
Both routes are scenic, although be warned that during peak season, both routes are also quite popular with motorists and bikers, so neither is exactly the quickest route if you're interested in saving time on the road.
In the meantime, if you're planning to visit us at Smoky Mountain Ziplines, your best option would be to come into town via one of the Sevierville routes or take the U.S. 321 route through Wears Valley. (Those are generally easier traveling, plus we think you'll enjoy what we have to offer here in Pigeon Forge more than ziplining in Gatlinburg.) Once you hit the Parkway in Pigeon Forge, head toward the south end of town and then turn right onto Conner Heights Rd., which turns into Mill Creek Rd. You'll find our outpost only a couple of miles off the Parkway, which makes us extremely convenient to visit.
Check back with us next week for two more alternate routes to the Smokies.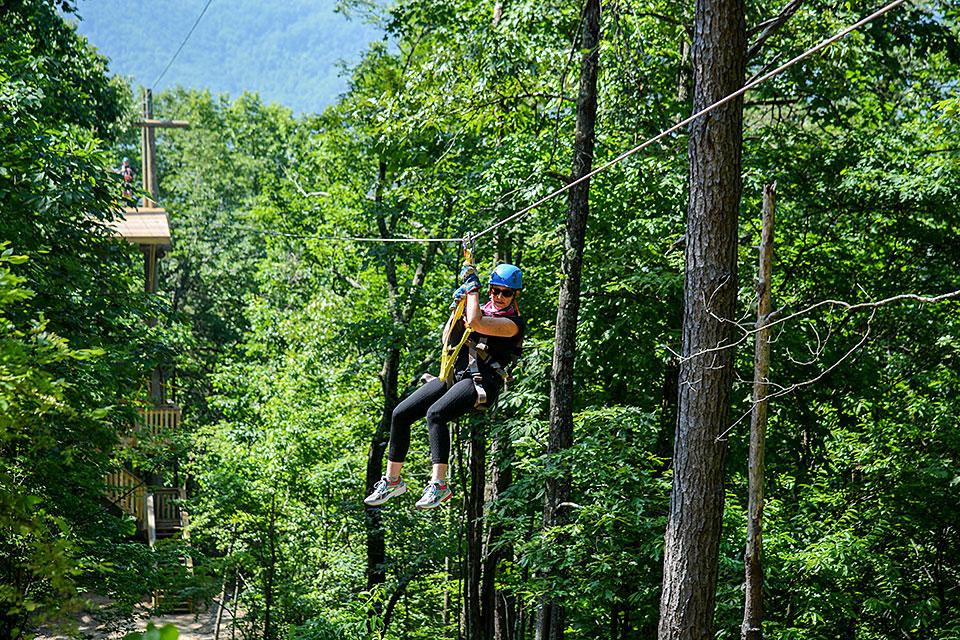 This content posted by Smoky Mountain Ziplines. Visit our home page, smokymountainziplines.com for more information on zipline adventures in the Smoky Mountains.