Blog for Zip line Attraction in the Smoky Mountains
Located in Pigeon Forge, TN and near Gatlinburg and Sevierville.
4 Ideas For Spending Thanksgiving Week In The Great Smoky Mountains
By Ross Bodhi Ogle
Posted on November 17, 2016
In case you hadn't noticed, Thanksgiving is next week. But if you're thinking that automatically means hosting a meal or packing everyone up to head to Grandma's house, then we'd like to offer you a holiday alternative. This year, consider having Thanksgiving in the Smokies. You can still do all the things you normally do – eat a lot of food, visit with family, watch football games, etc. – but this year, you'll be able to enjoy all the scenery and cool things that go along with a trip to the Great Smoky Mountains.
Here are a few ideas for how to make all that happen:
1. First, you'll probably want to think about where to have your meal. After all, the Thanksgiving dinner is more or less the anchor of the event. One option would be to cook a turkey like you normally do. How? Rent a cabin, chalet or condo that has a fully equipped kitchen and buy all your food supplies at a local supermarket. As long as you've got all the right ingredients and tools, there's no reason you can't cook your usual turkey meal and enjoy it as a family around the dining table.
The alternative would be to dine out on Thanksgiving Day, which would work regardless of the type of accommodations you're staying in. There's a bunch of local eateries open that day, including the Old Mill Restaurant, Paula Deen's Family Kitchen, Mama's Farmhouse, Calhoun's, Seasons of Ober Loft & Lounge, The Park Grill and national chains like T.G.I. Friday's and Shoney's.
2. Head into the great outdoors. You might want to take a hike in the national park. The park offers more than 800 miles of hiking and nature trails, ranging from short nature strolls to treks to the peak of Mt. LeConte. Choose whatever fits your abilities and schedule and enjoy the sights of the Smoky Mountains in fall.
You could also visit us at Smoky Mountain Ziplines. Although we typically run weekends only in fall, we'll be open November 19 through 27, which covers the entire Thanksgiving week and the adjoining weekends. You won't find a Gatlinburg or Sevierville zip line tour that offers more ziplining action than we have on our new course. It's a great way to enjoy that little bit of fall chill while taking in some breathtaking mountain scenery.
3. This would be an ideal time to do some Christmas shopping. Some people might prefer to hit the outlet malls, craft studios and specialty shops before Thanksgiving, but a lot of people prefer waiting for all the Black Friday sales that will be taking place the day after. You can find some great deals, and remember that most outlet mall shops already offer substantially discounted prices on brand-name merchandise. The outlet malls in particular will be fairly busy that week, but if you get an early start and exercise patience, it could be well worth your effort.
4. Be entertained. For a lot of families, it's a tradition to go out to a movie during the Thanksgiving holiday. You can do that in the Smokies. We have state-of-the-art movie theaters in Sevierville and Pigeon Forge. But that's not the only entertainment we have to offer. Pigeon Forge and Gatlinburg are home to a variety of music theaters that host some 20 different shows, ranging from music productions to dinner shows featuring skilled horsemen, lumberjacks, feuding families and more. It's a great way to kick back, relax and enjoy your afternoon or evening while your Thanksgiving meal settles.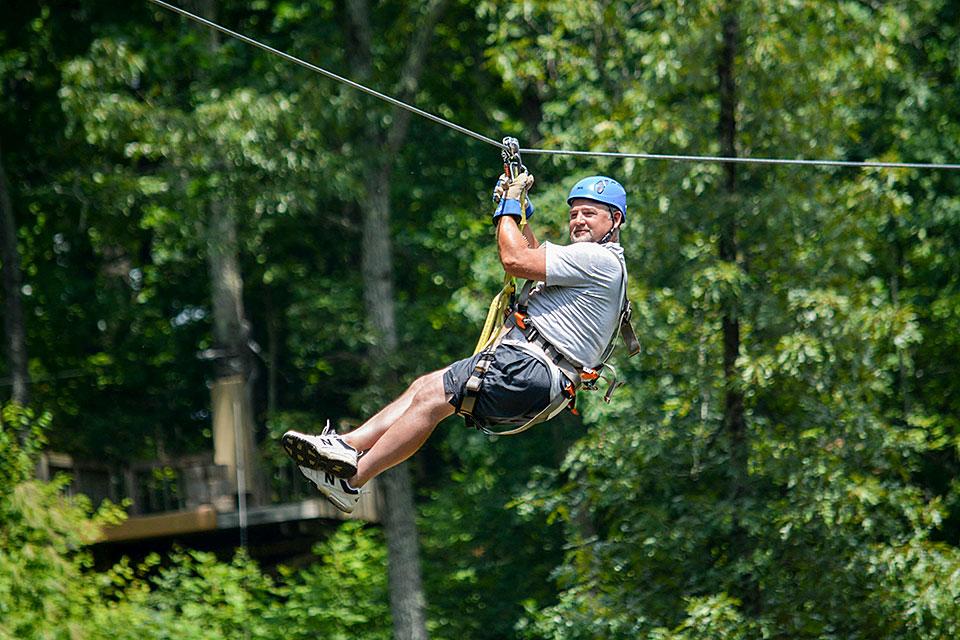 This content posted by Smoky Mountain Ziplines. Visit our home page, smokymountainziplines.com for more information on zipline adventures in the Smoky Mountains.