Blog for Zip line Attraction in the Smoky Mountains
Located in Pigeon Forge, TN and near Gatlinburg and Sevierville.
Winterfest Keeps Things Busy In the Smokies All Season Long
By Ross Bodhi Ogle
Posted on November 12, 2015
Once upon a time in the Great Smoky Mountains, things started slowing down this time of year. Once the fall foliage disappeared, so did the tourists. But for the past 25 years, the communities of Gatlinburg, Pigeon Forge and Sevierville have figured out how to keep visitors hanging around, well past Thanksgiving and Christmas and even into the chilly months of the new year.
The solution? Smoky Mountain Winterfest, a four-month-long celebration of the holidays and winter that has proven that even after peak season, the mountains of East Tennessee can still be a lot of fun to visit. This week, we'll give you an overview of what our communities are doing to make the most out of winter, from special events to light displays.
In Gatlinburg, they're kicking off Winterfest with the annual Winter Magic Kickoff & Chili Cookoff, which takes place on Wednesday 11/11 from 5 to 8 p.m. in the downtown area. That's where local dignitaries will turn on the city's 3-million-plus lights and warm things up with a chili cook-off and tasting event that's open to the public. Earlier that day, the city will also be staging a Veterans' Day tribute at the Ripley's Aquarium Plaza, beginning at 11 a.m.
Gatlinburg's kick-off will also mark the start of the Winter Magic Trolley Ride of Lights, which run through January 31, 2016. These trolley rides take guests on a memorable journey through downtown and U.S. Hwy. 321 East for tours of the city's many Winterfest LED light displays. The enclosed and heated trolleys run at 6:30, 7:30 and 8:30 p.m., and tickets are $5 each for ages 4 and older.
Also during Winterfest, look for Gatlinburg-based events like the Great Smoky Thanksgiving Arts & Crafts Show (11/24 – 11/29), the Festival of Trees (11/25 – 11/29), the Great Smoky Christmas Arts & Crafts Show (11/30 – 12/6) and the Fantasy of Lights Christmas Parade (12/4).
Closer to our home here at Smoky Mountain Ziplines, the city of Pigeon Forge will have plenty going on during Winterfest as well, including kick-off ceremonies on 11/10, beginning at 5 p.m. at Patriot Park. Activities include live musical entertainment, and starting at 6 p.m., guests can take free rides on the city's Trolley Tour of Lights, which take passengers on a journey past 5 million twinkling Winterfest lights.
Throughout the rest of the season, the Trolley Tour of Lights rides are $5 per person. If you don't want to pay for the trolley ride, you can take the self-guided Winterfest Driving Tour of Lights by following the downloadable map or special brochure that are available from the city.
Other events taking place in Pigeon Forge this Winterfest include Dollywood's Smoky Mountain Christmas (11/7 – 1/3), Old Mill Square Holiday Open House (11/4), Fireworks Thanksgiving at the Titanic (11/26), New Years Eve At The Island (12/31), the 16th Annual Saddle Up! (2/17 – 2/21) and the 22nd Annual A Mountain Quiltfest (3/15 – 3/19).
We'll still be doing our Pigeon Forge canopy tours here for the next couple of months, although we may be operating on a more limited schedule as the cold days of winter set in. If you're planning to visit us, give us a call at 865-429-9004 to verify our operational schedule.
The city of Sevierville already kicked off its Winterfest celebration on 11/9 but still has lots going on over the next few months, including citywide light displays of its own. You can get a unique view of the lights by viewing them through a pair of 3-D glasses at the city's visitor center on Winfield Dunn Parkway. The glasses add another dimension to the already spectacular arrays of millions of lights.
Another Sevierville holiday tradition is Shadrack's Christmas Wonderland, a drive-through tour of animated light displays and accompanying music set up in the parking lot of Smokies Stadium, which is just off Interstate 40 at Exit 407. And don't forget about Sevierville's 53rd Annual Christmas Parade, which takes place on 12/5 in the downtown area.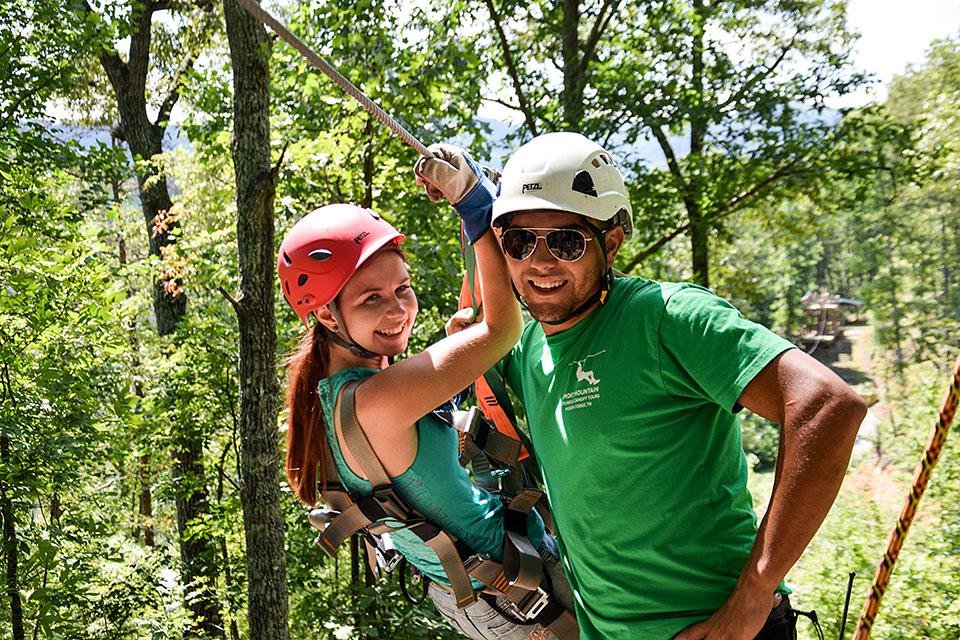 This content posted by Smoky Mountain Ziplines. Visit our home page, smokymountainziplines.com for more information on zipline adventures in the Smoky Mountains.