Blog for Zip line Attraction in the Smoky Mountains
Located in Pigeon Forge, TN and near Gatlinburg and Sevierville.
Music Theaters In The Smokies Take A Season Turn For Christmas - Part 2
By Ross Bodhi Ogle
Posted on December 8, 2015
Last week, Smoky Mountain Ziplines introduced you to several music theaters that present special seasonal shows with Christmas and winter themes. Live shows in the Smokies are a fun way to spend an afternoon or an evening any time of year, but as we draw closer to Christmas Day, these holiday presentations do a fantastic job of getting even the Scroogiest soul into the spirit of the season.
What makes these Christmas shows different covers all facets of production, from sets and costumes to music and dance routines. You'll typically here a good mix of songs, both faith-based and secular favorites, and it's not unusual for Santa Claus himself to make an appearance at some point in the proceedings.
This week, we're going to finish off our overview of Christmas shows with a few other productions that are sure to help make your holiday in the Smokies one you'll never forget.
Country Tonite
During its regular season, Country Tonite Theatre in Pigeon Forge offers a wide array of country, bluegrass, gospel music and more, focusing primarily on country tunes that span the history of the genre. Their Smoky Mountain Christmas show starts with that basic premise but also works in traditional carols and even a little boogie and jazz to create a musical palette that will please all tastes and ages. Country Tonite's dancers, youth performers and comedy acts help make this a well-rounded family show that's a great way to wrap up the year.
Sweet Fanny Adams Theatre
This downtown Gatlinburg venue has the distinction of being home to the longest running entertainment show in the Smokies – more than 35 years so far! This winter, they're serving up another one of their trademark vaudeville-style comedies – Fannie's Festive Fruitcake Follies – the cast's unique take on The 12 Days of Christmas. Packed with song, dance and an abundance of comedy, this show will definitely be one of the funniest ways you and your family can spend the holidays.
Hatfield & McCoy Dinner Show
The Hatfield & McCoy Christmas Disaster Dinner Show puts the FUN in dysFUNctional family gatherings, thanks to a show that has two legendary feuding mountain clans going toe-to-toe once again, this time for the holidays. Filled with music and lots of laughs, this Pigeon Forge show includes a meal consisting of fried chicken, pulled pork barbecue, creamy soup, mashed potatoes, corn on the cob and more.
Lumberjack Feud
Here's another Pigeon Forge dinner production that entertains through family rivalry; in this case, it's two families, the Dawsons and the McGraws, settling their differences through lumberjack competitions. Actual ESPN lumberjack athletes and world-champion timberdogs compete in 19 different events to settle the score once and for all between two families that have been feuding for more than 80 years. In the holiday version of the popular dinner show, things take on a Christmas-y twist, and guests will enjoy a holiday feast that includes a half-chicken, roasted red potatoes, fluffy home-style biscuit, creamy soup, corn on the cob and dessert.
Smoky Mountain Palace Theatre
This recently restored music theater, located at Governor's Crossing in Sevierville, has a brand-new show that's tailor-made for the holidays. The popular artwork of artist Thomas Kinkade is masterfully showcased in a grand production that's complemented by live performances and lots of Christmas music.
And that's not all the Christmas entertainment you'll find in the Smokies this season. During Dollywood's Smoky Mountain Christmas celebration, the Pigeon Forge theme park's many musical venues host holiday-themed productions through the end of the year. Shows include "An Appalachian Christmas," "O Holy Night," and "Christmas in the Smokies," just to name a few.
Finally, don't forget that our Smoky Mountain zip line course will still be open weekends through the end of the year.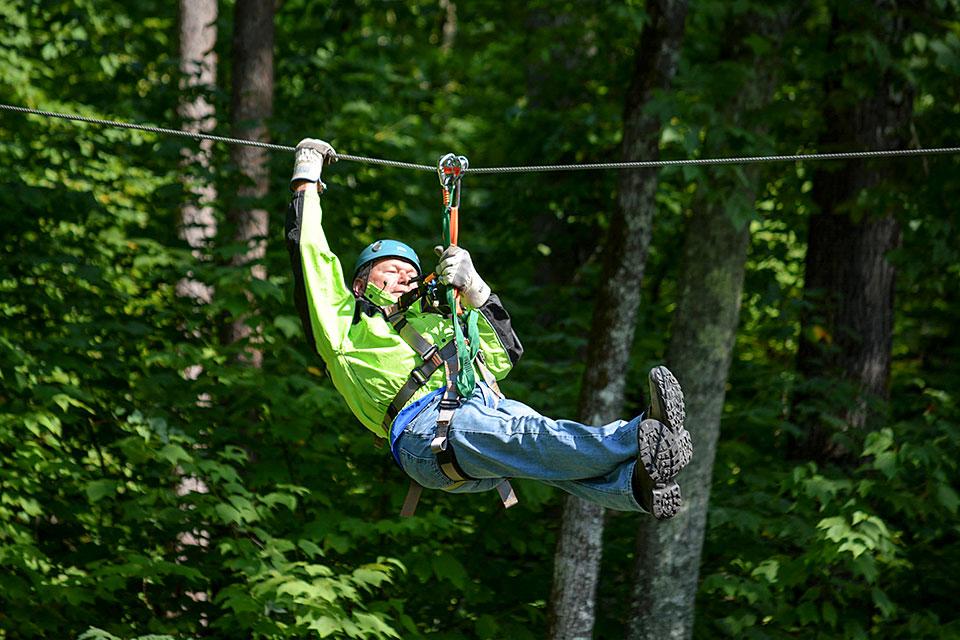 This content posted by Smoky Mountain Ziplines. Visit our home page, smokymountainziplines.com for more information on zipline adventures in the Smoky Mountains.