Blog for Zip line Attraction in the Smoky Mountains
Located in Pigeon Forge, TN and near Gatlinburg and Sevierville.
More Attractions And Events For Car Lovers In The Smokies
By Ross Bodhi Ogle
Posted on May 5, 2015
Last week, we talked a little about how important cars were to our American culture. Whether our preferences are for a regular family sedan, a tricked-out custom car or a vintage muscle car from the '70s, most of us seem to be fascinated with our four-wheeled friends.
We also pointed out how that love affair with the car has translated to a variety of attractions and events in the Great Smoky Mountains, all of which are geared toward helping car fans get their fix. As it turns out, there's even more for the car enthusiast here in the Smokies than even we realized, so we decided to come back and finish what we started last week, by introducing you to even more attractions and events that are sure to get your motor running.
For starters, all you Pontiac fans might want to take note of the Pontiacs In Pigeon Forge Car Show & Swap Meet, coming up June 5 and 6. From the Bonneville to the Firebird to the classic GTO, you'll see Pontiacs of all models and styles at the Music Road Hotel & Convention Center.
The show includes a free cookout that Friday, for all pre-registered participants, as well as an evening cruise on Saturday. Of course, if you just happen to be in town enjoying our ziplines in Pigeon Forge that weekend, you'll very likely see these cool cars cruising up and down the Parkway.
Another must-stop for car lovers is Floyd Garrett's Muscle Car Museum in Sevierville. This attraction, located on Tenn. Hwy. 66 as you approach downtown, features some 90 different muscle cars that are collectively worth more than $8 million. These cars largely represent what's regarded as the Golden Age of the American auto industry – the 1950s, '60s and '70s.
Exhibits include a '69 Boss 429, a '70 GTO Judge, a '65 Dodge Coronet and a '67 Firebird. The lineup is always changing, however, meaning that you might want to plan a repeat trip every now and then. Owner and nationally known muscle car expert Floyd Garrett has more than 40 years of hands-on experience with vintage performance automobiles. He started collecting cars in 1975, and today, he has the cream of the crop on display for visitors to the Smokies.
Another museum with an even longer history in the area is the Smoky Mountain Car Museum in Pigeon Forge. It originally opened in 1956, but was closed for a number of years until reopening within the last few years on a limited schedule.
Inside, the diverse collection includes vehicles such as an early Ford Model T, Elvis Presley's 1971 Mercedes Benz, a 1930 Duesenberg and a 1909 Hupmobile, just to mention a few. You'll even find one of Evel Knievel's Harley Davidsons on display as well as many, many pieces of auto-related collectibles and memorabilia, such as die-cast models, vintage car manuals and repair guides, and license plates.
But remember that when it comes to enjoying cars in the Smokies, you don't have to just look. There are also dozens of go-cart tracks in Gatlinburg, Pigeon Forge and Sevierville, any of which let you settle behind the wheel, put the pedal to the metal and test your skills on a variety of track surfaces, from concrete to metal to wood.
One of the more notable go-cart destinations is NASCAR SpeedPark in Sevierville, next door to the Tanger Five Oaks Outlet Center. In all, they have eight different tracks on site, ranging from the Baby Bristol for the littlest drivers to the Smoky Mountain Speedway, a quarter-mile D-oval track on which you can drive 3/8 scale versions of actual Sprint Cup cars.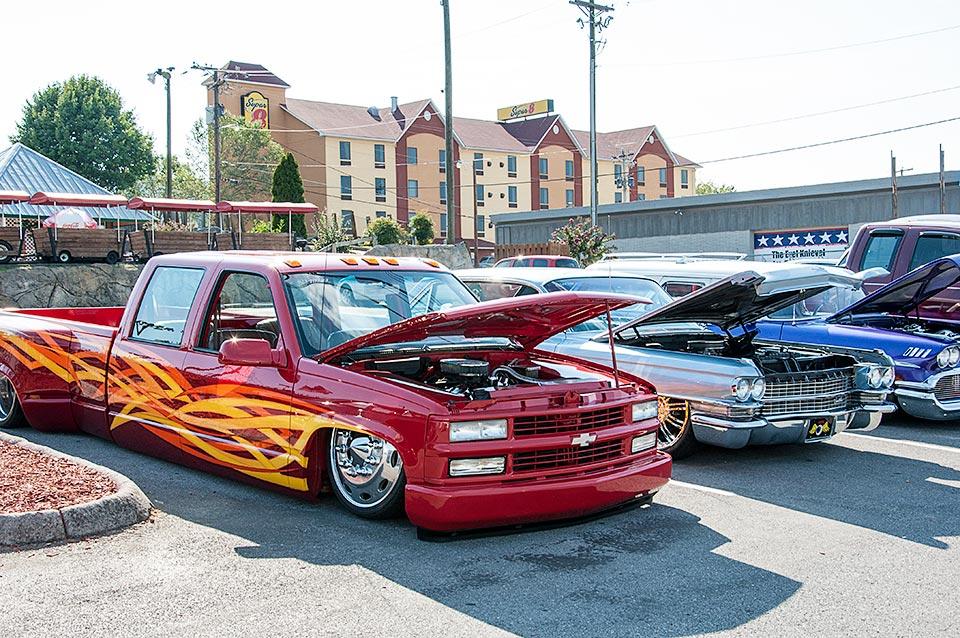 This content posted by Smoky Mountain Ziplines. Visit our home page, smokymountainziplines.com for more information on zipline adventures in the Smoky Mountains.