Blog for Zipline Attraction in the Smoky Mountains
Located in Pigeon Forge, TN and near Gatlinburg and Sevierville.
Blog posts for October 2019
---
Posted on October 29, 2019
The fall colors are finally getting into gear in the Great Smoky Mountains, which means if you want to see the area's best color show, you'll need to head for the Smokies. The colors are already better in the higher elevations, but if you want to get a unique perspective on the annual foliage transformation, we recommend seeing it on foot. A driving tour is fine, but there's nothing like a good hike to really let you get hands-on with the area's greatest nature experience. Besides that, all those great nature smells plus fresh air and even a little bit of exercise are in store. For inspiration, read on for quick overviews of five great hikes you can take in Great Smoky Mountains National Park to help you make the most of this year's fall colors. And don't forget that our Smoky Mountain zipline course is a great way to see the foliage too…
---
Posted on October 22, 2019
When you're trying to decide where to dine out on vacation, and you literally have hundreds of restaurants from which to choose, it can often be difficult to narrow down your options. There are lots of styles of cuisine, lots of locations and lots of price points that can complicate the matter even further. So this week, we're feeding you a few suggestions for restaurants where the dining experience comes with a distinct theme. It may just be the deciding factor that helps you and the rest of your hungry travelers settle on the place that will serve you not only good food but also a unique dining atmosphere.
---
Posted on October 15, 2019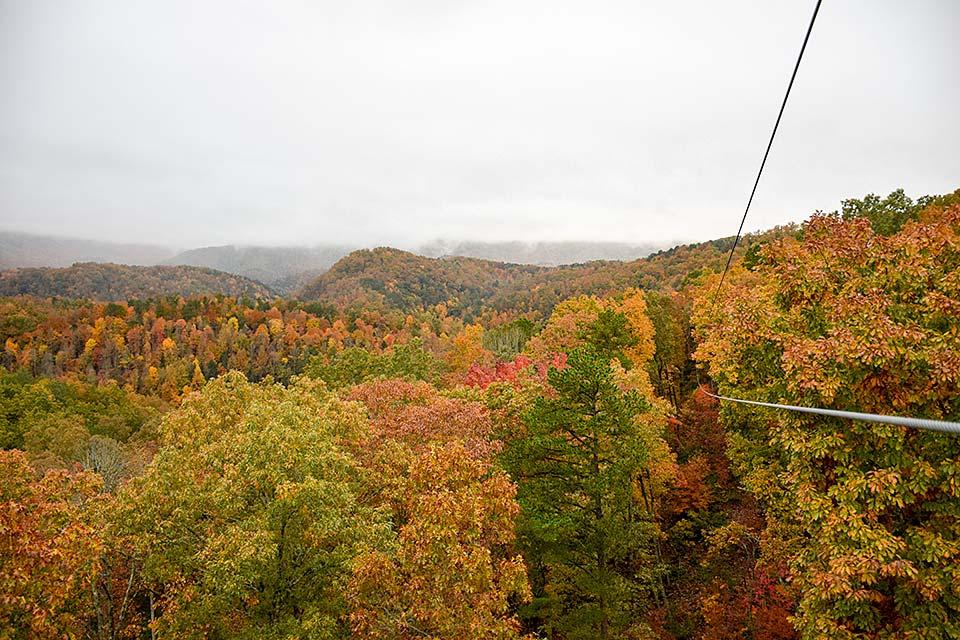 Most years in the Smokies, a drive through the mountains in mid-October would reveal a wondrous palette of color already emerging in the treetops. Even in the lower elevations, you'd see signs that the annual transformation of the area foliage was well under way, and in the higher elevations, the leaves might already be nearing their peak colors for fall.
---
Posted on October 8, 2019
Smoky Mountain Ziplines has been open since March, but if you think it's too late to get some ziplining action in this year, you would be mistaken. In fact, we're getting into one of the best times of the year to get out on our course and enjoy the best ziplines Sevierville, Pigeon Forge or Gatlinburg have in store. If you're still not convinced, read on, and we'll give you five good reasons why you need to schedule a tour with us THIS MONTH.
---
Posted on October 1, 2019
When autumn settles into the Smokies, there are two things you can always count on – the turning of the foliage and an abundance of craft shows and festivals. There's something about the changing of the seasons that makes this the ideal time of year for arts and crafts. They're a big deal around here about now – a bigger deal than they already are. So this week, we'll give you an overview of all the opportunities you'll have during October to get out and see what craftspeople from the Smokies – and around the country – have to offer.
---